Romney Bans Press From Private Fundraiser; Press Upset
The Romney campaign has hurt the press corps' feelings.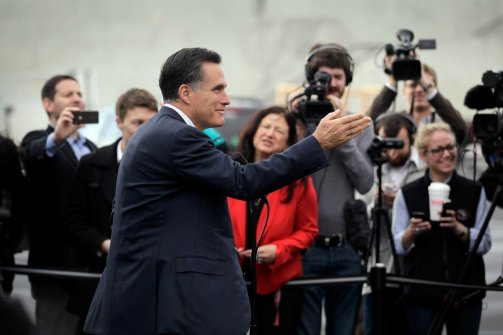 The Romney campaign has hurt the press corps' feelings.
WaPo ("Romney bans media from Jerusalem fundraiser, violating pre-established protocol"):
Republican presidential hopeful Mitt Romney, who touched down here Saturday night for a day of meetings with top Israeli and Palestinian leaders, plans to wrap up his visit to Israel by collecting money from some of his biggest benefactors behind closed doors.

Some of Romney's Jewish donors are flying here from the United States to attend the Jerusalem fundraiser on Monday morning, including Las Vegas casino mogul Sheldon Adelson, who has pledged to personally give tens of millions of dollars to a pro-Romney super PAC.

But Romney's campaign announced Saturday that it would block the news media from covering the event, which will be held at the King David Hotel. The campaign's decision to close the fundraiser to the press violates the ground rules it negotiated with news organizations in April, when Romney wrapped up the Republican nomination and began opening some of his finance events to the news media.

Under the agreement, a pool of wire, print and television reporters can cover every Romney fundraiser held in public venues, including hotels and country clubs. The campaign does not allow media coverage of fundraisers held in private residences.
Maybe the campaign understood that to mean "public venues in the United States." Maybe Romney isn't giving a speech Monday and therefore didn't think it was a press event. Maybe Sheldon Adelson said he wasn't coming if he had to deal with the press. Who knows?
The NYT's Ashley Parker ("A Fund-Raiser Behind Closed Doors") speculates,
The fund-raiser may be especially delicate for Mr. Romney because of the attendance of Sheldon Adelson, a billionaire casino magnate who has pledged to spend some $100 million this election to help defeat President Obama, as well as elect Republicans. Though Mr. Adelson first supported Newt Gingrich during the early nominating contests because of his strong support for Israel, he has since thrown his support behind Mr. Romney.
Given that it's common knowledge that Adelson is a huge Romney donor and that it's hardly shocking that someone who supported one Republican contender during the primaries is now backing the Republican nominee in an effort to oust the incumbent Democratic president, it strikes me as much more likely that it's "especially delicate" for Adelson rather than Romney. But, again, who cares?
Well, obviously, the press. WaPo's Phillip Rucker:
Romney has a history of delivering different messages to his donors when reporters are not present to hear them. At a closed-press fundraiser in Florida this spring, reporters from NBC News and the Wall Street Journal, without Romney's knowledge, overheard the candidate outline new tax policy proposals and suggest that he might dramatically downsize the Department of Education and eliminate the Department of Housing and Urban Development.
Parker, coincidentally, recalls the exact same incident:
It remains unclear why Mr. Romney wants his remarks to donors in Israel to remain off the record. But earlier in the campaign, Mr. Romney was caught offering a slightly different message behind closed doors than was intended for public consumption. At a private fund-raiser in Florida, Mr. Romney talked about reducing the Department of Education and possibly eliminating the Department of Housing and Urban Development — hardly standard campaign fare.
So, this "history" consists of one incident in which Romney, not knowing the press was in the room, cribbed a stump speech line every Republican presidential nominee since Ronald Reagan has used? (Previous ones might have used it too, except that Jimmy Carter split the old Housing, Education, and Welfare department into two agencies.) Shocking!
Look, I roll my eyes every time I hear that red meat line in speeches to conservative audiences. I can't for the life of me figure out what the appeal is 30-odd years in; it's apparently Pavlovian. Regardless, Reagan had eight years, Bush Sr. had four, and Bush Jr. had another eight–twenty years in all–to shutter the Department of Education. So far as I'm aware, not only is it still around but they didn't even float a perfunctory bill to try to close it. Whether they actually wanted it closed, it clearly wasn't near the top of the agenda.
As to fundraisers, while I get why the press would want to attend them and report what's going on, it's really a bizarre notion. They're private events that happen to feature a prominent public figure. The big donors, who typically aren't public figures, typically don't want to be grilled by the press while they're enjoying what, to them, is just a big party where they get to rub elbows with the candidate, politicos, and other fat cats.  So, we usually wind up with awkward situations wherein the press is sequestered away during the social part of the evening and allowed to attend the candidate's speech. Or, reporters are required to surrender their cell phones, so they can't record anything embarrassing. It's a rather silly exercise.
As to Romney, well, this is yet another example of hamhandedness on the part of his campaign. This overseas trip, which was presumably supposed to get him above the fray of the day-to-day campaign and somehow bolster his foreign policy chops, has been rather embarrassing. And, while I don't care in the slightest that he's closing a private fundraiser to the press, the campaign should at least have offered some sort of plausible rationale rather than simply declaring it and annoying the press.
While he's been an effective leader and manager as a CEO, Olympic chairman, and governor, he's just not a natural politician. That's a problem for someone who happens to be a major party nominee for president, especially one trying to unseat a guy who's a natural on the stump. With just a little more than three months to go until Election Day, Romney's going to need to up his game and quickly.