Romney is the Alpha Male and Obama is a Woman (or Something like That)
Wherein a National Review piece leads me to think I am the OTB alpha blogger.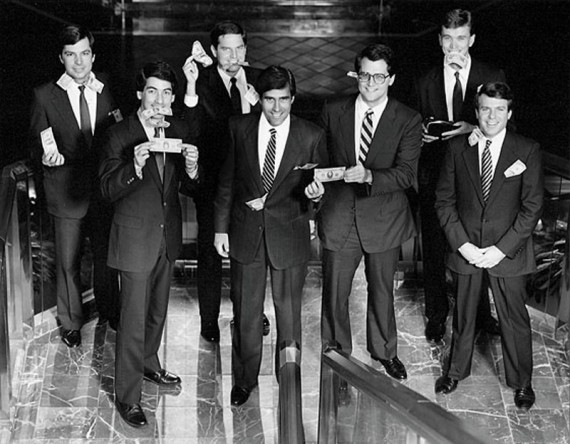 (Note:  I wrote this before I realized that James Joyner and  Doug Mataconis had written on it is as well—the dangers of busyness, I guess.  However, it is written, so here it is–while there is some duplication, I think/hope that I hit on some different aspects*).
In a National Review cover story, Kevin D. Williamson provides one of the oddest stories I have read of late (and I do get around the intertubes, so the opportunities to encounter the odd are plentiful). The piece is entitled "Like a Boss: When it comes to being a rich guy, Mitt Romney should own it" and its basis thesis seems to be that Romney is awesome because he is rich and has had many sons and grandsons:
The offspring of rich families are statistically biased in favor of sons — the children of the general population are 51 percent male and 49 percent female, but the children of theForbes billionaire list are 60 percent male. Have a gander at that Romney family picture: five sons, zero daughters. Romney has 18 grandchildren, and they exceed a 2:1 ratio of grandsons to granddaughters (13:5). When they go to church at their summer-vacation home, the Romney clan makes up a third of the congregation. He is basically a tribal chieftain.

Professor Obama? Two daughters. May as well give the guy a cardigan. And fallopian tubes.

From an evolutionary point of view, Mitt Romney should get 100 percent of the female vote. All of it. He should get Michelle Obama's vote. You can insert your own Mormon polygamy joke here, but the ladies do tend to flock to successful executives and entrepreneurs.
Let me stop here and note that I have three sons and Joyner has two daughters. Hence, call me the OTB Alpha Blogger!
Ok, enough with the silliness (or, onto the silliness of the piece under review), but the general level of analysis in my last sentence is not all that far off from Williamson's. While the tone of the piece can charitably be interpreted as tongue-in-cheek, the actually thesis of the piece is pretty much as follows:
Elections are not about public policy. They aren't even about the economy. Elections are tribal, and tribes are — Occupy types, cover your delicate ears — ruthlessly hierarchical. Somebody has to be the top dog.
The whole piece is about how much money Romney (or, "R-MONEY") has and how bug his family is. Note: this is the cover piece for the latest edition of National Review, which is supposed to be a representation of intellectual conservatism. Now, I will not feign ignorance and pretend like this is the first time I have personally called into question that description, but I must confess that I was surprised when I realized that this was not some hastily written blog post, but was something that not only went through an editorial process, but is a featured essay.
One rather amazing thing about it is that the piece actually could have been written by a liberal critic of the modern Republican Party, who nominated Mitt Romney (R, Money) as its nominee. This piece feeds into the notion that the contemporary Republican Party is the party of misogyny (boyz rule, dontch know) and the super-rich.
As such, it is odd for multiple reasons: 1) it is simplistic in style, 2) it is not worthy of a cover, especially of an allegedly intellectual publication, and 3) it makes, at least on one level, the opposition's argument.
Most odd, indeed.
*And anyway, as I note in the piece:  my power and significance has been confirmed by my progeny, so I have every right in the world to post a third piece on this subject and have it headline the blog.