Obama Winning Even Though He Has Daughters
National Review's Keith Williamson can't fathom why Alpha Male Mitt Romney is having so much trouble beating Girly Man Barack Obama.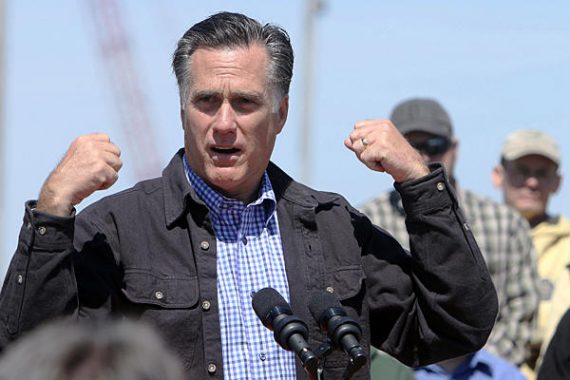 National Review's Keith Williamson can't fathom why Alpha Male Mitt Romney is having so much trouble beating Girly Man Barack Obama.
You want off-the-charts status? Check out the curriculum vitae of one Willard M. Romney: $200 million in the bank (and a hell of a lot more if he didn't give so much away), apex alpha executive, CEO, chairman of the board, governor, bishop, boss of everything he's ever touched. Son of the same, father of more. It is a curious scientific fact (explained in evolutionary biology by the Trivers-Willard hypothesis — Willard, notice) that high-status animals tend to have more male offspring than female offspring, which holds true across many species, from red deer to mink to Homo sap. The offspring of rich families are statistically biased in favor of sons — the children of the general population are 51 percent male and 49 percent female, but the children of theForbes billionaire list are 60 percent male. Have a gander at that Romney family picture: five sons, zero daughters. Romney has 18 grandchildren, and they exceed a 2:1 ratio of grandsons to granddaughters (13:5). When they go to church at their summer-vacation home, the Romney clan makes up a third of the congregation. He is basically a tribal chieftain.

Professor Obama? Two daughters. May as well give the guy a cardigan. And fallopian tubes.

From an evolutionary point of view, Mitt Romney should get 100 percent of the female vote. All of it. He should get Michelle Obama's vote. You can insert your own Mormon polygamy joke here, but the ladies do tend to flock to successful executives and entrepreneurs. Saleh al-Rajhi, billionaire banker, left behind 61 children when he cashed out last year. We don't do harems here, of course, but Romney is exactly the kind of guy who in another time and place would have the option of maintaining one. He's a boss. Given that we are no longer roaming the veldt for the most part, money is a reasonable stand-in for social status. Romney's net worth is more than that of the last eight U.S. presidents combined. He set up a trust for his grandkids and kicked in about seven times Barack Obama's net worth, which at $11.8 million is not inconsiderable but probably less than Romney's tax bill in a good year. If he hadn't given away so much money to his church, charities, and grandkids, Mitt Romney would have more money than Jay-Z.
Presumably, Williamson had the same science teacher as Todd Akin. Granting that, as the father of two daughters and no sons, I'm a little sensitive on the subject, what exactly is the evidence that having male offspring goes with being high-status?
It's hard to get more high-status than Leader of the Free World. Yet the current holder of that office has two girls and no boys. His immediate predecessor? Two girls and no boys. POTUS twice-removed? One girl, no boys. George HW Bush? Four boys (one himself a POTUS, another a governor) but also two girls. Ronald Reagan? Three girls, two boys (one adopted). Carter: Three boys and one girl. Ford: Three boys, one girl. Nixon: Two girls. LBJ: Two girls.
Now, as with Forbes billionaires, the sample size here is way too small to draw any meaningful conclusions. But, at least in my lifetime, whatever defect that causes men to produce female children hasn't been an impediment to becoming president. The above list constitutes all holders of the office in my lifetime and they combined for sixteen girls and eleven boys sired—fifteen girls and nine boys if one excludes Ford, who wasn't actually elected.
As to their desirability as mates, my sense is that both Romney and Obama are above the threshold. Both, after all, managed to get smart, attractive women to marry and have children with them.
It's true that Romney has made a lot more money than Obama, but he did start out with a significant head start. Additionally, while Obama chose lines of work—community service, teaching, and politics—that are less lucrative than high finance, one imagines that a man with his academic credentials and persuasive talents could have been successful in that world. And, of course, he's a multi-millionaire despite all that and hasn't yet hit his peak earning years. One suspects that, come 2013 or 2017 (depending on what happens in November) he'll start raking in the cash.
Correction: The original stated that Carter had only one child, a girl. While Amy was the most famous, as she was much younger and thus lived with the Carters during the White House years, Jimmy and Rosalyn had three sons: Jack, Chip, and Jeff. Additionally, Michael Reagan was adopted which, while it doesn't make him any less Ronald's son, means he doesn't count for Williamson's purposes.