Todd Akin's Rape Remarks Causing Angst Among Republicans
National Republicans aren't at all thrilled with Todd Akin right now.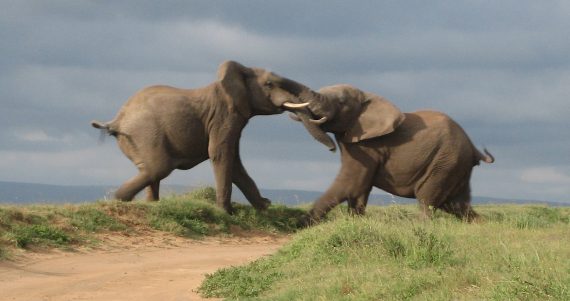 The comments by Missouri Senate candidate Congressman Todd Akin, where he asserted that women's bodies prevent victims of "legitimate rape" from becoming pregnant, are causing some Republicans to worry that he may have put control of the Senate at risk:
Rep. Todd Akin's damning statement that victims of "legitimate rape" rarely get pregnant is just the latest in a string of unforced errors by the GOP Senate candidate that has Republicans fretting about his chances of beating Democratic Sen. Claire McCaskill.

And a loss in Missouri would almost certainly quash the party's hopes of reclaiming the Senate majority.

In just over a week since securing the GOP nomination, Akin has doubled-down on likening student loans to socialism, questioned the value of voting rights laws, called for the end of the federal school lunch program and then — in an interview that made national headlines — openly speculated about the consequences of "legitimate rape."

It's no wonder why McCaskill was more than happy to assist Akin's primary campaign with an ad hailing him as "the true conservative."

In a span of 12 short days, the six-term congressman's performance has confirmed the worst fears of Republicans while breathing a burst of fresh hope into McCaskill's underdog bid.

There's now a burgeoning sense among anxious Republicans and cautious Democrats that Akin is handing McCaskill a ripe opportunity to climb back in a race that should be close to over. At least one public poll since the primary has shown McCaskill within the margin of error — a position she hadn't seen in months. And if Akin fumbles his shot at a race that GOP operatives felt supremely confident about just a month ago, it's difficult to see how the party converts the four pickups it needs to wrest back Senate control.

"For God's sake," one Missouri GOP operative lamented Sunday after Akin's rape remarks. "DEFCON 5. Panic for the rest of the ticket. Major intervention needed."
On the national scene, the Romney campaign has distanced itself from Akin as have candidates ranging from Jeff Flake, who is running for Senate in Arizona, George Allen, candidate for Senate in Virginia, and Sarah Steeleman, who came in second to Akin in the recent Missouri Primary. There has already been talk among conservative activists, and extensively this morning on Morning Joe and replacing him with another candidate, presumably either John Brunner, who came in second in the primary or Sarah Steeleman who came in third. The deadline for Akin to do that without being liable or any costs to the state is tomorrow, and Akin could also drop out before September 25th but in that case he'd have to cover the costs incurred by the state in reprinting ballots and resetting voting machines. While there has been speculation that there will be a tremendous among of pressure on Akin to step aside, the preliminary word from people in the know in Missouri is that he's unlikely to do so, and there's really nothing the party can do to force him off the ballot. So, unless he has a change of heart in the next 24 hours, the GOP is likely stuck with Todd Akin in Missouri, something that has many Missouri GOPers fretting:
Mark Reardon, an influential conservative radio host in St. Louis was more dire: "Just catching up on this @RepToddAkin stuff. Congrats to @clairecmc for winning re-election."

For other GOP operatives and political players, Akin's opinion on rape was just the culmination of growing uneasiness with a campaign that appears to be at best undisciplined and at worst reckless and unwilling to heed outside advice. Akin's son is running the campaign, and his wife is seen as the candidate's most influential adviser.

"I think there needs to be professional help brought in to at least make it appear like he is listening to people outside his immediate family," observed the in-state GOP operative. "There's lots of questions about who is driving the ship."

A coterie of Republican consultants was emailing and texting one another Sunday night about a potential movement to push Akin aside — though one cautioned that theory was more emblematic of behind-the-scenes hand-wringing than a practical move. Akin could not be forced from the ballot but could voluntarily step aside and allow the party to nominate a replacement. The latest he could do so under Missouri law would be Tuesday.

A Jefferson City-based Republican said the greater concern is that Akin is unaware of the political damage he's inflicting to himself.

"He likely doesn't understand the severity of his comment, and his response was weak. No Republican official or operative has any close bond with him, so no one will defend him. He sounds completely out of touch," said the operative, who asked for anonymity to protect client relationships.

Two sources said even top Republican candidates and leaders in the state are shaking their heads and scurrying for distance from Akin. One Columbia-based operative said several calls were placed this weekend to the National Republican Senatorial Committee and Mitt Romney's campaign about the mounting concern over Akin.

"One mused about putting him in a closet for three months," said one source with ties to GOP leadership in Jefferson City.

Asked to assess the level of worry, one Republican elected official replied, "Most have moved past worrying to conceding."
Akin isn't necessarily even getting a lot of support in the conservative blogosphere. Some, like Erick Erickson, are saying Republicans need to stop panicking and get behind Akin, but others, like Ed Morrissey, are far more sanguine:
Can Republicans replace Akin, if they so choose?  Apparently they can — but the deadline is tomorrow.  Of course, deadlines didn't matter when Robert Torricelli became a political pariah in New Jersey, but there are a couple of differences.  First, it involved actual corruption, not a case of foot-in-mouth disease, and second, Torricelli was a Democrat.  If Republicans want Akin off the ticket, they'd have to act quickly, which means it won't happen at all.

That means that Missouri will probably see a lot of debate over "legitimate," and Republicans had better hope that Akin can legitimately change the subject soon.
As I noted yesterday, the polling currently shows Akin with a fairly comfortable lead over Senator Claire McCaskill. The RCP average has him at +5.0, and the most recent poll, from SurveyUSA, had him leading by eleven points with strong support among women. This is the only poll that's been taken since the primary, though, so it's unclear whether or not it might be an outlier. Indeed, I think we can be fairly sure that polling companies are going to be all over the Show Me State over the next couple weeks trying to figure out what might happen in the wake of these comments.
Before yesterday, I would have said that Akin was favored in this race largely because of the fact that Missouri has, slowly but surely, become far more of a red state than it used to be. While John McCain's victory there in 2008 was very narrow, the GOP has captured the state in each Presidential election since 2000, and other than the 1992 and 1996 elections, had won the state in every election since 1980. Roy Blunt won a decisive victory in the 2010 Senate election, replacing Republican Kit Bond, and that same year won control of six of the state's ten Congressional Districts. More importantly, the polls have shown for months now that McCaskill was in trouble regardless of who the GOP nominated. Now though, as Nate Silver notes, it's quite possible that everything has changed:
No two controversies are alike, and we'll have to wait for polling data to see what impact this has on the race. But based on some loose historical precedents, the remarks could be enough to swing the polls to Ms. McCaskill.

In August 2006, Senator George Allen, then the Republican incumbent in Virginia, was videotaped using the term "macaca" at a rally, which was interpreted by some as a racial epithet against a staff member for his Democratic opponent, James Webb.

The polls quickly shifted against Mr. Allen. He had led by an average of 12 points in the three polls conducted just before his comments. But his lead was whittled down to just two points in the three polls conducted just after the remark, and Mr. Allen eventually lost the race by about 10,000 votes.

Last February, in another instance of apparent racial insensitivity, the Republican candidate Pete Hoekstra of Michigan, a former United States representative, released an attack ad against the Democratic incumbent, Debbie Stabenow, that was deemed offensive by Asian-American groups. Mr. Hoekstra's standing also declined in the polls. He had trailed Ms. Stabenow by an average of eight percentage points in three polls conducted in late 2011, before the ad's release. But the gap averaged 18 points in two polls taken just after the commercial was released, although it has recovered some since.

These episodes in Virginia and Michigan, which produced a net swing of about 10 percentage points in the polls against the candidate involved in the controversy, appear as though they may represent fairly typical cases.

(…)

If Mr. Akin lost a net of 10 points in the polls to Ms. McCaskill because of the remark, he would be trailing her by five points in surveys rather than leading her by about that margin.

It can be easy to overrate the importance of scandals in the first few days after they occur. Many voters will vote along party lines almost no matter what, and others will decide based on factors like the economy or an incumbent senator's voting record.

Nevertheless, my view is that insensitive comments concerning rape are especially likely to be deemed inexcusable by voters, and that the swing against Mr. Akin could be larger than the average of 10 percentage points from similar events.
Akin's comments are also reminiscent of comments made 22 years ago by Clayton Williams, the Republican candidate for Governor in Texas running against Ann Richards. Talking to a reporter, Williams said that the weather was like rape, "[i]f it's inevitable, just relax and enjoy it." Needless to say, Williams, who had been leading in the polls, quickly started falling behind Richards, who went on to win election as the second female Governor of Texas.  Is this what will happen to Akin? Only time will tell, but I tend to agree with Silver that he's likely to pay a price for this in the polls. Additionally, you may well see national Republicans and SuperPACs distancing themselves from him even further by refusing to invest heavily in the state, instead using their dollars in more fruitful races like the Connie Mack v. Bill Nelson battle down in Florida. If that happens, then Akin's biggest advantage over McCaskill, money, will likely disappear.
We'll have to wait and see what happens, of course. I am doubtful that Akin will be persuaded to drop out of the race in favor of Steeleman or Brunner, but one has to believe that phones are ringing across the country among top-level Republicans trying to figure out what to do about this, because given the way the polls are going  this one seat could determine who controls the Senate in 2013.
Update:  National Review's Robert Costa spoke with Mitt Romney about Akin's comments, and his response was rather blistering:
In a phone interview this morning, Mitt Romney told National Review Online that Representative Todd Akin's recent comment on rape is "inexcusable."

"Congressman's Akin comments on rape are insulting, inexcusable, and, frankly, wrong," Romney said. "Like millions of other Americans, we found them to be offensive."

(…)

"I have an entirely different view," Romney said. "What he said is entirely without merit and he should correct it."
Is this a sign that Boston is going to take the lead in putting pressure on Akin to step aside? I'm not sure, but if anything is going to happen it has to happen very quickly.