Todd Akin Has No Regrets About His Comments About 'Legitimate Rape'
Just in time for the midterms, Todd Akin is back to remind voters of the GOP's problems with female voters.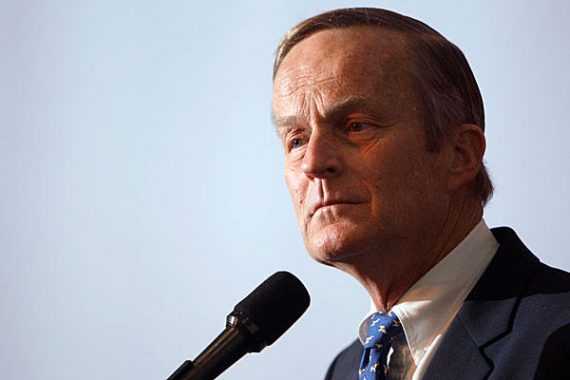 Todd Akin, you will recall, mad e name for himself in 2012 when he responded to a question about his opposition to an exception to an abortion ban for rape victims by saying that victims of "legitimate rape" usually don't get pregnant.  In addition to the rather obvious problems with female voters that these comments caused, and the fact that it inevitably meant that practically every Republican running for office would be asked to chime in on the subject, it turned out that there was absolutely no medical basis for the claim Akin made. Despite calls from many top Republicans, Akin ended up staying in the race, which he ultimately lost to Senator Claire McCaskill by more than 400,000 votes in state that many Republicans had thought they could win a Senate seat before Akin opened his mouth. In the immediate aftermath of his comments, Akin apologized for what he said, but of course that had no impact on the outcome of the race. Two years later, though, he's out on a book tour and saying he has no regrets about what he said:
Todd Akin takes it back.

He's not sorry.

Two years after the Missouri Republican's comments on rape, pregnancy and abortion doomed his campaign and fueled a "war on women" message that carried Democrats to victory in the Senate, one of the few regrets he mentions in a new book is the decision to air a campaign ad apologizing for his remarks.

"By asking the public at large for forgiveness," Akin writes, "I was validating the willful misinterpretation of what I had said.

And when it comes to his infamous line about rape and pregnancy, that "the female body has ways to try to shut that whole thing down," he writes defiantly: "My comment about a woman's body shutting the pregnancy down was directed to the impact of stress on fertilization. This is something fertility doctors debate and discuss," Akin writes. "Doubt me? Google 'stress and infertility,' and you will find a library of research on the subject."

"Firing Back: Taking on the Party Bosses and Media Elite to Protect Our Faith and Freedom" hits bookshelves July 15. An advance copy was provided to POLITICO by a source involved with the book.

Akin argues that he could have defeated Sen. Claire McCaskill in Missouri, despite his comments, if it weren't for the piling on from both liberals and conservatives. He compares his situation sympathetically to that of George Allen, who lost a Senate race in Virginia after calling a liberal tracker a racial slur. And he accuses liberals of hypocrisy for asking Bill Clinton to headline the Democratic National Convention.

(…)

Akin offers no apologies for his "legitimate rape" comment and blames liberal news media for how it was received. The liberal opposition research super PAC American Bridge dug up the video and sent it to Talking Points Memo, described as one of the "well-funded, left-leaning blogs." Talking Points Memo posted the footage and started a firestorm.

Akin systematically defends every phrase in his response to whether abortion in the case of rape should be legal. "Taking my comments in order: When a woman claims to have been raped, the police determine if the evidence supports the legal definition of 'rape.' Is it a legitimate claim of rape or an excuse to avoid an unwanted pregnancy?"

"My comment about a woman's body shutting the pregnancy down was directed to the impact of stress on fertilization. This is something fertility doctors debate and discuss. Doubt me? Google 'stress and infertility,' and you will find a library of research on the subject."

To further make his case, Akin says he was hesitant to appear on a local Fox show hosted by Charles Jaco, where he made those comments, because the "hard-bitten liberal" could make the interview a "high-risk venture." The fact that Jaco didn't immediately pounce on his comments was because he heard them "in context with the various qualifiers."

Akin later says during his time as a state legislator, he wished he could have done more to "end this evil," referring to abortion, which in his view "easily trumps slavery as the greatest moral evil in American history."

As Akin makes the case that he has "zero sympathy" for anyone who commits rape, he tries to illustrate his commitment by pointing to President Bill Clinton. Akin writes that if he had been in Congress in 1998 he would have voted to impeach Clinton. The investigation started, according to Akin, with allegations of sexual assault of Paula Jones, which then led investigators to learn about his affair with intern Monica Lewinsky. The impeachment involved Lewinsky, not sexual assault.

Akin writes that Republican presidential candidate Mitt Romney should have defended him by using Clinton's indiscretions and alleged comment that one woman "put some ice on that" just as Clinton was set to serve as a keynote speaker at the Democratic National Convention. In 2012, Romney denounced Akin's comments and urged him to drop out of the race.

What Akin believes Romney should have said when asked about the "legitimate rape" comments: "[Bill Clinton] is giving the keynote speech at the Democratic convention in two weeks, and you want me to denounce a decent, God-fearing man for his inelegant comments about rape? No, not happening, and if the truth hurts, put some ice on it."
Akin goes on, predictably, to blame the Republican "establishment" and the "liberal media" for what happened to him. The media because they allegedly took his remarks out of context and misrepresented him. The "establishment" because they both failed to come to his defense and spent the better part of the month of August 2012 trying to get him out of the race. He's wrong on both counts, of course. Given the fact that they were reporting on what he said on a an interview show, captured on video, the idea that the media misrepresented anything Akin said is utterly absurd. He did in fact say that women who are raped are less likely to become pregnant. That comment became news both because it is objectively false and because it seemed to epitomize the problems that Republican candidates have with women voters in general Inevitably, the comments became a problem not only in Missouri, where Akin had been competitive with McCaskill in polling conducted prior to his comments, but also in other parts of the country where candidates going all the way up to Mitt Romney himself found that they now had to deal with Akin's utterly ridiculous comments. Given that, and the fact that Akin seemed on a clear path to lose an election that the GOP was supposed to have had a good chance of winning,, it is not surprising at all that party leaders distanced themselves from Akin and called on him to resign and that outside groups decided not to spend any money on his behalf in the state. Rather than blaming the media or the Republican Party for what happened to him, Akin needs to look in the mirror.
Akin's new defiant tone isn't entirely surprising. If he has any plans to run for office in the future, this kind of an attitude will likely help him with a Republican base that, while it may have been embarressed by Akin's comments, didn't necessarily seem to disagree with them. It's the same kind of victimization card that conservatives ranging from Sarah Palin to Allen West to the talk radio crowd have played so well over the past several years, so it will likely resonate with Akin's intended audience. Even if he doesn't have future political plans, rhetoric like this will likely help book sales and may even turn him into a frequent guest on conservative media outlets such as Fox News, where he'll obviously get a much more friendly audience for whatever nonsense he decides to dish out than he would elsewhere. For the Republican Party as a whole, though, this can't really come as good news. Akin's comments are made for television, and he's heading out on a book tour that is likely to bring him to both local media outlets around the country and national venues such as CNN and MSNBC. Just as we head into the midterm General Election cycle, voters will be reminded of this issue and Akin's comments. It may not change the results of any election, but it will be used by those on the left to try to motivate voters to get to the polls to vote against Republicans. Generally speaking, that's not something any political party wants to see happen.