Todd Akin Could Still Win The Missouri Senate Race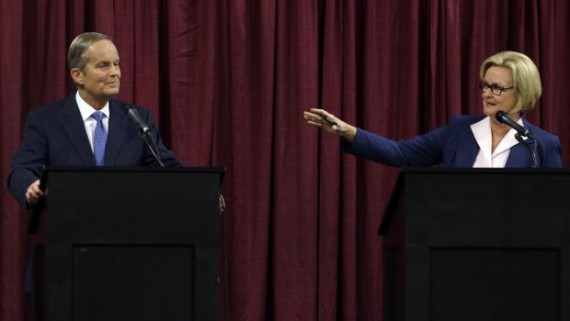 Despite the controversy that has enveloped his campaign since he made his controversial remarks about rape, and despite the fact that he was ostracized by the entire state and national Republican establishment in the wake of those remarks, there's still a possibility that the Congressman could pull off a win in November. We've already seen signs of some Republicans, mostly social conservatives, returning to Akin's side and helping with fundraising and such matters. And now, there are signs in the polls that this race is not going to be the cakewalk for Claire McCaskill that many, myself included, thought it was going to be after Akin's disastrous August.
First, there's a new poll from Rasmussen that has McCaskill's lead down to six points:
The deadline has passed for embattled Congressman Todd Akin to withdraw from Missouri's U.S. Senate race, and incumbent Democratic Senator Claire McCaskill has now crossed the 50% mark for the first time.

The latest Rasmussen Reports statewide telephone survey of Missouri Likely Voters shows McCaskill with 51% of the vote to Akin's 45%. One percent (1%) prefers some other candidate, and three percent (3%) are undecided.
If you don't trust Rasmussen, then you can find the same six point McCaskill lead from Public Policy Polling:
PPP's newest poll of the Missouri Senate race finds Claire McCaskill expanding her lead to 6 points. She's at 46% to 40% for Todd Akin and 9% for Libertarian Jonathan Dine. On our last poll of the race, in late August, McCaskill had led by only a single point.

Todd Akin's image is not seeing any recovery even with six weeks having passed since his controversial comments. 33% of voters see him favorably to 55% with an unfavorable opinion. Those numbers are essentially unchanged from our last poll when he was at 33/56. Republicans still give him pretty high marks. 65% see him favorably to 23% with an unfavorable opinion, suggesting that they actually still like him and aren't just voting for him grudgingly. But his reviews from independents (28/59) and Democrats (7/84) are pretty dreadful.

One interesting development over the last month in this race is that Claire McCaskill's own popularity has actually improved. 44% of voters approve of her and 49% disapprove, up from a 40/55 spread in late August. The reason for that change is that Democrats are really rallying around her. She now has an 89/8 approval rating within her own party, up from a 73/23 standing last time. And that's where the shift in the horse race is coming from as well. She now gets 91% of the Democratic vote, up from 81% on our previous poll. The numbers with Republicans and independents are pretty steady.

Despite McCaskill's lead there's still reason to think this will be a competitive race. By a 50/42 margin voters would rather Republicans had control of the US Senate next year than the Democrats. Right now Akin's only winning 78% of the vote among people who wanted a GOP controlled Senate, compared to the 95% McCaskill's getting with folks who want a Democratic controlled Senate. It's possible as election day nears that more people who want the GOP in charge will suck it up and vote for Akin even though they don't like him.

The other reason to think this race could still end up pretty close is who the 14% of voters either undecided or leaning toward voting for the Libertarian candidate are. They are overwhelmingly conservative voters, who support Mitt Romney over Barack Obama for President by a 66/9 margin. They'd like for the Republicans to be in charge of the Senate by a 65/14 spread. If these folks actually ended up voting for the candidate of the party they want in charge Akin would be up by one point. It's not likely they'll move en masse to Akin in that way, but it is possible and that's why this race is still worth keeping an eye on.
This is actually an increase in support in the PPP poll for McCaskill because of that late August poll that showed the race essentially tied, but that poll was coming out at a time when other polls had McCaskill up by as much as nine or ten points, so there's reason to think it may have been an outlier. The more interesting thing, of course, is that it came back with exactly the same number as the Rasmussen poll.
As six point lead is still a lead, of course, and I still tend to think that McCaskill will end up winning in November. However, as the PPP numbers show, there's still a possibility that Akin could end up getting the votes of those people who want a Republican controlled Senate as well as benefiting from Mitt Romney's coattails. Romney currently has a +5.2 lead in the RealClearPolitics Average for Missouri, while Akin trails McCaskill in their average by 2.3 points. Even though the national GOP is shunning him, a strong Romney victory could end up pulling Akin across the finish line.