Political Advice For Romney: Act Like A Misogynistic, Plutocratic Jerk And You'll Win The Election
National Review's Kevin Williamson has some truly bizarre advice for Mitt Romney.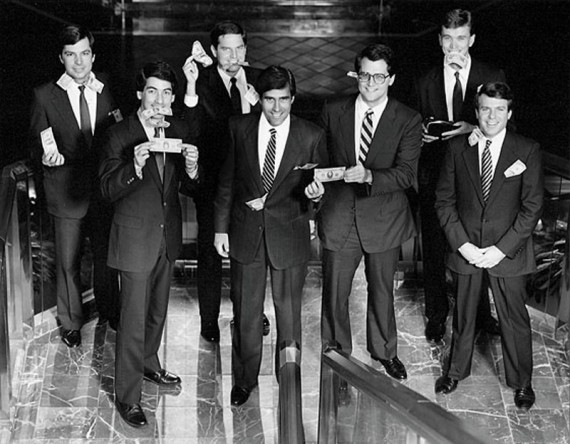 James Joyner has already written about one bizarre aspect of Kevin Williamson's exceedingly strange National Review article but there's even more about to than the odd claim that having daughters somehow makes Barack Obama a bad President and less of a man. Williamson also thinks he has the key to a Romney victory in November. It has nothing to do with politics, or religion, or Romney's business record or political beliefs. It doesn't even involve the state of the economy, President Obama's efforts to stimulate the economy, ObamaCare, the supposed tendency of the President to "apologize for America," or any other of the numerous failures that Republicans and conservatives continually attack the President for. No, instead, Mr. Williamson thinks that Romney can win by being a Playa':
It is time for Mitt Romney to get in touch with his inner rich guy.

Some Occupy Wall Street types, believing it to be the height of wit, have begun to spell Romney's name "Rmoney." But Romney can do better than that — put it in all caps: R-MONEY. Jay-Z can keep his puny little lowercase letters and the Maybach: R-MONEY doesn't own a flashy car with rims, R-MONEY does billion-dollar deals with Keystone Automotive and Delphi. You want to make it rain? R-MONEY is going to make it storm, like biblical. Rappers boast about their fat stacks: R-MONEY's fat stacks live in a beachfront house of their own in the Hamptons, and the bricks in that house are made from tightly bound hundred-dollar bills. You have a ton of money? R-MONEY has 200 metric tons of money if he decides to keep it in cash.

(…)

Romney should quit pretending that he's an ordinary schmo with ordinary schmo problems and start living a little larger. He should not be ashamed of being loaded; instead, he should have some fun with it. He will discover something that the Obama campaign has not quite figured out yet: Americans do not hate rich people. Americans love rich people. Americans will sit on their couches and watch billionaire Donald Trump fire people on television — for fun. Nobody hates Jay Leno for owning seven Aston Martins and 17 Lamborghinis — people go to his garage's website (of course his garage has its own website) to ogle his cars and leave appreciative remarks. (Like President Obama, Leno's big on green cars: He's got 39 of them, which probably negates the environmental benefit of buying a green car, but whatever.) There are lots of children of rich and powerful men who do not turn out to be 0.01 percent as successful as Mitt Romney has. Meghan McCain's father is a rich guy and a failed presidential candidate, just like Mitt's. Anybody think Meghan McCain's life is going to turn out like Mitt Romney's?
I've had to read this thing through three times to try to figure out if Williamson is being serious, or if he's engaging in some kind of grand exercise in parody. I can only conclude after doing so that he's absolutely serious, and that just makes the whole thing even more pathetic. As parody, it reads like something that Jon Stewart might do as an opening monologue on The Daily Show.
Essentially what Williamson is saying here is that Romney should flaunt his wealth, well, the way Donald Trump does. What he either ignores or forgets is that the reason that people watch The Apprentice isn't because they respect Donald Trump, it's because they are entertained by his clownish and buffoonish behavior. They may watch his television show, but when presented with the question of whether or not they wanted him to be President, the answer was an emphatic – we won't hire you. What, exactly, makes Williamson think that Romney — or as he apparently wants to call him R-Money — would do any better with the arrogant rich guy act than Trump has, at least in the political world?
What's truly amusing, though, is that Williamson is essentially saying that Romney — or I guess I should call him  R-MONEY like he's some kind of Republican rapper — should live up to all the stereotypes that the Obama campaign and the left have been hitting on for the past year. Throughout that time, the opposition has been trying to paint Romney as an out-of-touch uber rich executive in the mold of, well, Donald Trump or Mr. Burns from The Simpsons. Now, Williamson is telling him that's exactly the kind of public persona Romney should put forward. All due respect, but is Williamson nuts? When was the last time, a person like that was elected President? The answer, of course, is never.
We've elected many rich men President over the past two centuries. Indeed, our first President was among the wealthiest men in the America of his time, and men like Teddy and Franklin Roosevelt, John F. Kennedy, Ronald Reagan, both Presidents Bush have all been similarly wealthy. None of them flaunted it, though. In fact, especially in modern times, wealthy candidates have tried to emphasize their connections with, and concern for, the common man. Sometimes, quite honestly, this has been forced and phony, but it's something that's pretty much expected by the American people. Mitt Romney going through the rest of the campaign acting like some kind of Mormon Gangsta' would be utterly insane, which is why I wondered at first if this wasn't some vast exercise in Onion-type parody. Apparently, it isn't.
Alex Halperin at Slate sums up what Williamson's argument is really all about
The Republican Party does have policy objectives, but its case to the electorate isn't about better governance or any concern of ordinary people. Instead it is an appeal to the visceral and not inconsiderable thrill of being a jerk toward anyone less privileged than you are. Republican policies aren't going to help you become more privileged yourself but there will always be richer, better looking jerks to vicariously cheer for.
Or at least it would be if the GOP really followed Williamson's advice, and if they did they may as well run a Donald Trump/Don Draper ticket and get it over with.