Kevin Williamson Doesn't Want Women Murdered and Doesn't Belong at The Atlantic
Argumentation without the intent to persuade is masturbation, not journalism.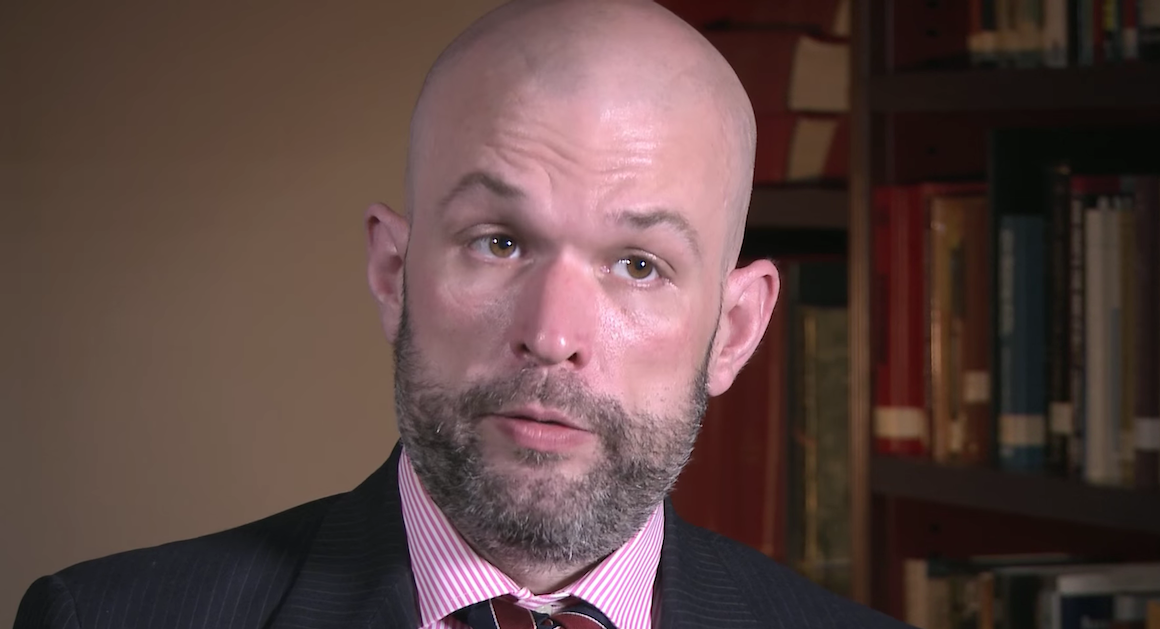 Yesterday's post, "Kevin Williamson and the Limits of Polite Discourse," has 132 comments as of this writing. Participation in that conversation and some additional digging have deepened my resolve on two points: Williamson's views on hanging women who have abortions have been grossly distorted and, yet, he should never have been hired by The Atlantic in the first place.
NRO's Michael Brendan Dougherty ("Imagine A Genocide") points to a 2015 speech Williamson gave at Hillsdale College that rather definitively gives his views on this issue (the video should automatically begin at the 26:56 mark):
As is his wont, he comes across as a condescending asshole. But he rather definitively rebuts the notion that he supports ex post facto lynching of anybody.
Dougherty—who disagrees strongly with Williamson's position—lambastes the critics who have misrepresented it:
Now, while some might find him biting the bullet a little shocking, any literate and normal person of good faith would deduce that not every homicide is a death-penalty case, only the worst of the worst. Any such person would note that Kevin is obviously speaking in some hypothetical case where abortion is abominated sufficiently by the public that it could be criminalized and prosecuted again. And that he's obviously talking about penalties imposed in the future, where pro-lifers believe criminalization has made abortion extremely rare.

Apparently we are not dealing with normal people, or people that are literate, or people that have good faith. And in the retelling, Kevin Williamson is said to be calling for a bloody cull of women that would make Josef Stalin blush.

Slate was a particular offender. There Osita Nwanevu described Kevin as "a man who once argued that a quarter of American women should be executed." That was literally the entirety of the description he gave his readers. (If they were not already familiar with the controversy, what could they have thought he meant?) More recently Ruth Graham described Kevin's rhetoric as a "breezy case for hanging nearly one-quarter of American women." The Twitter user Popehat referred to "his crazy-ass mass-execution ideas." Often these descriptions of his argument were accompanied with a completely disingenuous comment that at least Williamson was being logical.

Normally, I'm pretty good at figuring out how people misled themselves, but I confess, I'm stumped on this one. They are obviously smuggling in the premise that nearly one quarter of U.S. women have had abortions. But I can't tell if they believe that Williamson wants to impose this penalty retroactively or if they believe Williamson thinks his preferred laws criminalizing abortion would have zero effect on the abortion rate, and simply add tens of millions of adult women onto the already high body count of abortion.

I think a ten-year-old kid should be able to deduce that a society capable of criminalizing abortion would be one in which a quarter of women probably wouldn't want or seek one. Or at least that pro-lifers believe criminal penalties would dissuade almost all women from seeking it. But now writers who make their careers based on their expertise on conservatives and pro-lifers feign this baby-like ignorance in order to inflate Williamson into a genocidaire. Apparently many readers like this. I think they look like idiots, and I feel stupid having ever read them.
Having re-tweeted at least one such argument shortly after the firing, I would offer the lame defense that many doing so had probably simply reacted to the characterizations of what Williamson had said without engaging with it. That's rather typical on Twitter, especially, and social media in general. And, yes, as Dougherty notes, we're especially prone to making harsh snap judgments about people on the other side of an issue. Still, he's right: there's no intellectually honest way to come to the conclusion that Williamson supports or ever supported the notion of hanging a quarter of American women.
Still, I don't find defenses such as former NRO editor Jonah Goldberg's ("Kevin Williamson, Thought Criminal") persuasive.
Magazines, like Churchill's pudding, need themes.

But here is the first important distinction I'd like to make: Editors or owners should have absolute authority to control what appears in the pages of their magazines. How they exercise that authority, i.e., how much orthodoxy they want to impose or how much free-for-all they want to encourage, is a prudential question (and one I often have strong opinions about).

What editors should not have any control over is what their writers are allowed to think.

[…]

The point is that Rich Lowry, or, more relevant, Jeffrey Goldberg, would be entirely within his rights to reject any attempt by Kevin to make that argument in the pages of National Review or The Atlantic (and Kevin would be in his rights to quit over it, though I doubt he would). But there was no chance to test this because Kevin was fired for what he thinks. There were writers at the old New Republic who had unacceptably harsh views of Israel, but they weren't fired for it. There are writers at National Review who are pro-choice, but they aren't fired for it. They just don't typically make that case in our pages. There are writers at every magazine out there who believe things they wouldn't pitch to their editors. And that's not merely normal; it's fine.

Everyone has opinions, but opinion writers are paid to have them. As far as I can tell, most opinion writers don't have very interesting opinions. They see their job as articulating what their audience already believes or what their editors want to hear. That's not Kevin.

[…]

Kevin Williamson's views on abortion put him outside the mainstream. And he was fired from The Atlantic merely for refusing to recant them.
Political scientist Jacob Levy (hat tip: James Pearce), in the course of a longish tweetstorm arguing that, because the Trump presidency constitutes a national emergency, the left ought not push away anti-Trumpers like Williamson over side issues, observed,
For the (many) people responding to me "but he advocates executions for abortion"— would it really make a difference to you if he advocated 20-year prison terms?

10 years?

Excommunication and damnation?

Is there an acceptable pro-life position for an Atlantic writer to hold?

— Jacob T. Levy (@jtlevy) April 6, 2018
The answer certainly appears to be Yes. In addition to various pieces grappling with Bill and Hillary Clinton's repeated mantra that abortion should be "rare," there's also, for example, Emma Green's series interviewing abortion survivors, many of whom have deep regret over their choice.
The current theme of the magazine's pudding may be such that even a more thoughtful articulation of Williamson's extreme position would have been unwelcome there but I don't see him having been fired for the "thought crime" of believing abortion is murder or even that it's heinous enough an act to merit capital punishment but rather for having delivered that message in a particularly flippant, callous manner—and for giving his editor the idea that a long-ago tweet on the subject was a lark rather than his considered view.
Having now spent a lot more time with Williamson's thinking on this issue than it reasonably deserved, I'm of the view that his views on the issue are perfectly within the bounds of acceptable discourse and yet am more convinced than ever that he's intellectually and temperamentally unsuited for the pages of The Atlantic.
First, having listened to his podcast discussion with Charlie Cooke, it's rather clear that he has trouble grappling with nuance. Second, his writing and speaking on this issue is phenomenally lacking in self-awareness. It's perfectly fine—desirable, even—for opinion writers to take positions well outside societal orthodoxies. Having staked out such a position, however, one ought to have the good sense to not insult the 99% of the population who disagree.
As I noted yesterday in response to Jack Shafer's backhanded defense that Williamson is "not interested in building consensus or in gentle persuasion. He reduces all the grays to their black-and-white components. He pushes boundaries and doesn't stop until he's gone too far," that's precisely the antithesis of an Atlantic writer.
Argumentation without the intent to persuade is masturbation, not journalism.