The Declining Market for Freelance Writing
Ring Lardner said he would "rather write for the New Yorker at five cents a word than for Cosmopolitan at one dollar a word." A century later, he'd be lucky to get those rates.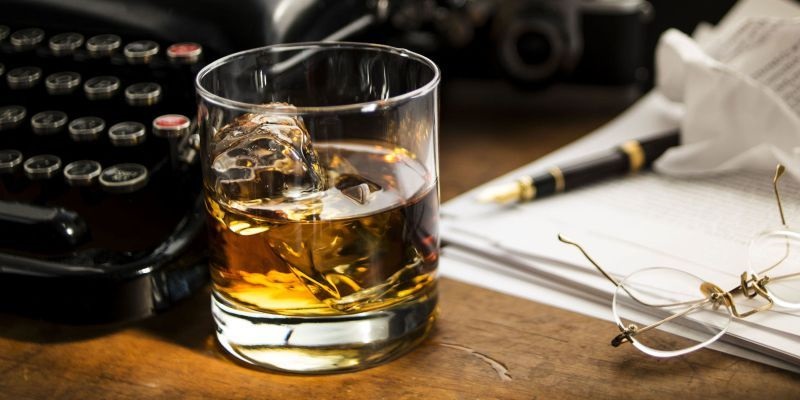 Writing at Medium, Malcolm Harris ponders "How Much Is a Word Worth?" and argues, "Declining pay for freelance writers hurts more than just the quality of the prose."
Freelance writers have long tolerated a wide range of rates. Nearly a century ago, a writer named Ring Lardner declared that he would "rather write for the New Yorker at five cents a word than for Cosmopolitan at one dollar a word." It's hard to think of another profession in which pay for comparable work can vary so much from assignment to assignment.

One of the benefits to freelancing is that writers can place value on rewards other than money — like being part of a hip new project, like the 1924 New Yorker. But the downsides are many, and as a result, most pros today find themselves still answering the same spiritual question Lardner did, but for a whole lot less cash.

Freelance writers have no collective with which to bargain, they are not subject to minimum wage laws, and their pay fluctuates all the time. For those reasons, it's hard to keep track of the averages (and few organizations are compelled to try). But back in 2001, the National Writers Union published a report on pay rates for freelance writers. The report figured that to earn the median wage for college grads — $50,000 per year — writers needed to pitch, sell, report, write, edit, publish, and be paid an average of $1 per word for 3,000 to 5,000 words a month. (That's the length of this article.) Adjusted for inflation, that's about $1.40 per word today.

Most freelance writers didn't hit those numbers then, and they don't hit those numbers today. Based on my reporting, my own experience, and interviews with more than a dozen writers, the current median price for a freelancer's work is between 25 and 50 cents per word (though, to be clear, most places no longer pay per word; they pay lump sums that work out to about $500 for a 1,000- to 2,000-word article). Speaking to Black Enterprise, Ben Carruthers, vice president of the Society of American Travel Writers, suggested that a similar $500 rate was standard…in 1977.

[…]

There are no solid numbers for how many Americans are making these numbers work for them. When I asked a few people who earn a solid upper-middle-class living from freelance writing alone, they estimated only a couple hundred other people in the U.S. were in the same boat—and not one of them makes Lardner money writing for magazines.

As any owner of a taxi medallion can tell you, reducing the value of a product or service can have serious repercussions — for the workers themselves and for the wider society they help comprise. When it comes to freelance writing, I fear that low prices have already begun to cost us. Talented writers walk away from the industry, plutocrats are free to pick stories and choose writers even when they don't own the outlets, and the quality of the work declines. All of that looks to worsen over time.

[…]

The most common complaint is that the numbers just don't add up to a good living. Without signing writers to exclusive deals, most magazines top out in the $1 to $2 per word range (exclusivity can get you $3). It's possible to publish 30,000 words of freelance writing a year at those rates — about eight articles the length of the one you're reading — but it's extremely difficult to land and execute that many assignments successfully. And if you manage to pull it off and place a full year's worth of writing in top-flight publications, you may make as much as the average personal trainer: $60,000.

In reality, writing a story — especially an interesting or important one — is not an efficient process. "I wrote a feature for [a national magazine] in 2014, and I still remember getting the $5,000 check," one writer told me. "I sent a photo of it to my father, because I wanted him to see you could actually get paid for writing. Now I wonder whether in the back of his mind he was thinking, 'Five thousand dollars for six months of work?'" (That $5,000 is worth $5,322 today, but I'm willing to bet the publication has not increased its rates to keep pace.)

[…]

I would be remiss if I omitted that almost every person I spoke to brought up one of the industry's worst-kept secrets: New Yorker staff writers, some of the most admired journalists in the business, don't typically receive health insurance. Of course, that magazine isn't alone in keeping top talent on freelance contracts, often without benefits.

Freelance staff writers are still freelance in that they're legally considered independent contractors, but in nearly all cases, they write only for the one place. If that publication doesn't want to run their idea, the writer can't take it elsewhere.

Beyond the basic numbers, writers also told me about a grab bag of smaller frustrations and indignities that make the economics of their job problematic: checks that arrived on a geologic time scale while the landlord still charges monthly; publications squeezing out reprint, TV, and film rights; editors who assign and fix pay for pieces at word counts they know writers will likely exceed to meet the scope of the assignment.

"If the editors announced a 50-cent per word pay cut next week, I don't think any of us would quit," one contract staff writer told me, "and they know it." Writers cite a cartel mindset among editors. And the editors I spoke with, like the writers, did not expect rates to rise.

[…]

The writers who talked to me about their compensation did not generally complain that they were underpaid, per se, more that they were under-resourced. They didn't talk about what they would do with an extra $50,000 a year; they talked about what it would be like to be able to spend twice as long on their stories.

"No wonder the stuff in the sixties and seventies was so good," one writer said with a laugh as we discussed the impact of inflation on rates. "I don't see anything out there today that shows the kind of thought they got to put in." Though I'm less rosy about the writing of that era, the bottom line is hard to escape.

I was assigned this story at $4,000, and I turned in a draft of 4,000 words. Another site offered me $850 for the idea, and there is an $850 version of this story that is significantly shorter, with less research, and of a weaker quality overall. (If that sounds cold or unprofessional, imagine what the effect on the quality of your work would be if your boss cut your pay by 80 percent.)

There is also a $2 a word version that has more background research—in physical, not just digital archives—and for which I would have been more willing to press my sources to take risks and talk to me on the record.

I imagine a $4 per word version would include the specific, surprising allegations about the labor practices of particular beloved media institutions, the printing of which likely would make it difficult for me to find work for a while, but that would be fine, because I could live off that check for six months.

It's easier to imagine the end of the world than a return to the '60s equivalent of $8 a word.
There's some irony in the essay appearing at Medium, which mostly publishes unpaid work of highly variable quality, because the proliferation of such sites has helped flood the market with content, thus diluting its value.
The prestige economy that Lardner described nearly a century ago still remains. There are enough people clamoring to have their bylines appear in The New Yorker, Vanity Fair, Harper's and the like that they don't have to offer high rates of pay. Which is probably a good thing in that literary and political magazines have always been vanity projects; few of them make money for long. That was true before the Internet and the ethos that "information wants to be free."
It's also worth noting that 3,000 to 5,000 words a month isn't exactly a high rate of production for someone doing it full-time. Then again, it's a lot if the expectation is that it's heavily reported work, featuring archival research, interviews, and the incumbent travel expenses. There remains a market for that kind of long-form journalism but, alas, it remains small and is facing competition from instant analysis pieces flooding the Internet (including here at OTB).
Harris' complaint is interesting but it is just that. The late Shimon Peres observed, "If a problem has no solution, it may not be a problem, but a fact—not to be solved, but to be coped with over time." I'm afraid Harris has described such a fact.