Writing and Drinking
Many of America's great writers were alcoholics.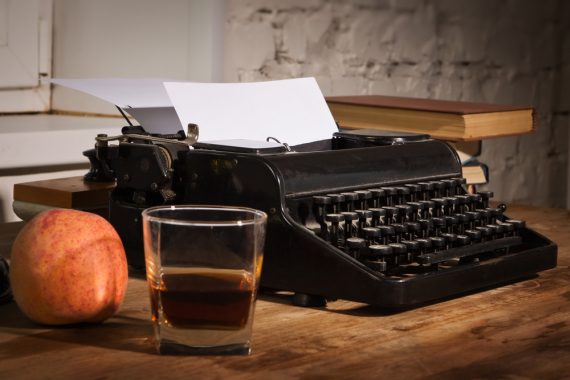 Adam Gopnik reviews for the New Yorker a new book exploring why it is that, for generations, our great writers were almost universally alcoholics. After quite a long summary of Olivia Laing's  The Trip To Echo Spring: On Writers And Drinking, he reflects,
If a theory is called for—and when is it not, in these woods?—to explain this phenomenon, it is that writing is work in which the balance necessary to a sane life of physical and symbolic work has been wrested right out of plumb, or proportion, and alcohol is (wrongly) believed to rebalance it. Anyone not a writer is probably sick of hearing how hard writing is, and obviously writing is not nearly as soul-destroying as coal mining or burger flipping or whatever you like. But writing is, if not uniquely hard work, then uniquely draining work. Some basic human need for a balance between thinking and acting is still kept intact even by the most tedious of other tasks. All rewarding effort involves a balance between wit and work—between the bits you do alone in your head and the bits you do in company with your hands (or voice or body or whatever). Laboring in your head, exclusively, does feels unnatural; whatever else we might have been doing, back out there on the primeval savannah, we weren't sitting and moving the ends of our fingers minutely on a stone surface for six hours at a stretch.

The dramatic and plastic arts have elements of both wit and work intertwined—actors move around and shout, a director moves them (and shouts at them); painters have the sheer physicality of paint, and the givens of the canvas offer you four lines and a white surface to start with. A writer, on the other hand, stares out mournfully over the abyss of language—there are, truly, an infinite number of ways of forming the sentence you are about to attempt, all save one of them ugly and inadequate. And there's nowhere to look for help but your own fingers.

The only cure, or hope, is to make the act of writing physical—to move it from your head to your gut—and, in doing so, to make it automatic, aerobic. That's hard, and can be done in only two ways, both calling for outside assistance. One is to take the drug, or drink, and hope that it helps to 'physicalize' the work, move the pedals, and start the breathing—the theory used by those writers, like the elder Hemingway, who do the drinking and the writing simultaneously. Or else, to make the transition from mind to hand sober, knowing that the exhaustion it engenders will call for an antidote. Drained, one wants to replenish, and the whiskey or wine bottle is at hand. This is false reasoning of course, but it is the speciousness of writers.

Or was. No generalization about literature ever survives contact with the enemy, reality—doubtless there's a young novelist in New York now writing her twelve-hundred-page opus on love and Brooklyn with a bottle of Jack Daniels in hand, and certainly Gary Shteyngart is doing his bit for the virtues of vodka. Still, there's a general sense that the drugs of choice for writers now are more often little blue pills than big brown bottles. The onset of feminism, which compelled male writers at last to take some responsibility for their kids (one of the things that Laing's writers certainly were not were present-tense dads), the diffusion of literary life from narrow bands of energy in London and New York and Paris into the academic monasteries of creative-writing programs—all of this has made the evening's common cocktail a lost communion cup. (You can take the pill, and then send the kids to school.) Writers cope with the drain of writing now with yoga and meditation and marital discord (and, of course, with weed and Oregon Pinot, too) but the heyday of the writer with the whiskey bottle always on his desk seems past.

The price we pay for the end of the drinking life for writers is, perhaps, not so much isolation, though that is so: people can't believe how few writers actually know other writers; the bars solved that for the old guys, at least. We also pay it, perhaps, in undue cheerfulness and extended youthfulness. The single most astonishing thing about the old-time writers Laing studies is how old they were when still young. Alcohol ages. Fitzgerald died just past forty, but everyone was already treating him like Rip Van Winkle. This was partly because he had out-lived his time but mostly because youth died then with the young. Now hair dye and twenty-four-hour gyms and wild salmon and celery juice or whatever have extended youth or the illusion of youth right to the edge of extreme old age.
I've come to enjoy the pleasures of alcohol relatively late in life, imbibing much more in my forties than in my twenties. But, with the exception of the occasional late-for-me evening live blog (or, increasingly, Tweet) of a political speech or debate, it has never had anything to do with my writing. My peak writing time, of which there has been less of late, is early morning and I seldom write anything after late afternoon; thus, it's fueled only by coffee.
Then again, I imagine that writing fiction, especially the sort that's more than thinly-disguised autobiographical fantasy, is of a different piece than political and cultural analysis. While certainly the late, great Christopher Hitchens was known—even if by his own accounts, somewhat apocryphally–as a booze hound, there's no obvious benefit to inebriation in this genre; to the extent that he was prolific and intoxicated, it was despite, not because of, it. But it's certainly conceivable to me that novelists trying to invent new worlds and characters out of whole cloth might more easily do so slightly less moored to reality. I'd venture, too, that even the great alcoholics do revisions sober.
The social aspect of Gopnik's analysis  is especially interesting, in that I've never viewed writing as a collaborative venture. It strikes me as necessarily solitary.
Whiskey and typewriter photo  via Shutterstock