Kevin Williamson and the Limits of Polite Discourse
The Atlantic fired one of their few conservative voices for saying women who have abortions should be hanged. Was this beyond the pale?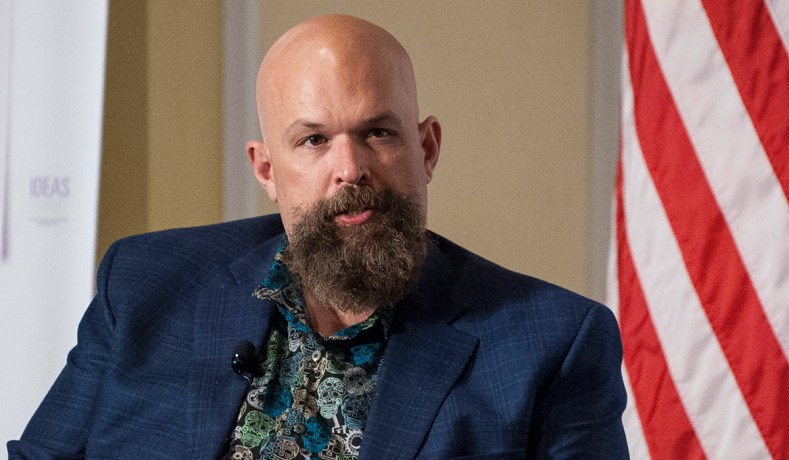 Conservative provocateur Kevin Williamson was fired from the Atlantic after barely a week after it was discovered that his view that women who have abortions should be subject to the death penalty was not simply an "intemperate tweet" but "represent[ed] his carefully considered views."
Not surprisingly, most voices on the left have applauded the firing, while contending Williamson's record was sufficiently repugnant he should never have been legitimated in the first place. HuffPost's Ashley Feinberg ("Atlantic Fires Kevin Williamson After Suddenly Realizing He Believes The Things He Says") and Jezebel's Katie McDonough ("Jezebel Regrets Its Decision to Hire Cannibal Witch as Writer-at-Large") are representative samples. Many on the right have likewise expressed their distaste for Williams being seen as their representative.
The defenses are more interesting, if varying considerably in their persuasiveness.
The Federalist's Warren Henry ("Ta-Nehisi Coates And Jessica Valenti Prove The Atlantic's Hypocrisy On Kevin Williamson") tries some false equivalence, noting that Coates and Valenti say some provocative things. But none of the things he cites are advocacy of murder. Coates merely notes that the struggle to end the effects of racism could well involve violence. And Valenti argues that there should be no limits whatsoever to abortion.
Reason's Katherine Mangu-Ward is more persuasive ("By Firing Kevin Williamson, The Atlantic Shows It Can't Handle Real Ideological Diversity"):
I do not share his view. But by declaring Williamson to be outside the Overton window of acceptable political discourse because he believes strongly that abortion is a serious, punishable crime, The Atlantic is essentially declaring that it cannot stomach real, mainstream conservatism as it actually exists in 21st century America.

Williamson uses colorful and sometimes rash language. He didn't have to detail the grisly form of punishment he would inflict on women who decide to terminate their pregnancies. He chose to do so because he enjoys provoking a reaction. But The Atlantic knew that about him before it hired him.

Editor Jeffrey Goldberg says he decided to fire Williamson only after learning that the tweet and podcast quote "represented his carefully considered views." But the underlying logic of Williamson's position is a view shared by roughly half or at least 40 percent of Americans.

It is, of course, the perfect right of The Atlantic's editors to publish whomever they wish. Reason staffers are all libertarian, under a big-tent understanding of that term (not to brag, but we are repping the pro-life view). That's written into our mission as a magazine. But if The Atlantic purports to capture a broad spectrum of American political views, Williamson's firing is a sign that it hasn't yet figured out how to do so. And the reader outcry against him (and his rightish heterodox kinfolk at The New York Times) is a sign of a market that has grown increasingly squeamish about a genuinely inclusive journalistic vision.
Now, the links she provides merely demonstrate that a significant percentage of Americans think abortions should be illegal in all or most cases. In my own memory of the debate, going back some four decades, few mainstream politicians have advocated punishing women for having abortions, preferring instead to punish the provider. (Then again, many states punish women for having so-called "back alley" abortions, on the grounds they could seriously injure the unborn child if unsuccessful.) When then-candidate Donald Trump argued women should receive "some kind of punishment" for getting abortions, he was quickly forced to walk that back. (Although 39% of his supporters agreed with the original statement, according to one survey.) Meting out the death penalty, then is surely an extreme view.
Still, Mangu-Ward is right that Williamson's conclusion is a logical one that might be drawn from the perfectly-mainstream "abortion is murder" rhetoric.  The reductio ad absurdum would likely be self-defeating, running away potential converts to the anti-abortion position. But perhaps Williamson is just being honest while anti-abortion politicians and activists are being strategically measured.
Rod Dreher's argument is stronger than his silly title ("Atlantic Cashiers Kevin Williamson, Its Reputation"):
How many other writers at major national magazines grew up poor, white, and in a badly broken culture? Are there any? Not many writers, whatever their background, could write as beautifully and insightfully as Kevin Williamson does. If you know his work at all, you can easily see why Jeffrey Goldberg hired him at The Atlantic. It is hard to separate Kevin the fearless and brilliant writer from Kevin the guy who can be a jackass. You know who else was like this? Christopher Hitchens.

The Atlantic is not obligated to hire or to retain anyone. Firing Williamson because of that one blemish on his immense record is unjust — and it's a serious stain on the magazine's reputation.

If we are going to start refusing to hire writers for holding or having stated harsh opinions in the past, this is going to cost us plenty. Of course we're not going to do that across the board. It's only going to apply to writers who offend against left-liberal politics. Mind you — and this has to be repeated — most pro-lifers would find Williamson's remark beyond the pale. But you do not see pro-lifers, or any other conservatives, coalescing to fire writers.

Recently, Washington Post columnist Ruth Marcus came out in favor of eugenic abortion regarding Down Syndrome babies. It shocked the conscience of a lot of conservatives, who said so. But did a mob form to demand that the Post fire Ruth Marcus? Of course not — and had there been, there's no way I would have joined it.
Williamson's former (and perhaps soon-to-be-again) National Review colleague David French ("On the Cowardly Firing of Kevin Williamson") makes the strongest defense I've seen:
The Atlantic has caved to the intolerant mob and fired Kevin Williamson, and in so doing has contributed to a slanderous fiction — that Kevin is so beyond the pale that he has no place at one of the nation's premiere mainstream publications. His millions of words, his countless interviews, and his personal character were reduced to nothing — inconsequential in the face of deleted tweets and a five-minute podcast dialogue.

So, what are The Atlantic's readers now missing? I ask you to read Kevin's February 18, 2016, NR cover story about the opioid crisis. It's not a chart-filled, graphics-heavy analysis. It's a story about people. It's a story told the way only Kevin can. It takes a reader who may not know or may never meet a heroin addict, and it puts you in their world. By the end, your heart breaks.

[…]

Kevin is independent. He's provocative. Sure, he can troll a little bit, and — no — I don't agree with everything he says. I'm a moderate, you see. If abortion is ever criminalized in this nation, I think only the abortionist (and not the mother) should face murder charges for poisoning, crushing, or dismembering a living child. So we might differ about the laws in hypothetical-future-America.

But in this America, the one we live in now, Kevin is one of our most interesting and talented voices. Like every single interesting and talented person I know, he can provoke. But so what? Aren't we adults? Can't we handle disagreement? Apparently not.

I've spent my entire adult life in an academic and media environment that put a premium on shocking the conservative conscience. Advocate for the most barbaric abortion practices? Fine. Celebrate an artist who dips a crucifix in urine? Cool. Decry 9/11 first responders as "not human" because of white supremacy? Intriguing. But the marketplace of ideas isn't for the faint of heart, and good conservatives learn to simultaneously defend the culture of free speech while also fighting hard to build a culture of virtue and respect.

Look, I know it's easy for some to dismiss Kevin's termination as mere inside-baseball media drama. But it's more than that. It's a declaration by one of America's most powerful media entities that it can't even coexist with a man like Kevin. If he wants to write, he should run along to his conservative home. His new colleagues simply couldn't abide his presence.

After Kevin was fired, Guardian columnist Jessica Valenti tweeted that she was "very relieved for the women" who work at The Atlantic. Why? What was Kevin going to do to them? Write things that made them angry? God forbid! His ideas might hurt? Have mercy!

And so it goes, the steady, inexorable division of America into the tolerable and the intolerable — with the range of tolerable people narrowing ever-so-rapidly. There's no grace in this brave new world. There's no charity. It's not enough to disagree. Now we must ruin. Now we must humiliate. Saying "you're wrong" is no longer enough. The argument isn't sufficient.
Aside from mischaracterizing Coates' "not human" remark (apparently, there was a memo: Henry and Dreher do the same with the same passage) he's got a strong argument here for tolerating Williamson's words and style. If abortion were illegal, and we were seriously considering upping the penalty on women who have abortions from, say, twenty years in prison, to death, his views would be dangerous. As it is, they're merely extremist nonsense.
But the issue isn't whether Williamson's extremist nonsense should be tolerated but whether The Atlantic ought to legitimate it by having it appear under its masthead. I see no obvious reason why it should. Williamson's vision of women being executed for having abortions is no more likely to become public policy than Coates' reparations, but the latter is far more interesting. Yes, they both make people uncomfortable. But Coates is contributing something more valuable to the discourse.
French seems to argue that more is at stake. That the Establishment has declared Williamson persona non grata and excommunicated him from the elite-level conversation. And maybe they have.  I can't see the New York Times, Washington Post, New Yorker, or any other prestige, non-ideological publication hiring him right now.
Henry Farrell goes further in ("Who has any use for conservative intellectuals?"):
It is an unfortunate, but fairly obvious truth that most intellectuals, both on the left or right, don't have particularly original ideas. Go to the Aspen Ideas Festival, or TED, or any of their ilk and you won't find much that is genuinely surprising or exciting. Instead, you will find a lot of people whose stock-in-trade is not so much innovation as influence.

This used to be true in some quite specific ways of conservative intellectuals. The conservative movement perceived the need for intellectuals, both to hold their own fractious coalition together through 'fusionism' and the like, and to justify their goals to liberals, who dominated the space of serious policy discussions, and could possibly stop them. Liberal policy types, for their part, needed to understand what was happening among conservatives, and perhaps hoped to influence it a little. The result was that conservative intellectuals were in a highly advantageous structural position, serving as the primary link between two different spheres, which didn't otherwise come much into contact. As network sociology 101 will tell you, this allowed them a fair amount of arbitrage and enough slack that e.g. people like Jonah Goldberg were treated as serious thinkers.

Now, however, the game is up, thanks to an unfortunate concatenation of events. Conservative intellectuals defected en masse from Trump, thinking that it was a fairly cheap gesture of independence, but Trump got elected. Not only did this damage these intellectuals' personal ties with the new administration and the conservative movement, but it opened up the way for a conservatism that basically didn't give a fuck about policy ideas and the need to seem 'serious' any more. The result is that conservative intellectuals don't have all that much influence over conservatism any more.

The problem is that without such influence over conservatives, these intellectuals' capital with liberals and the left is rapidly diminishing too. If conservative intellectuals don't have much of an audience within conservatism itself, why should people on the opposite side listen to them any more? Their actual ideas are … mostly not that strong. Some of them are good writers (David Frum, for example), but good writing only goes so far. The only plausible case for paying attention to conservative-intellectuals-qua-conservative-intellectuals, is that perhaps the pendulum will swing back after Trump, and the old regime be restored. That might happen, but you wouldn't want to betting serious money on it.
This is really the rub. There has been a perennial debate, at least since I began blogging fifteen years ago, along the lines of "Who are the thinkers on the [other side] that [people on my side] should be reading?" It has always been easy to point to liberals that conservatives would benefit from reading, whether to sharpen to their own thoughts or to challenge them. It's gotten harder and harder to find conservatives that liberals need to read. And I say that as someone who would have self-identified as a conservative a decade ago and would likely still be characterized that way by most on the left.
Jeet Heer had a go at at yesterday:
Memo to: The Atlantic.
Re: Hiring a right-winger who is not batshit
May I suggest reading @amconmag & @ModAgeJournal as well as works of @DanielLarison, @SWGoldman, @herandrews, @michaelbd, & @ToryAnarchist, among others.

— Jeet Heer (@HeerJeet) April 5, 2018
Daniel McCarthy (@ToryAnarchist) and Daniel Larison are indeed fine candidates, although they specialize in foreign policy. I'd add Kori Schake (@KoriSchake) to the list, along with some others. But, not only are they mostly writing about a narrow topic but, as Farrell notes, they're not the types of conservative currently influential with the movement. McCarthy and Larison aren't even less interventionist than I am, making us outliers. Schake would be a candidate for National Security Advisor or another senior post in a John Kasich or Jeb Bush administration but she's a plankholder in the #NeverTrump movement.
Having long ago relegated National Republic Online to the link-only reading list, I'm not familiar with Michael Brendan Dougherty (@michaelbd)'s work. I gather Helen Andrews (@herandrews) is a journalist who specializes in literary criticism, but that's just from a scan of her portfolio. Sam Goldman (@SWGoldman), a political scientist, seems to specialize in religious issues, particulary Israel. Off the top of my head, I'd add Jack Goldsmith (@jacklgoldsmith) of Harvard and Lawfare on legal matters.
There are a few general interest conservative thinkers out there, including Ramesh Ponnuru (@RameshPonnuru). But, again, the ones I find interesting are almost exclusively the ones outside the tent.
Given that Donald Trump commanded nearly half the vote in the most recent presidential election, it almost certainly makes sense to find columnists who express their viewpoint in the most persuasive way possible. But given that his appeal was anchored in frustration, nativism, racism, and a general rejection of intellectualism, that's likely an exercise doomed to failure.
UPDATE: Tom Nichols, who I'd very much include on the list of conservatives worth reading (he's a national security professor but weighs in on issues across the spectrum, adds:
Side effect: young writers – and not just conservatives – will see that the right way to go is (a) decide to stay writing within your tribe forever, or (b) "write scared" and weigh every comment for a potential Judgement Day. https://t.co/spuo764o7M

— Tom Nichols (@RadioFreeTom) April 6, 2018
Reading his thread he's decidedly not arguing that Williamson's rights are being infringed or even that conservatives are generally being unfairly targeted. But he does see a double standard. He, for example, does a much better job on the Valenti double standard issue than did Warren Henry:
Well, Jessica Valenti called the NRA a terrorist organization, so I'm sure we can find a place for you somewhere. https://t.co/Ap1ZR6PiYA

— Tom Nichols (@RadioFreeTom) April 6, 2018
I'll add one more thing about Williamson: he stepped on a land mine that he put there himself. Stipulated.
But I still think this whole mob outrage is selective, hypocritical bullshit that took out a target of opportunity, not some sort of principled "just this time" exception.

— Tom Nichols (@RadioFreeTom) April 6, 2018
UDPATE 2: Slate's Jack Shafer offers an incredibly backhanded defense of Williamson ("Congrats, Jeff Goldberg. You Just Martyred Kevin Williamson."):
I've long admired Williamson's writing, if not his ideas, for the way he's internalized Michael Kinsley's warning that if you're afraid to go too far, you won't go far enough. Williamson almost always goes too far, taking his arguments to thought frontiers where there are no roads, no mobile phone service and sometimes barely enough air to breathe. For examples of the Williamson oeuvre, see these National Review pieces arguing against reparations, decrying the mainstreaming of transgender rights, critiquing the "white working class" and dismissing the idea of "white supremacy."

Since the rise of Donald Trump, Williamson has emerged as maybe the most eloquent and forceful internal critic of that part of the white working class that went for Trump. He's a blue-collar Texan who regularly lets his fellow blue-collar white people have it for their moral failures, for their embrace of a strongman, for letting the "American values" they purport to stand for decay into a swamp of self-pity and conspiracy-mongering. He has become the center-left's favorite righty firebrand, and it's not hard to see why Goldberg wanted him aboard. But once you get beyond the anti-Trumpism, he also holds a lot of social positions the center-left loathes, and he's ferociously good at articulating them. He's the kind of writer comfortable liberals ignore at their peril.

Every Williamson article contains strong meat, which has led his detractors to dismiss him as a troll. But that's not who he is. He's really more of an ogre who loves to take arguments to the breaking point in hopes of shocking readers with his cold, unbound logic. Where other writers might serve 7 percent alcohol in their brew, Williamson likes to up his percentage to 20. Where other writers might stop at mean, Williamson keeps going all the way to cruel.

I never read Williamson in hopes of seeking agreement. And on that score, he has almost never failed me. He's not interested in building consensus or in gentle persuasion. He reduces all the grays to their black-and-white components. He pushes boundaries and doesn't stop until he's gone too far.

[…]

Without relitigating Williamson's abortion views—which I don't share—let's agree that if he hadn't been sent packing for his less-than-modern views on abortion, his critics would have griped about something else in his archives to engineer his removal. Let's be real here: Kevin Williamson wasn't sent packing for expressing strong language on abortion but for being Kevin Williamson. The very things that made him so appealing to Goldberg were destined to lead to his exit.

The loser here isn't Williamson. Like other excellent writers who've gotten the ax, he'll find a new job soon enough—and now he's become the right's latest free-speech martyr. The real losers are Atlantic writers and Atlantic readers—writers because they'll become faint-hearted about their work (who wants to be the next Williamson?) and readers because the magazine will be less eager to challenge them.
There's certainly something to be said for fearlessness. But "He's not interested in building consensus or in gentle persuasion. He reduces all the grays to their black-and-white components. He pushes boundaries and doesn't stop until he's gone too far" sounds precisely like the antithesis of an Atlantic writer.
UPDATE: See my follow-up "Kevin Williamson Doesn't Want Women Murdered And Doesn't Belong at The Atlantic."