Andrew Sullivan's Complicated Legacy
The one-time wunderkind, blogging pioneer, and same-sex marriage champion is now on the outs.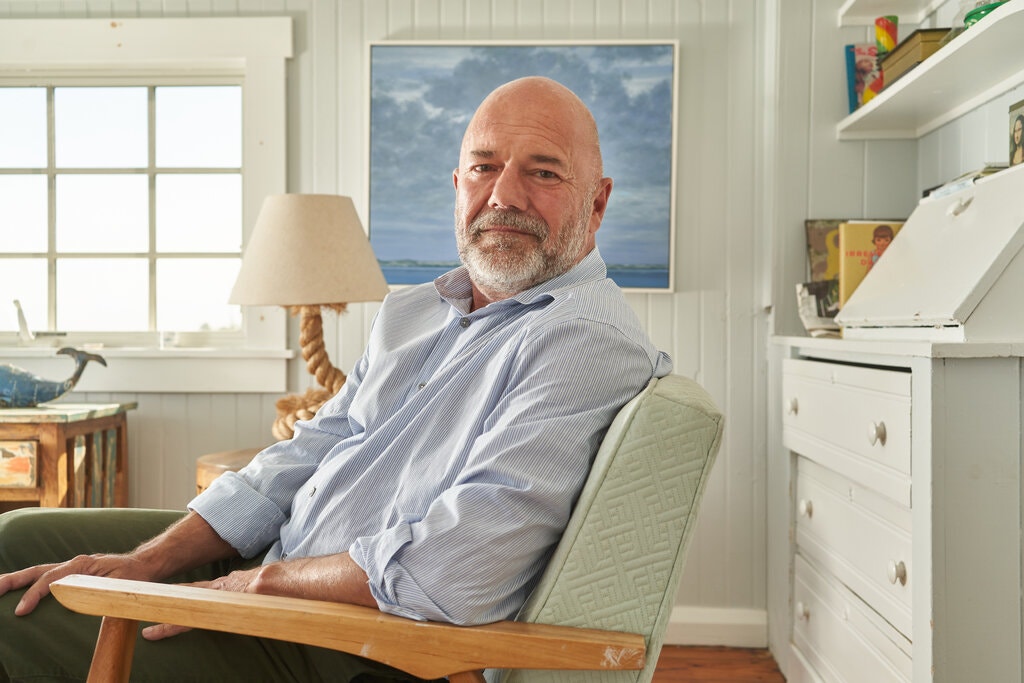 In his feature, "I'm Still Reading Andrew Sullivan. But I Can't Defend Him.," Ben Smith encapsulates a problem in elite media circles with one of its most important figures.
Mr. Sullivan hasn't changed much since he arrived in Washington in 1986 with an internship at The New Republic and a veneration of Margaret Thatcher. Among many other convictions, he believes in safe, lawful and relatively quiet streets. I was sitting with him on the back porch of the tiny, yellow cottage he owns here when videos of unrest from Kenosha, Wis., crossed his Twitter feed.

"If the civil authorities are permissive of violence, then that's a signal to people to commit violence," he told me, winding himself up for the dire newsletter he would write later in the week. "The idea that it'll just burn itself out — it just doesn't work that way," he said.

I came to Provincetown to better understand why Mr. Sullivan, 57, one of the most influential journalists of his generation and an obvious influence in my own career, is not as welcome as he once was at many mainstream media outlets. But my visit helped me see something more: how Mr. Sullivan is really a fixed point by which we can measure how far American media has moved. He finds himself now on the outside, most of all, because he cannot be talked out of views on race that most of his peers find abhorrent. I know, because I tried.

He was a star in his 20s, when he ran The New Republic, so celebrated that he posed for Annie Leibovitz in a Gap ad in a white T-shirt and a memorably coy expression. He was a master of provocations there that included one that defined him, arguing long before it was part of mainstream political debate that same-sex couples should have the right to marry. But he also published a cover story, an excerpt from "The Bell Curve," that claimed to show a link between race and I.Q., a decision that has increasingly consumed his legacy.

Mr. Sullivan trended on Twitter on Friday, as his critics there took a paragraph out of context in the uncharitable way people do on social media to suggest that his cries against civil unrest made him a "fascist." He was trying to argue the opposite: that law and civility are what make democracy possible.
The newsletter in question, "The Trap The Democrats Walked Right Into," illustrates the problem perfectly. I'm largely in agreement with Sullivan's larger point. And yet I couldn't get past the introductory paragraph:
It finally happened. We have lethal battles in the streets between the two tribes of our polarized politics. This week, a 17-year-old man, Kyle Rittenhouse, brought a rifle to Kenosha, Wisconsin, in order, it appears, to protect the businesses that were being burned down or ransacked by rioters after the police shooting of alleged rapist, Jacob Blake. In a series of skirmishes between Rittenhouse and BLM and Antifa activists on the streets of Kenosha, three men pursuing Rittenhouse were shot and two killed by the vigilante in what appears to be some kind of self-defense.
Not a word of that is untrue. But it's a truly, truly bizarre account of what took place. As such, the following paragraph, which I largely agree with, is rendered the worst possible example of both-siderism:
I'm doing my best to convey the gist of what happened — and there's an excellent, detailed report of the incident from the NYT — without justifying any of it. No excuse for vigilantism; no excuse for looting, rioting and arson. The truth is: even a few minutes of chaos and violence can contain a universe of confusing events, motives and dynamics that are extremely hard to parse immediately. And yet it is the imperative of our current culture that we defend one side as blameless and the other as the source of all evil.
Like Sullivan, I am adamant that there is "No excuse for vigilantism; no excuse for looting, rioting and arson." And, yes, because we as a society have drawn the battle lines on all of these issues as one of good versus evil, rational and civil discourse about any of it is next to impossible.
But by beginning with casting a white supremacist who traveled across state lines looking for a chance to shoot Black protestors as some sort of Gary Cooper and a Black man shot seven times in the back by police as a lowlife scum based on bogus allegations, the well is beyond poisoned.
And, again, I'm on much the same lonely island as Sullivan: a conservative, middle-aged white man who thinks Donald Trump and all he stands for is a danger to our country and yet deeply worried about an elite discourse that makes criticizing rioting fraught territory lest one be accused of racism. And, yes, worry that the unrest has given Trump a wedge issue to somehow win enough Electoral votes to stay in office.
At the same time, I'm increasingly sympathetic to the views Ta-Nehisi Coates expressed two years ago when his magazine reversed its decision to hire Kevin Williamson. (See my thoughts at the time here and here.)
So the genesis of me as a journalist is like, mid-'90s — I got my first writing job in '96 — and a big ideas magazine at the time was The New Republic. No black people worked there. I've actually verified this. No black people worked there at all. And to my mind — other people will probably feel quite differently about this — but as far as I was concerned, it was basically a racist publication. And that was how I perceived it. But nevertheless, I had to read it. I had to read it because I wanted to do what they did. And there weren't — and I don't know how to put this without sounding like an asshole — but there was no me to learn from. In other words, there was no "Case for Reparations" for me to read and say, goddamn, I want to go do that. I mean, maybe there was some of that, but it really was not in the ethos.

There were certainly black writers who would be brought in. They would come into places like the New Republic, New Yorker and sometimes even The Atlantic, and they would give a view of black life that I felt like very few black people actually would recognize themselves in their own private spaces. I got, I think, incredibly used to — and I don't know if it's a good thing or a bad thing, I guess for a long time I probably thought it was a good thing, but this week it made me think I don't know whether it is or not — but I got incredibly used to learning from people. And studying people. And feeling like certain people were even actually quite good at their craft, who I felt, and pardon my language, were fucking racist. And that was just the way the world was. I didn't really have the luxury of having teachers who I necessarily felt, you know, saw me completely as a human being.

This extends not just from my early days as a journalist, but if I'm being honest here, from my early days at The Atlantic. You can go into The Atlantic archives right now, and you can see me arguing with Andrew Sullivan about whether black people are genetically disposed to be dumber than white people. I actually had to take this seriously, you understand? I couldn't speak in a certain way to Andrew. I couldn't speak to Andrew on the blog the way I would speak to my wife about what Andrew said on the blog in the morning when it was just us.

[…]

And part of it was, going back to that earlier thread, I learned how to blog from Andrew. That was who I actually learned from. That was who actually helped me craft my voice. Even recognizing who he was and what he was, you know, I learned from him.
Sullivan's views on race are complex and subtle. As a public intellectual, I'm predisposed to admire his talent and craftsmanship. As a free speech absolutist, I'm predisposed to think discourse and debate are how we refine our understandings of the complexities of the human existence.
But I can certainly see how, for a Black man like Coates, the whole thing is just exhausting. And, indeed, while he shares my predispositions toward open discourse, he's far more acutely aware of the costs:
And I was not like, don't hire that dude [Williamson]. To the contrary, I thought, OK, well he can come in and represent the position, and then we can fight it out. You know what I mean? So I think I should say, A) I feel like I failed Jeff in that advice. I feel like I kind of failed The Atlantic in that advice. I feel like I failed the writers of color here in that advice. I was here when I was the only black writer, and then Gillian came, and then we got a bunch more people. So I feel like I kind of failed you guys in that. I'm sorry about that. I'm sorry so many of y'all are on social media and catching shit for this, and I'm not there, so I'm not catching anything at all. I feel really, really bad about that. But then after, realizing that, I thought about, OK, so how did I muck this up?

[…]

I'm Mr. Blackity Black, how did I miss that? And I think one of the things that happened is, again, like understanding the mission of The Atlantic, which I get. It might not be my mission, but I get it, and I work here. I understand it. Debate various views, you know, we fight it out. "Of no party or clique," right? And I told Jeff this already, but we have been of a party and a clique. The Atlantic, like most magazines — not The Atlantic because it's specifically bad, but for most of its history it has been basically white dudes. That's what we've been. I mean not totally, not completely. We did publish Frederick Douglass and Martin Luther King. And I mean, it's not that that's all we published, but that's basically been what one would say the consensus is. When you have an already established consensus like that, certain values are then easily manifested.

I think one of the things that happened at this magazine now that I've championed, I'm happy to see just looking at this room. If we had done Atlantic University in 2008, 2009, '10, '11, '12, '13, it would not have looked like this. This publication is diversifying. And I wonder if that consensus that says of no party or clique then has to come up for question. What is debatable comes up for question because you bring different people in, and those people are not just brown-skinned or dark-skinned or women who would normally — you know, who are just the same as any other. Their identity — and I know this is bad in certain quarters, but I don't think it is — that identity cannot be neatly separated from the job. So maybe the job changes a little bit.
There's a whole lot more to Coates' exchange with editor Jeffrey Goldberg and it's worth revisiting. The Overton window has shifted considerably in the mainstream media since then.
Goldberg is pretty liberal, at least in the American context. He's constitutionally bound to support free and open discourse. But he freely admits that there are "at least 200" ideas that are so anathema they couldn't be debated in his magazine.
And Coates notes that the window works both ways: while we have rendered more and more ideas outre, at least from the elite discussion, the diversification of the writing staffs means ideas once absurd become in-bounds.
Ironically, as Smith notes, Sullivan himself did that.
Mr. Sullivan was in his way among America's first out gay celebrities, and his largest impact was on gay rights. He seems especially grounded here in Provincetown, where he first spent a summer in 1989, the same year he published the cover story making "The Case for Gay Marriage" in The New Republic. He returned in 1994, joining other H.I.V.-positive men who moved here at the time expecting to die from AIDS. He worked on a book on same-sex marriage that he hoped would be his legacy.

[…]

Mr. Sullivan, of course, never pretended to be a grass-roots activist. He's a proud member of the elite, and his case for marriage was partly conservative — that it would be, as he told me, a "civilizing" influence on gay men who he believed had been emotionally damaged by discrimination. He testified before Congress on marriage equality in 1996, and when a moderate Democrat, Chuck Robb, voted against the Defense of Marriage Act, he quoted Mr. Sullivan.

"The core conflicts that really persisted through the 1980s were about assimilation versus liberation," said Sasha Issenberg, the author of a recent history of the marriage battle. "The assimilationists won, and Andrew was unquestionably a leader."

Top-down media influence can be hard to measure, but I know I felt it: As a local news reporter in the early 2000s, I learned about the marriage issue from Mr. Sullivan's blog. And I pushed New York politicians to take a stand on it, in part because his writing persuaded me it was important, and in part because I wanted one of the biggest bloggers in the country to link to my stories.

The marriage question is so settled now that Mr. Sullivan's role feels like ancient history. It's also rarely noted these days that he played as large a role as any journalist in the rise of Barack Obama. His 2007 Atlantic cover story "Why Obama Matters" arrived while many Democrats were on the fence about the Illinois senator, and it helped sway elite opinion and money his way.

"He articulated the rationale for Obama before it was widely apparent," said Ben Rhodes, who was then one of Mr. Obama's speechwriters.
Alas, while hardly "canceled"—he's reportedly making half a million a year on his new Substack site—he's now out of bounds for polite society—or, at least, elite magazines—because he hasn't evolved quickly enough (or, at least, molded what he will say in public) on racial equality.
Of course, the other point Coates and others make is that views like those of Williamson and Sullivan are hardly from the lunatic fringe. By taking their voices out of the elite spaces, they're being driven underground, likely expressed by people with less intellect and nuance.
Like Smith, I'm still reading Sullivan. I don't see him as a racist, much less a fascist. Rather, I see him as a brilliant, curious man who has spent his entire adult life thinking out loud and therefore bound to have some stumbles. But, in this moment, everything he writes is seen through the lens of his decision a quarter-century ago to highlight the worst part of The Bell Curve on the cover of the New Republic. And, alas, he's not learning fast enough.
*UPDATE: @R_Dave points out that the direct evidence Rittenhouse is a white supremacist is thin. While there's substantial circumstantial evidence that a white high school dropout from the Chicago suburbs who travels across state lines with an AR-15 to "defend property" as part of a loosely-organized militia and spouts "Blue Lives Matter" is less than an ally to Blacks, it's possible that he's just a cop wannabe and not a junior Klansman.