It Doesn't Matter When, Or Why, Hillary Clinton Changed Her Mind On Marriage Equality
Obsessing over what a politician believed in the past accomplishes nothing.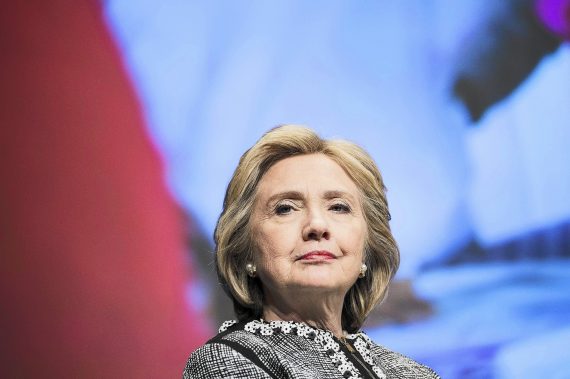 Hillary Clinton's appearance on an NPR show yesterday to promote her new book raised eyebrows on both sides of the political aisle because of what many characterized as her "testy" response to a question about when she changed her position on same-sex marriage:
Hillary Clinton had a tense exchange with an NPR host in an interview airing Thursday over whether she made "a calculus" against publicly supporting gay marriage before endorsing it last year.

It's the first time Clinton, a potential candidate for president in 2016, has been extensively questioned about her support for gay marriage. She did not back it in her 2008 presidential campaign but she issued support for it by video in 2013, weeks after leaving the State Department.
Her support came after President Barack Obama, shoved toward it publicly by Vice President Joe Biden, backed gay marriage in the middle of the 2012 presidential race.

NPR's Terry Gross was interviewing Clinton about her newly released memoir, "Hard Choices." She repeatedly asked the former secretary of state whether her opinion on gay marriage had changed, or whether the political dynamics had shifted enough that she could express her opinion.

"I have to say, I think you are being very persistent, but you are playing with my words and playing with what is such an important issue," Clinton said.

"I'm just trying to clarify so I can understand …" Gross said.

"No, I don't think you are trying to clarify," Clinton snapped back. "I think you're trying to say I used to be opposed and now I'm in favor and I did it for political reasons, and that's just flat wrong. So let me just state what I feel like you are implying and repudiate it. I have a strong record, I have a great commitment to this issue, and I am proud of what I've done and the progress we're making."

(…)

"I did not grow up even imagining gay marriage, and I don't think you probably did, either," Clinton said to Gross. "This was an incredibly new and important idea that people on the front lines of the gay rights movement began to talk about and slowly, but surely, convinced others of the rightness of that position. And when I was ready to say what I said, I said it."

Clinton was lauded at the State Department for focusing on LGBT issues related to agency personnel and also in other countries. But she formally stated her support for gay marriage only after a number of prominent Democrats, such as New York Gov. Andrew Cuomo and Maryland Gov. Martin O'Malley, and even some Republicans, such as Ohio Sen. Rob Portman, had already done so.

Her allies have attributed her timing to the need for her to stay apolitical while at the State Department

"You know, somebody is always first, Terry," Clinton said. "Somebody is always out front, and thank goodness they are. But that doesn't mean that those who join later, in being publicly supportive or even privately accepting that there needs to be change, are any less committed. You could not be having the sweep of marriage equality across our country if nobody changed their mind, and thank goodness so many of us have."
She further argued that "too many people believe they have a direct line to the Divine, and they never want to change their mind about anything, they're never open to new information, and they like to operate in an evidence-free zone. … And I think it's good if people continue to change."
Gross noted that in the 1990s — when Clinton's husband signed the Defense of Marriage Act, which let states refuse to recognize same-sex marriages permitted by other states and also prevented federal recognition of such unions — there already were supporters of gay marriage.

"To be fair Terry, not that many," Clinton replied. "Were there activists who were ahead of their time, well that was true in every human rights and civil rights movement, but the vast majority of Americans were just waking up to this issue, and beginning to think about it, and grasp it for the first time, and think about their neighbor down the street who deserved to have the same rights as they did, or their son, or their daughter."
There have been a lot of politicians on the left who seem to have come to a very fast revelation on the issue of marriage equality that roughly coincided with President Obama's own announcement, prompted largely by Vice-President's Biden's comments on Meet the Press a week earlier, that he supported marriage equality. Within a very short period of time, every Democratic member of the Senate, and even a few Republicans, had announced that they supported marriage equality. In fact, I think it's fair to say that support for marriage equality is a required position for any Democratic politician at any level. On some level, then, it's fair to wonder whether a politician like Clinton who now says they support marriage equality is doing so because they actually believe in it in some abstract philosophical sense, or because they need to take that position to be politically viable. This would seem to be especially true given the fact that just six years ago politicians such as Clinton, Obama, and Biden were all saying that while they supported civil unions and equal rights for gay couples, they believed that marriage was an institution that should be limited to one man and one woman.
Conor Friedersdorf seems to think that Clinton should be more honest about what motivated her change in position:
In a primary, Clinton could be forced to explain a longtime position that a significant part of that Democratic political coalition now views as suspect or even bigoted. Most famously, the Silicon Valley left forced the ouster of Mozilla CEO Brendan Eich for a 2008 donation he made to an anti-gay-marriage ballot initiative. That same year, Clinton ran for president while openly opposing gay marriage. If she is to be believed, she also opposed gay marriage as recently as 2013, long after a majority of Americans already held a more gay-friendly position. Would the subset of Democrats who thought 2008 opposition to gay marriage should prevent a man from becoming CEO in 2013 really support the 2015 presidential campaign of a woman who openly opposed gay marriage until last year?

Doing so would seem to show inconsistency, yet there's a strong argument to be made that Clinton's anti-gay-marriage past shouldn't drive decisions to support or oppose her. No one doubts that she will be a strong supporter of gay equality if elected president, now that all the political incentives to take that position are aligned. She has advanced gay rights other than marriage at times in her long career. And she has never come across in speeches or interviews like an anti-gay bigot. There is, however, a vocal segment of the left that is invested in likening people who opposed gay marriage to racists who opposed interracial marriage. There is also resentment from gays who feel that the Clintons wronged them in the past.
Andrew Sullivan does as well:
Here's my guess:
Unlike Obama, she was personally deeply uncomfortable with this for a long time and politically believed the issue was a Republican wedge issue to torment the Clintons rather than a core civil rights cause. I was editor of TNR for five years of the Clintons, aggressively writing and publishing articles in favor of marriage equality and military service, and saw the Clintons' irritation with and hostility to gay activists up close. Under my editorship, we were a very early 1991 backer of Clinton – so I sure didn't start out prejudiced against them. They taught me that skepticism all by themselves, and mainly by lying all the time.So when did she evolve? Maybe in the middle 2000s. Was political calculation as big an influence as genuine personal wrestling? She's a Clinton. They poll-tested where to go on vacation. Of course it was. But she's also a human being and probably came around personally as well. She's not a robot, after all. But I think of her position as the same as the eponymous gay rights organization the Clintons controlled in the 1990s, the Human Rights Campaign. As long as marriage equality hurt the Democrats, they were against it. Now it may even hurt Republicans, they're for it. So Hillary is for it now. We've just got to hope the polling stays strong.
Friedersdof and Sullivan both make good points, and I suppose there is something to be said about the political cyncism that is likely involved in the decision of Clinton and many other Democrats to change their minds so quickly. On some level ,though, I think the question of when or why a politician, or any person for that matter, changed their mind on same-sex marriage is really quite irrelevant. This is an issue on which we have seen public opinion change dramatically over the course of a very short period of time. Less than twenty years ago, when a court case in Hawaii set this issue in motion and led, at first, to the passage of the Defense of Marriage Act, public opinion polls showed that the vast majority of the American people opposed the idea of extending marriage rights to gays and lesbians. In 1996, for example, a Gallup poll found that 68% of Americans opposed same-sex marriage and only 27% supported it. Now, we are at the point where same-sex marriage is legal in 19 states and the District of Columbia, an area occupied by more than 50% of the American population and polling shows that a majority of Americans support same-sex marriage. When the public debate on this issue began, it seemed inconceivable that we would be at such a point in such a short period of time and, now, the day when gays and lesbians will be able to live together as married couples is not only in sight, but is likely far closer than people thought it would be just a few years ago.
None of that would have happened if people had not changed their mind on the issue of marriage equality.  At some point, nearly everyone who now supports marriage equality was opposed to it in some sense or the other. Do we demonize them for being wrong in the past, or do we congratulate them for coming around to accepting the idea of equality now? And does it really matter why someone changed their mind? I'd submit that the answer to both questions is obvious. When it comes to an issue like this, obsessing over what someone believed or stated publicly in the past accomplishes nothing, and arguably discourages others from publicly stating that they too have changed their mind. For example, when Republicans like Rob Portman state their public support for marriage equality, what value is served by attacking him for not supporting it publicly in the past? He supports it now, and that's all that matters. There is, I suppose, some legitimate criticism to be had if they are changing their minds for political reasons, but given the fact that many Americans have changed their mind on this issue for one reason or another it strikes me as pointless to obsess over minutiae like that. The important thing is that people are supporting marriage equality in increasing numbers, why they changed their mind or what they may have believed at some point in the past is irrelevant. So, instead of haranguing Hillary Clinton or any other politician and trying to imply that they changed their position on marriage equality for political reasons, we ought to just be happy that they have changed their mind.
Here's the audio of the NPR interview, you can decide for yourself if Clinton was being "testy":