Joe Biden Appears To Back Gay Marriage, White House Walks it Back
Did Joe Biden misspeak, or drop a hint that he shouldn't have?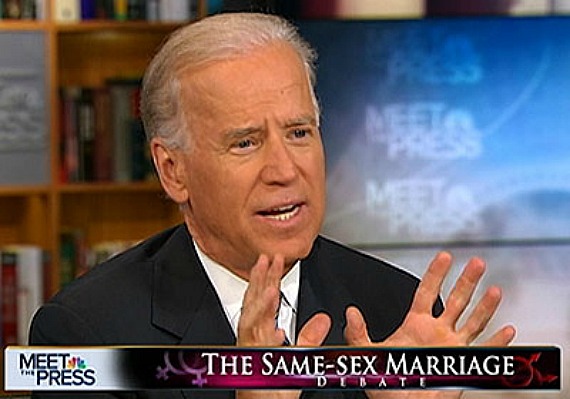 Vice-President Joe Biden made some headlines this morning when he appeared on Meet The Press and appeared to endorse same-sex marriage, a position that neither he nor the President has taken publicly until now:
Vice President Joseph R. Biden Jr. said on Sunday that he was "comfortable" with same-sex marriages, a position that appeared to go beyond the "evolving" views that President Obama has said he holds on the issue.

"I am absolutely comfortable with the fact that men marrying men, women marrying women and heterosexual men and women marrying one another are entitled to the same exact rights, all the civil rights, all the civil liberties," Mr. Biden said in an appearance on the NBC News program "Meet the Press."

Many gay and lesbian voters, while generally supportive of Mr. Obama, have grown frustrated with his reluctance to take a clear stance for same-sex marriage. He has come under increasing pressure to do so from gay donors, one of his more lucrative fund-raising sources.

In 1996, as a candidate for the State Senate in Illinois, Mr. Obama wrote on a candidate's questionnaire that "I favor legalizing same-sex marriages." But after he became president, the White House said that he was referring to civil unions, which he does support.

Mr. Obama has said since that his views on gay marriage were "evolving" but has also said individual states should set policy related to it.

Mr. Biden prefaced his remark in his NBC interview by saying, "The president sets the policy," and his aides later indicated that the views he expressed were his own.
Here's the video:
GREGORY: Have your views evolved?

BIDEN: The good news is that as more and more Americans come to understand what this is all about is a simple proposition. Who do you love? Who do you love and will you be loyal to the person you love? And that's what people are finding out what all marriages at their root are about. Whether they are marriages of lesbians or gay men or heterosexuals. […]

GREGORY: You're comfortable with same-sex marriage now?

BIDEN: Look, I am Vice President of the United States of America. The president sets the policy. I am absolutely comfortable with the fact that men marrying men, women marrying women and heterosexual men marrying women are entitled to the same exact rights. All the civil rights, all the civil liberties. And quite frankly I don't see much of a distinction beyond that. […] I think Will & Grace probably did more to educate the American public than almost anything anybody has done so far. People fear that is different and now they're beginning to understand.
Of course, it didn't take long before the Obama 2012 campaign and the White House started walking back Biden's comment and making it clear that not only didn't he speak for the President but that he didn't really say that he favored same-sex marriage. David Axelrod was first to the punch when he commented on Twitter that "What VP said-that all married couples should have exactly the same legal rights-is precisely POTUS's position." The White House was out shortly thereafter that said pretty much the same thing, but many commentators on gay rights issues weren't buying it:
The White House immediately suggested on Sunday that the vice president had articulated no change in the administration's official position on same-sex marriage. But some gay rights advocates said that Mr. Biden's remarks seemed to convey unmistakable support for biggest cause.

"Trying now to walk this back will only hurt them," said Richard Socarides, a political strategist who advised President Bill Clinton on gay rights. "You can't clarify an answer as direct and candid and expansive as the one he gave."

He added: "We know where Biden stands. It's a welcome development."
The Vice President's Office wasn't far behind:
A spokesperson for the vice president emailed over further clarification on the "Meet the Press" remarks, stating in part that Biden had not fully endorsed same-sex marriage.

The vice president was saying what the president has said previously – that committed and loving same-sex couples deserve the same rights and protections enjoyed by all Americans, and that we oppose any effort to rollback those rights. That's why we stopped defending the constitutionality of section 3 of the Defense of Marriage Act in legal challenges and support legislation to repeal it. Beyond that, the Vice President was expressing that he too is evolving on the issue, after meeting so many committed couples and families in this country.
Pam Spaulding is among those on the left not pleased with the way the White House handled Biden's comments:
This is preposterous, you cannot be fully comfortable with gays and lesbians marrying but still evolving. This is David Axelrod's ludicrous damage control; he should have left it alone. Biden freelances on the air and the Obama administration should know the results can be, well, unpredictable, lol.
Quite honestly, I agree with Kevin Drum, that it's really quite obvious where President Obama stands too:
Like a lot of liberals, I don't believe that Obama really opposes same-sex marriage. He just considers it politically expedient to keep pretending otherwise.
The Obama campaign, of course, continues to insist that this is an issue that the President is "evolving" on, as absurd as that sounds as the days go on, but as I noted several months ago, that just doesn't seem believable:
Call me a cynic, but I don't believe it for a second. If this were all about what's in the President's gut, then why the need to hold internal party discussions about how this could energize the campaign? If it's the gut that's talking, you change your mind, you come up with a plan to roll out the announcement, and you take the slings and arrows that might result. Because standing up for something that's right means you don't check the polls first.
Coming out in favor of same-sex marriage,  something that Libertarian Party Presidential nominee Gary Johnson did months ago and that even Dick Cheney has come out in support of, would be one of those things that I'd actually applaud the President for, just as I did when he pushed forward with repeal of Don't Ask, Don't Tell. However, sticking your finger in the wind an seeing what the polls say before doing something like this isn't exactly a profile in courage. Let's be realistic, the vast majority of the people who would be pissed off if Obama said he supported same-sex marriage aren't going to vote for him anyway, so what's he afraid of?
So, did Biden let his words get ahead of his brain again and say something shouldn't have, or is he testing the waters for an Obama flip-flop on this issue? I suppose we'll have to wait to find out.
Photo via Kevin Drum