Barack Obama, Same-Sex Marriage, And Political Expediency
Barack Obama's position on same-sex marriage continues to "evolve," along with the polls.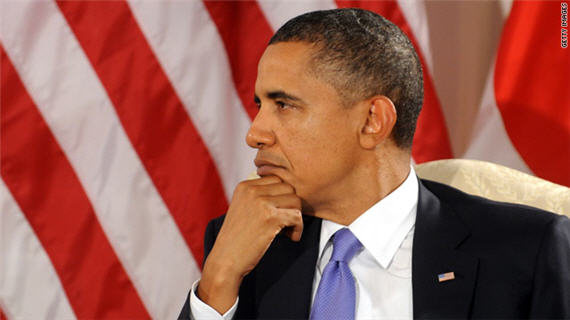 Barack Obama's position on same-sex marriage has always been something of an enigma. He said during the 2008 campaign, and many times since then, that he believes marriages should be between one man and one woman. At the same time, of course, his Administration led the fight to repeal the policy that prohibited gays and lesbians from serving openly in the military, and his Justice Department has taken the position that Section Three of the Defense Of Marriage Act is unconstitutional and is refusing to defend that provision in Court. In 2010, his Administration enacted regulations that expanded the right of same-sex partners to visit patients in hospitals under Federal regulation. More recently, the President has told reporters that his position on same-sex marriage is "evolving."
To be honest, there's always been an undercurrent of suspicion that the President and the Administration has been playing a bit of cynical political game here, that the President really does support same-sex marriage but that he's unwilling to say so publicly because it would not be politically expedient. It makes a certain amount of sense, I suppose. Even with the polls moving ever more in the direction of public support, same-sex marriage remains a hot button social issue and is likely to for many years to come. Given that there are a number of other issues that a President wants to advocate, many of which are arguably more important, perhaps it doesn't make sense to willingly subject oneself to the political onslaught that would come from coming out in public with a position that is still controversial and likely to energize ones opponents. Of course, if that's an accurate description of what's going on here, one has to have a pretty cynical view of the world to sacrifice your personal beliefs on the altar of political expediency and it's not exactly a profile in courage.
With all this in mind, most analysts have agreed that it would be highly unlikely for the President to announce that he's changed his mind on this issue before the Presidential election. Nonetheless, Greg Sargent reports that the possibility of doing just that is being discussed among top Democrats and White House officials:
Obama's top political advisers have held serious discussions with leading Democrats about the upsides and downsides of coming out for gay marriage before the fall election, a Democratic strategist who has discussed these matters directly with Obama's campaign inner circle tells me.

This does not mean that it will happen, and there are plenty of reasons to assume it won't. Indeed, it would be political malpractice if Obama's top advisers didn't discuss every permutation and possibility, no matter how far fetched. However, the fact that it has been discussed seriously at high levels means it's not out of the question.

Those advisers are convinced that Obama will make this call based on his gut, and ultimately without regard to the fine-grained political analysis of the situation, the source says.

Some top Democrats have privately advised Obama's inner circle that such a move could energize Democrats far beyond the gay community. The discussions have centered on Obama's successful repeal of Don't Ask Don't Tell, and how it has signaled that major advances on gay rights energize young voters and other progressive Democrats,by helping recapture the historic and forward-looking aura of 2008, the source says.

"This would help in terms of reinvigorating some of the excitement from 2008," the source says, characterizing the discussions. "It's not just about gay people. There's an upside with the progressive community and young people in general. Obama's advisers are in listening mode."
Now there is admittedly some value in thinking through the political consequences of what would be a major policy shift. How and when you announce a major change in position on a controversial issue is important, and obviously ought to be preplanned rather than just being done on an ad hoc basis. But it doesn't seem to me that that's what Sargent is talking about here, he's talking about Democratic advisers speculating that it would be politically expedient for the purposes of this election for the President to announce that he supports same-sex marriage. Just as it was, arguably, politically expedient for him to say he opposed it when he was running for Senator and President.
As the highlighted portion above shows, Democratic advisers seem to be looking at this idea not because coming out in favor of same-sex marriage would be the right thing to do, but because it would energize the voters that flocked to Obama in 2008, energize the campaign, and be politically expedient. As someone who's been in favor of same-sex marriage from the time I first became aware of the issue, I guess it would be nice to have the President on our side but I can't help but think that his endorsement would be based on the polls and not on principles, which makes this particular part of Sargent's piece rather amusing:
Obama campaign spokesman Ben LaBolt declined to confirm any internal discussions.

"There's been a lot of uninformed speculation in the news on this," he said. "The President and the President alone will come to a decision. From allowing hospital visitation rights for gay partners to repealing Don't Ask Don't Tell, President Obama has done more to advance equal rights for gays and lesbians than any other President — a record we intend to highlight."

Indeed, the source says that Obama's top advisers are convinced he will make this call on his own. "They don't think he's going to make this decision based on the polling," the source says. "He's just going to make it. They do not know at the end of the day where he's going to end up."
Call me a cynic, but I don't believe it for a second. If this were all about what's in the President's gut, then why the need to hold internal party discussions about how this could energize the campaign? If it's the gut that's talking, you change your mind, you come up with a plan to roll out the announcement, and you take the slings and arrows that might result. Because standing up for something that's right means you don't check the polls first.