Obama: Same-Sex Marriage Should Be Legal
The same-sex marriage pivot that everyone was expecting has come.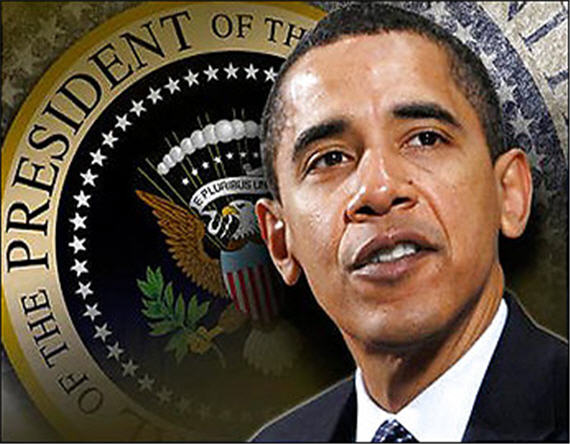 To the surprise of absolutely nobody, President Obama announced today in an interview with ABC News's Robin Roberts that he now believes that same-sex marriage should be legalized:
President Obama today announced that he now supports same-sex marriage, reversing his longstanding opposition amid growing pressure from the Democratic base and even his own vice president.

In an interview with ABC News' Robin Roberts, the president described his thought process as an "evolution" that led him to this place, based on conversations with his own staff members, openly gay and lesbian service members, and conversations with his wife and own daughters.

"I have to tell you that over the course of several years as I have talked to friends and family and neighbors when I think about members of my own staff who are in incredibly committed monogamous relationships, same-sex relationships, who are raising kids together, when I think about those soldiers or airmen or marines or sailors who are out there fighting on my behalf and yet feel constrained, even now that Don't Ask Don't Tell is gone, because they are not able to commit themselves in a marriage, at a certain point I've just concluded that for me personally it is important for me to go ahead and affirm that I think same sex couples should be able to get married," Obama told Roberts, in an interview to appear on ABC's "Good Morning America" Thursday. Excerpts of the interview will air tonight on ABC's "World News with Diane Sawyer."

The president stressed that this is a personal position, and that he still supports the concept of states deciding the issue on their own. But he said he's confident that more Americans will grow comfortable with gays and lesbians getting married, citing his own daughters' comfort with the concept.

"It's interesting, some of this is also generational," the president continued. "You know when I go to college campuses, sometimes I talk to college Republicans who think that I have terrible policies on the economy, on foreign policy, but are very clear that when it comes to same sex equality or, you know, sexual orientation that they believe in equality. They are much more comfortable with it. You know, Malia and Sasha, they have friends whose parents are same-sex couples. There have been times where Michelle and I have been sitting around the dinner table and we're talking about their friends and their parents and Malia and Sasha, it wouldn't dawn on them that somehow their friends' parents would be treated differently. It doesn't make sense to them and frankly, that's the kind of thing that prompts a change in perspective."

Roberts asked the president if First Lady Michelle Obama was involved in this decision. Obama said she was, and he talked specifically about his own faith in responding.

"This is something that, you know, we've talked about over the years and she, you know, she feels the same way, she feels the same way that I do. And that is that, in the end the values that I care most deeply about and she cares most deeply about is how we treat other people and, you know, I, you know, we are both practicing Christians and obviously this position may be considered to put us at odds with the views of others but, you know, when we think about our faith, the thing at root that we think about is, not only Christ sacrificing himself on our behalf, but it's also the Golden Rule, you know, treat others the way you would want to be treated. And I think that's what we try to impart to our kids and that's what motivates me as president and I figure the most consistent I can be in being true to those precepts, the better I'll be as a as a dad and a husband and hopefully the better I'll be as president."
As I said, this isn't entirely surprising. This Administration has been more open to gay rights issues than any previous Democratic or Republican Administration, as evidenced by the repeal of Don't Ask, Don't Tell and the decision to decline to defense the Constitutionality of Section Three of the Defense of Marriage Act in Federal Court have indicate quite clearly. It's probably not what the Administration was planning to do this week, but after the comments by Vice-President Biden on Sunday and Education Secretary Arne Duncan, and the fact that this story clearly wasn't going to go away until they addressed it with something more clear than the "evolving" comment, their hand was kind of forced.  It's also likely not a coincidence that this happened after the vote in North Carolina on Amendment One. The issue was on the table and the press would continue asking about it until they got a clear answer, so it's for the best that they addressed it now rather than dragging it out any longer.
This will no doubt get a lot of attention from the news media, and the GOP, but we should at least be honest about one thing. It's undoubtedly historical for an American President to endorse same-sex marriage. Even if it doesn't necessarily lead to anything immediate in terms of legislation, it's a fairly important use of the Bully Pulpit. Nonetheless, nobody should be surprised about this. As I noted, it's been clear for some time that Obama was moving in this direction, that was obvious the minute he started describing his position on the issue as "evolving," but the Administration has been doing it's best to keep the issue quiet out of fear of the possible political implications of the announcement that's been made today. It's only because of Biden, Duncan, and a White House Press Corps that knew it had an issue that it could keep pressing the Administration on until it got a straight answer, that we came to this day. I am glad to see the President getting to this position, but I guess the question is what took you so long?
It's worth noting, finally, what the President did and didn't say here. His statement seems to make clear that this is a personal opinion, so it's unclear what kind of policy changes this might mean for the Administration. For example, does the Obama Administration now support the complete repeal of the Defense of Marriage Act? He also says that he believes the matter should be left up to the states. Does that mean that the Administration would oppose any effort to force states that don't recognize same-sex marriage to recognize the validity of marriages from states that do under the Full Faith and Credit Clause of Article IV of the Constitution? What about spousal benefits for members of the military and Federal Government employees who happen to be legally married to persons of the same sex? These are questions that someone, no doubt, will ask, and the Administration will be forced to answer them at some point.
Here's the video that ABC has released so far, the rest of the interview will air tonight on World News Tonight and tomorrow on Good Morning America:
This post has been added to since originally published