Senator Rob Portman Comes Out In Support Of Same-Sex Marriage
Senator Rob Portman changes his position on same-sex marriage. Another sign of the times.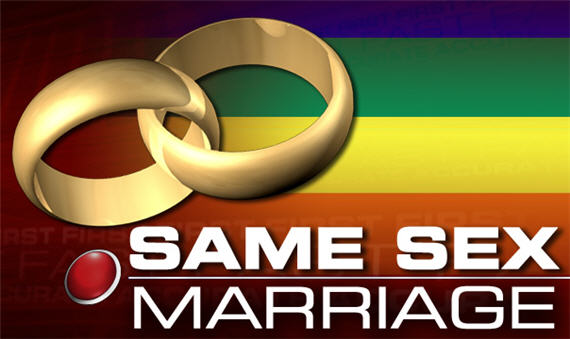 Ohio Senator Rob Portman, who was on the short list to be Mitt Romney's running mate last year, has announced his support for same-sex marriage, a decision he says is motivated primarily by his son's revelation that he is gay:
Senator Rob Portman, Republican of Ohio, has switched his stand on same-sex marriage, saying he now supports it after his son told him he is gay.

Mr. Portman, who had been considered one of the leading candidates to be Mitt Romney's running mate in 2012, told Ohio newspapers that his son Will told him and his wife, Jane, in 2011 of his sexual orientation.

"It allowed me to think of this issue from a new perspective, and that's of a dad who loves his son a lot and wants him to have the same opportunities that his brother and sister would have — to have a relationship like Jane and I have had for over 26 years," Mr. Portman was quoted by Cleveland.com as telling reporters in an interview in his Washington office.

"If anything, I'm even more proud of the way he has handled the whole situation," the senator said of his son, a student at Yale. "He's an amazing young man."

His decision to become the only sitting Republican senator to so publicly embrace same-sex marriage comes after President Obama switched his position during the 2012 campaign to support such unions. The president announced his new position as Americans have been steadily shifting their attitudes on the issue, with polls showing an increasing numbers of Americans accepting gay marriages.

Mr. Portman said that when he was being considered for Mr. Romney's ticket last year, he told the candidate that his son is gay.

While he was not selected as Mr. Romney's running mate, the senator was a key adviser through his campaign, and played the role of President Obama as Mr. Romney prepared for the presidential debates.

Word of Mr. Portman's switch on the issue came the same day that a fellow Republican senator, Marco Rubio of Florida, who is considered a likely 2016 presidential contender, appealed to conservatives by defending his stance on key social issues, including his opposition to same-sex marriage.
Portman also penned an Op-Ed in The Columbus Dispatch about his change of heart:
Two years ago, my son Will, then a college freshman, told my wife, Jane, and me that he is gay. He said he'd known for some time, and that his sexual orientation wasn't something he chose; it was simply a part of who he is. Jane and I were proud of him for his honesty and courage. We were surprised to learn he is gay but knew he was still the same person he'd always been. The only difference was that now we had a more complete picture of the son we love.

At the time, my position on marriage for same-sex couples was rooted in my faith tradition that marriage is a sacred bond between a man and a woman. Knowing that my son is gay prompted me to consider the issue from another perspective: that of a dad who wants all three of his kids to lead happy, meaningful lives with the people they love, a blessing Jane and I have shared for 26 years.

I wrestled with how to reconcile my Christian faith with my desire for Will to have the same opportunities to pursue happiness and fulfillment as his brother and sister. Ultimately, it came down to the Bible's overarching themes of love and compassion and my belief that we are all children of God.

Well-intentioned people can disagree on the question of marriage for gay couples, and maintaining religious freedom is as important as pursuing civil marriage rights. For example, I believe that no law should force religious institutions to perform weddings or recognize marriages they don't approve of.

British Prime Minister David Cameron has said he supports allowing gay couples to marry because he is a conservative, not in spite of it. I feel the same way. We conservatives believe in personal liberty and minimal government interference in people's lives. We also consider the family unit to be the fundamental building block of society. We should encourage people to make long-term commitments to each other and build families, so as to foster strong, stable communities and promote personal responsibility.
I've seen some people who have been supportive of same-sex marriage on Twitter and in the blogosphere, such as this blogger, criticize Portman for waiting so long to change his position, or for only doing so after being confronted with the fact that his son is gay. This strikes me as an unfair criticism. For one thing, as we've mentioned here at OTB many times in recent years, the change in public attitudes on homosexuality and gay marriage have evolved significantly over a short period of time. It wasn't too long ago that we saw opposition to same-sex marriage above 60%. Additionally, it's worth noting that polling shows that the nation is still largely divided 50-50 on the issue, with a slight majority now in favor of marriage equality. Indeed, the President himself was not publicly in favor of same-sex marriage until last April. So, in some sense, Portman's previous opposition, while a position I disagree with, was certainly not one that was outside the mainstream. Furthermore, I don't see anything wrong with the fact that a person's personal interactions with people who happen to be gay, whether they're family members, neighbors or friends, was the primary influence in a change of opinion on a hot-button issue like same-sex marriage. Indeed, it's been the case that people have often changed their opinions about minority groups and their rights as they become more exposed to them on a one-to-one basis. Once you get to know people on a personal level, it becomes impossible to reconcile previously held stereotypes to what you know about the people you've become close to on a personal level. Finally, it's worth noting that two years ago he would've been 18 years old and just out of  High School. Perhaps Portman didn't want to expose his son to publicity before he was ready for it. The argument that Portman took "too long" to change his mind, then, is really just nonsense.
More importantly, though, I would suggest that Portman's announcement is another sign that the changes in public opinion on this issue that have been occurring nationwide are impacting the conservative movement as well. Despite the fact that CPAC refused to give space to the gay conservative group GOProud, for example, one of the most heavily attended breakout sessions at the conference yesterday was a panel on growing the right by being more open on issues like gay rights and same-sex marriage. Among the panelists was the co-founder of GOProud, Republican strategist Liz Mair, National Review's Jonah Gooldberg, GOP commentator Margaret Hoover, and Washington Post blogger Jennifer Rubin, who has this to say this morning about the Portman announcement:
In the conservative movement at large, a shift is certainly underway. Sen. Rand Paul (R-Ky.) wants government out of the marriage business. Foster Friess, the mega-donor who supported presidential candidate Rick Santorum, announced that the party should not "demonize" gays or gay marriage. (Then maybe he should not bankroll the candidate infamous for anti-gay rhetoric?) The question is not whether the GOP comes to terms with gay marriage, but when and how many elections it will lose along the way. Edmund Burke, the conservative icon, would tell us to respect the habits, customs and morals of our fellow citizens; smart politics would tell conservatives not to dawdle in applying that maxim to gay marriage.
Rubin's piece also has a good summary of the panel itself, which I commend to your attention. At one point, she notes that she said in her remarks that the entire debate over same-sex marriage will be over in ten years. Personally, I think it's possible that it will be over long before then. The odds seem fairly good that Section Three of the Defense of Marriage Act will be struck down as unconstitutional by June. At the same time, the Court will also be ruling on the Constitutionality of California's Proposition 8, and if that law is struck down it will have a significant impact on legal challenges to laws in other states even if its immediate impact is limited only to California. Change will come slowest, of course,  in those states that have written bans against same-sex marriage equality into their Constitution, especially states in the South, but it will come there as well.  Senator Portman is only one man, of course, but he's yet another sign of where public opinion on this issue is headed. The GOP would do well to follow his lead before its too late.