The Right Must Abandon The "Obama Is Evil" Meme
If the Right clings to the belief that President Obama isn't just wrong, but evil, it will likely end up handing the election to him.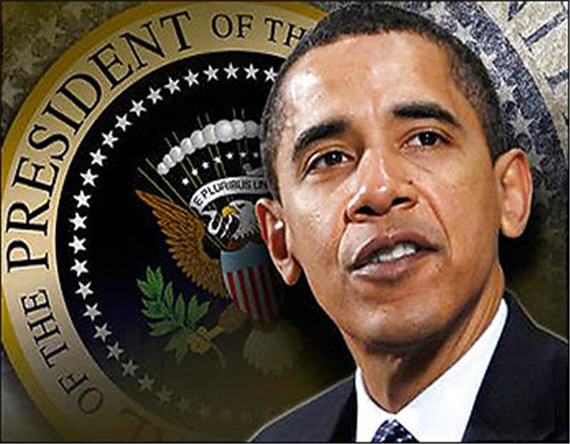 National Review's Kevin Williamson asserts that there's one issue that truly divides the American right at the moment, and it has to do with how people view the President of the United States, and that for the right to succeed in 2012 and beyond it will need to abandon the view that Barack Obama is some kind of radical out to transform America, because it simply isn't true:
The most acute division on the right — the one that will give Mitt Romney the most trouble — is not between moderates and hard-core right-wingers, between electability-minded pragmatists and ideologues, or between the Tea Party and the Republican establishment. It is between those Republicans who disagree with Barack Obama, believing his policies to be mistaken, and those who hate Barack Obama, believing him to be wicked. Mitt Romney is the candidate of the former, but is regarded with suspicion, or worse, by the latter. The former group of Republicans would be happy merely to win the presidential election, but the latter are after something more: a national repudiation of President Obama, of his governmental overreach, and of managerial progressivism mainly as practiced by Democrats but also as practiced by Republicans.

It is unlikely that those seeking a national act of electoral penance for having elected Barack Obama are going to get what they are after. For one thing, the number of Americans who believe President Obama to be merely incompetent is far greater than the number of Americans who believe him to be, not to put too fine a point on it, evil. For another, that larger group of voters is, for once, probably right.
The dynamic that Williamson describes strikes me as being a pretty accurate description of the American right's reaction to Obama, both as President and stretching back to when he was a Presidential candidate. The divisions go back to the 2008 Presidential campaign itself, where we saw much of the conservative press and punditocracy, and on more than a few occasions, the Republican Vice-Presidential nominee, attack Obama as a socialist with ties to radical preachers and 1960s radicals while John McCain spent much of the last month of the campaign struggling to reign in the monster that his campaign and its associated supporters had created, telling one woman in a crowd at one point that no Obama wasn't a Muslim who wants to destroy America. By the time of the Inauguration, though, it seemed like the demonization meme had won out, as exemplified most fully in Rush Limbaugh's statement that he hoped the President failed. When some Republicans spoke up to disagree with what Limbaugh was saying, pointing out for example that rooting for the President to fail is akin to rooting for the nation to fail, they found themselves quickly denounced amid the ever-increasing din of anti-Obama fervor. The "Obama as evil" rhetoric increased, of course, after the birth of the Tea Party movement, which often found itself being spoken for by extremist elements who would question the President's religious faith, his place of birth, and even whether he had actually graduated from Columbia University.
As Williamson notes, none of it was true:
President Obama, for his part, has signed some truly awful pieces of legislation into law: the stimulus package, Cash for Clunkers, and, most notably, Obamacare. Bad as these are, the reaction among some conservatives has been overblown, and I write that as the author of a book that contains the sentence, "Of course Obamacare is socialism." The president has been described as a budding Hitler, a bush-league Stalin, a saboteur, a revolutionary, etc. But as lamentable as President Obama's agenda has been, there is not much that is especially remarkable about it. President Obama is not a revolutionary Bolshevik; he is a conventional liberal of a very familiar kind. Obamacare is precisely the same sort of program that a Pres. Al Gore or a Pres. John Kerry might have signed into law. The most remarkable thing about President Obama is that, unlike even the masterly Bill Clinton, he managed to get a big part of the Democrats' health-care agenda enacted as law. He did this with a major assist from his predecessor, who left him with a much more liberal Congress than might otherwise have been elected.
Additionally, as has been repeated here at OTB and elsewhere many times, several of the most important parts of the Affordable Care Act were based upon ideas that conservative think tanks had been putting forward in the area of health care reform since the early 1990s. To call these ideas radical, or un-American, is simply silly. Bad policy? Yes, personally I happen to think that much of the domestic policy initiative this Administration has enacted have been wrong-headed, but then I felt the same way about many of the policies enacted by the previous (Republican) Administration were similarly wrong-headed. In neither case, though, did I believe that the man in charge was consciously acting in a manner designed to destroy the country. It's possible for someone to be wrong but still be acting with honorable intentions, and I have no reason to believe that, at their core, Barack Obama and George W. Bush had anything but honorable intentions.
That's not what the hard-core conservative base of the GOP believes, however. In that world, it isn't enough to just oppose Obama, you have to want to destroy him and that, Williamson believes, is the real reason that Mitt Romney continues to have a hard to time making peace with that segment of his party:
Mitt Romney's critique of President Obama is not that of Newt Gingrich, who has borrowed Dinesh D'Souza's formulation that Obama's views are grounded in the "Kenyan anti-colonialism" of his estranged father. Nor is it of the "Hitler Believed in Government-Run Health Care, Too" variety one hears among the lesser luminaries of talk radio. Romney's critique is that Obama is a manager in way over his head, that he does not know what he is doing, and that his attempts to solve problems he does not understand are making things worse. This seems to me the more credible explanation. But if you are the sort of person who believes that President Obama is trying to destroy America, then Romney's rhetoric is bound to prove unsatisfying, and you will go seeking sterner stuff — from Gingrich, from the cannier Rick Santorum, from also-rans such as Michele Bachmann or future also-rans such as Rick Perry, or from Ron Paul, if that's your thing. Among my correspondents, there are many who are very plain about the fact that they would rather lose with Gingrich or Santorum than win with Romney.
Of course, Romney himself has bought into parts of the myth during the course of his campaign. He has repeatedly stated, for example, that President Obama has spent the last three years traveling the world "apologizing for America," a demonstrably untrue statement. For the most part, however, it's true that Romney has not adopted, and does not seem temperamentally inclined to adopt, the rhetoric of Newt Gingrich. Rather than describing the President as a "socialist," as Rick Perry did in one recent debate, Romney has, as Williamson notes, described him as someone who is "in over his head." You also don't hear Romney repeating Newt Gingrich's critique of the President as having a "Kenyan anti-colonialist worldview." On some level, I think Williamson is correct that Romney's more sober criticism of President Obama is one of the reasons that some conservatives reject him. Since he has not brought the red meat to the debate the way Perry, Gingrich, and Santorum have, it just reinforces the perception that Roney isn't conservative enough.
Politically, it strikes me that conservatives would be making a huge mistake if they rejected the Romney argument in November in favor of the more fire-and-brimestone rhetoric of Newt Gingrich and the other candidates. While it may help rally the base, there's substantial evidence that it has the opposite effect in a General Election. When she was speaking on her on during the 2008 campaign, for example, Sarah Palin did a fine job of hitting the President on the themes that resonate with the "Obama is evil" crowd. Her stump speeches and television appearances would frequently be peppered with references to Bill Ayers and Obama's ties to "radicals" in Chicago. If you watched the polls, though, there was absolutely no evidence that any of this was resonating with the public. In fact, it seems to have turned off independent voters in states like Virginia, North Carolina, and Indiana, which had each been reliably Republican for decades. If the strategy didn't work in 2008 when then-Senator Obama was still a relative unknown, what makes conservatives think that it would work in 2012 after three years of  President Obama in the White House?
Williamson closes with some advice for his fellow conservatives:
For conservatives, it is a question of whether we choose a president based on who he is or based on what he can do. Those conservatives who believe that the way forward is to nominate the anti-Obama hold that Americans are so fed up with the president that they are ready to elevate a hardcore ideologue to the presidency. Andy McCarthy is representative of them when he writes that Gingrich is a "plausible candidate this time around, when in many cycles he would not be, because the main issue is Obama's radicalism — the president has people frightened enough that what would appear to be insurmountable baggage in some elections could be cancelled out this time around." But who are these frightened Americans for whom "the main issue" in 2012 is going to be Obama's so-called radicalism? (And what do we call the 35 percent of Americans who support a Canadian-style single-payer health-care system? Insurgents?) Are we so sure of their support? In what states do they live, and why do they fail to show up in the polling data, which consistently find that voters' main concerns are the economy, jobs, and related issues?

As the original campaign consultant put it, the critical thing in every battle is to know your enemy, to know yourself, and to know the terrain. That means, among other things, refusing to tell yourself fairy tales about how everybody is really on your side and just waiting to discover the fact.
Mitt Romney has a chance to beat Obama, but he's not going to do it if the GOP and the conservative punditocracy makes 2012 about how evil Barack Obama supposedly is. If he wins, he will win for the same reason that Ronald Reagan did in 1980, because they made the election about the management ability of the incumbent, and the public decided they'd had enough. You can't do that if you're so consumed by hatred for that incumbent that you can't see clearly. It all reminds me of President Nixon's final words to his White House Staff on August 9, 1974, "[A}lways remember, others may hate you, but those who hate you don't win unless you hate them, and then you destroy yourself." The Obama hatred that the right has been wrapped up in for three years will not win an election, but it could end up becoming so all-consuming that it ends up destroying them.