Fact Checking Mitt Romney's Claim That the President Has "Apologized For America"
During last night's debate, Mitt Romney repeated a charge that has become part of the conservative zeitgeist. But is it true?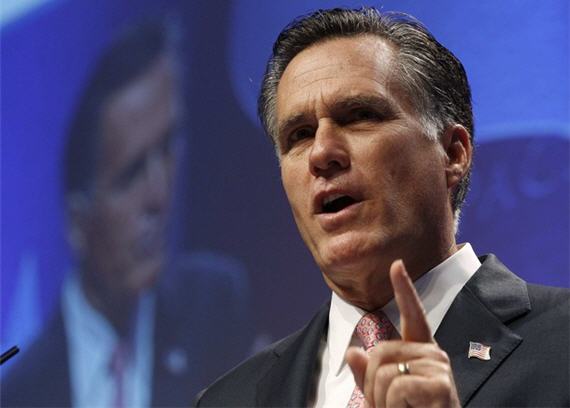 During last night's GOP Debate in Orlando, Mitt Romney repeated a claim that Republicans have been making since the beginning of the Obama Administration:
"The president went about this all wrong. He went around the world and apologized for America.
This repeats a claim that Romney made in his book, ironically titled No Apology:
"Never before in American history has its president gone before so many foreign audiences to apologize for so many American misdeeds, both real and imagined," Romney wrote. "It is his way of signaling to foreign countries and foreign leaders that their dislike for America is something he understands and that is, at least in part, understandable. There are anti-American fires burning all across the globe; President Obama's words are like kindling to them."
Romney isn't alone in repeating this claim, of course. It's repeated pretty much every day on talk radio, and Karl Rove made a similar claim in his own book. It persists on the right, I think, mostly because it reinforces the idea that the President is in some sense foreign, that he doesn't share the values of other Americans, and that he prefers the cosmopolitan lifestyle of Europe to that of the United States, even though he never really spent any time in Europe before becoming President. Since it fits into this world view, it's widely accepted on the right so it's no surprise to see Presidential candidates repeating it on national television.
There's only one problem for Governor Romney and everyone else who persists in repeating this accusation. It isn't true.
Washington Post fact checker Glenn Kessler rates it a Four-Pinnochio falsehood:
A careful review of all of Obama's overseas statements found that they had been taken out of context or had been misquoted. Frequently, Obama expressed sentiments not much different than George W. Bush on overseas trips.

Early in his presidency, Obama often tried to draw a rhetorical distinction between his policies and Bush's policies, a common practice when the presidency changes parties. The shift in policies, in fact, might have been more dramatic from Bill Clinton to Bush than from Bush to Obama, given how Obama has largely maintained Bush's approach to fighting terrorism.
And Politifact gives it their Pants on Fire designation, meaning they found it to be completely false:
As we looked over Obama's remarks, we noticed that he never used the word that is the universal hallmark of apologies: "sorry." Merriam-Webster defines an apology as "an admission of error or discourtesy accompanied by an expression of regret."

We read the seven Obama speeches cited in Romney's book and selected the passages that seemed the most critical, apologetic or conciliatory, and then ran them by several experts with different points of view. Because of their length, we've compiled those passages into a separate document with links to the full remarks, and we encourage you to click over and read those remarks now.

At times, Obama uses an on-the-one-hand, on-the-other-hand formulation that he tends to employ right before he asks the two sides to come together.

At a town hall meeting in France, for example, Obama encouraged Europe to work with the United States, and admitted that the United States "has shown arrogance and been dismissive, even derisive." But he immediately said that Europe has been guilty of a "casual" and "insidious" anti-Americanism. "On both sides of the Atlantic, these attitudes have become all too common. They are not wise. They do not represent the truth. They threaten to widen the divide across the Atlantic and leave us both more isolated," Obama concluded. And at a major address to the United Nations, Obama said, "I took office at a time when many around the world had come to view America with skepticism and distrust. Part of this was due to misperceptions and misinformation about my country. Part of this was due to opposition to specific policies and a belief that on certain critical issues, America has acted unilaterally, without regard for the interests of others. And this has fed an almost reflexive anti-Americanism, which too often has served as an excuse for collective inaction."

At other times, Obama doesn't seem so much to be criticizing the United States as he is criticizing the foreign policy stances of the Bush administration. In England, a reporter said that during the 2008 campaign, Obama had said that the power and authority of the United States had diminished in recent years. Obama was quick to turn the question toward the Bush team. "Well, first of all, during the campaign I did not say that some of that loss of authority was inevitable," Obama said. "I said it was traced to very specific decisions that the previous administration had made that I believed had lowered our standing in the world…. I would like to think that with my election and the early decisions that we've made, that you're starting to see some restoration of America's standing in the world."

At a speech in Cairo on relations between the United States and the Islamic world, Obama got very close to regretting decades-old U.S. actions in Iran. But then he immediately countered with criticism of Iran. He did not make a formal expression of regret, but suggested both countries simply "move forward." Here are his exact remarks: "In the middle of the Cold War, the United States played a role in the overthrow of a democratically elected Iranian government. Since the Islamic Revolution, Iran has played a role in acts of hostage-taking and violence against U.S. troops and civilians. This history is well known. Rather than remain trapped in the past, I've made it clear to Iran's leaders and people that my country is prepared to move forward

Some of the Obama speeches that Romney cited in his book certainly laid out Obama's foreign policy ideas, and it seems fair to say that a less confrontational approach was among Obama's goals. Obama had made no secret during the campaign that he intended to set a different course on foreign policy than Bush — a committed unilateralist — had pursued.

Still, we think it's incorrect for Romney to portray these early speeches as part of a global apology tour. Using Romney's standard, you could argue that any change in foreign policy that's undertaken after a presidential transition and announced to the world would constitute an "apology" for the previous policy.

On the substance of Romney's charge, we believe that what we wrote in March 2010 still stands. While Obama's speeches contained some criticisms of past U.S. actions, those passages were typically leavened by praise for the United States and its ideals, and he frequently mentioned how other countries have erred as well. We found not a single, full-throated apology in the bunch. And on the new angle Romney has added — that the trips were intended to offer the president a forum to apologize to other countries — we think it's a ridiculous charge. There's a clear difference between changing policies and apologizing, and Obama didn't do the latter. So we rate Romney's statement Pants on Fire
A well-deserved designation I would think. First of all, the assertion that the President "apologized" for America simply isn't true if you actually read the speeches, unless you take the position that taking a less confrontational approach to foreign policy somehow constitutes apologizing that is. Second, when you look at the substance of Obama's foreign policy decisions, it's often hard to see exactly what it is that the people who repeat this meme are complaining about. For the most part, President Obama has continued the foreign policy positions of the Bush Administration with respect to the major areas of American concern. The war in Afghanistan was ramped up. Drone strikes against al Qaeda targets in Pakistan, Yemen, and Somalia continue apace. We launched a covert operation into Pakistan to take out Osama bin Laden. Other than invading North Korea and putting Kim Jong Il's head on a spike, what else is it that conservatives would want. More importantly, what should they realistically expect?
As with Rick Perry's ridiculous criticism of the President's policies with respect to the Israeli/Palestinian conflict, there's simply no evidence to support the idea that the President has spent the last two years engaging in abject apology to the world. The fact that it's an idea that still persists to be believed by so many on the right is  a pretty good reflection of so much of what's wrong with politics today.