Could Foreign Policy Cost Mitt Romney The Election?
Mitt Romney's foreign policy weaknesses are starting to become apparent.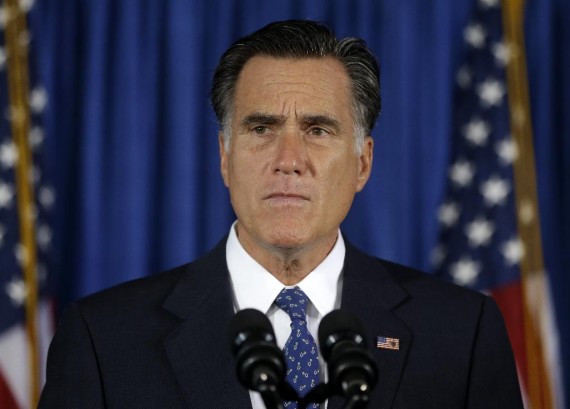 Yesterday's events in Egypt and Libya have, quite suddenly, thrust foreign policy into the campaign limelight in a year in which the primary focus of the election to daye has been the economy, jobs, and issues related to them. Most notably, the incident has been marked in its early hours by a rather fumbling response by the Romney campaign which Mitt Romney himself doubled down on during a press availability this morning. The Obama campaign and its surrogates have understandably jumped on the Romney comments. However, even before the tragic events yesterday and Romney's fumble, the Obama campaign had been engaging a rather pointed attack on Mitt Romney focused on the area of foreign policy:
Mitt Romney is getting the full John Kerry treatment on national security — and some top Republicans are alarmed by what they see as his ham-handed response to it.

Romney — whose convention speech didn't include a salute to the troops or a reference to Afghanistan, where about 75,000 Americans are still at war — is getting hit almost daily now by Democratic attacks that he is wobbly and therefore untrustworthy on national security.

It's the same critique Republicans used to undermine Kerry to devastating effect eight years ago — and the Obama campaign plans to use the run-up to the presidential debates to make a major issue of Romney's surprising convention stumble.

(…)

Obama advisers tell POLITICO that they expect to cite the convention-speech omission repeatedly in coming days as evidence that Romney is not ready to be commander in chief and is not being frank about what he would do if elected, including his policy on Afghanistan. The campaign plans to use Romney's omission as a key talking point in events aimed at military families and veterans in Virginia, North Carolina and other swing states where many voters have relatives or neighbors serving in combat.

The Obama team also is beginning to point out that Romney's address failed to mention Al Qaeda, a staple of the two earlier post-Sept. 11 Republican presidential campaigns. Several top Republicans said that, besides the short-term damage to his own campaign, Romney's perceived neglect of national security could hurt the party in the long term if he loses because the issue has been a traditional Republican touchstone.

In essence, many of the same Democrats who accused Republicans of playing politics with war in past elections are playing politics with it this time around.
More interestingly, the Politico story notes that several top Republicans are apparently quite frustrated with the manner in which Romney and his campaign are essentially handing the issue of foreign policy to the Democrats without much of a fight:
Some officials close to the Romney campaign said it's especially exasperating because of advice Romney received from some advisers, both internally and externally, to visit Afghanistan and talk to commanders during his foreign swing that began at the Olympics. "Obama is the master of details, and he will try to destroy Mitt on this in debates," one hawkish Republican said.

Chris LaCivita, a Republican consultant who was an adviser to the Swift Boat campaign against Kerry, said: "You're not just running for president — you're running for commander in chief. What he needs to do now is show members of the military, their families and voters in general that he is capable of leading the country on issues other than the ones he is most comfortable talking about."

(…)

For Romney, according to top Republicans, the danger is that he has dug an even deeper hole for himself in an area that was already an Obama strength and looks oblivious to the concerns of a crucial Republican constituency — military families and veterans. A CNN poll out Monday found 54 percent of likely voters say Obama would better handle foreign policy, compared with 42 percent who favored Romney.

"When you look at the cultural connection to the military in regions of the country where he needs to over-perform, this opens him to charges that he doesn't get it — that he's disconnected from a fundamental part of the Republican constituency," said Steve Schmidt, senior adviser to McCain in 2008 and key player in the 2004 effort to take down Kerry.

"Democrats, for the first time in a generation, have seized the advantage on national-security issues. That is a remarkable political occurrence. At a time when we have troops in harm's way for the 11th year, the failure to mention them opens him to a very predictable counterattack."

A Republican official who works closely with the Romney campaign said, "Defense is not an issue you concede to the Democrats, and that seems to be what the Romney campaign is content to do. You lose close elections because of missed opportunities, not major gaffes. They should welcome a debate about national security, but he goes into the debates on the defensive."
When I was watching the final night of the Democratic National Convention, the thought occurred to me that, for the first time in my memory, a Democratic candidate for President has a clear an overwhelming advantage when it comes to foreign policy. While Mitt Romney has played a good rhetoric game on issues like China, Iran, and Afghanistan, the fact of the matter is that he lacks any real experience in international relations and, throughout the campaign, he hasn't necessarily demonstrated a particularly adeptness in the area. Many of his statements in the area boil down to little more than meaningless conservative talking point that sounded good to the base during the course of the Republican primary fight, but don't really seem to resonate very well now that he is the nominee of the Republican Party. In selecting Paul Ryan as his running mate, he went for a candidate with experience in economic and fiscal issues, which is understandable, but with no significant experience in, or reputation for, foreign policy areas. Then, for some reason, he walked up to a podium in Tampa two weeks ago and decided that he would not talk about Afghanistan or the troops at all in the most important speech of his political career. In doing so, he left a door wide open and the Obama campaign his running right through it.
The goal of the Obama campaign focusing on Romney and foreign policy is, quite obviously, to try to draw attention to the fact that in this particular area he isn't prepared to be President. This is the kind of situation where it would be perfect for the Obama campaign to create its own variation on the famous "3:00am Phone Call" ad that Hillary Clinton's campaign ran during their legendary fight for the Democratic nomination in 2008. It's really all quite remarkable, and, as Buzzfeed points out, potentially pivotal:
Instead of weakness, however, the Obama administration has projected strength. On the campaign trail, crowds become electrified when the president or his surrogates mention the killing of Bin Laden. The president talks about ending the war in Afghanistan, and protecting veterans.

Romney, on the other hand, has fumbled. The past six weeks have seen a rocky overseas trip, followed by his failure to mention U.S. troops or the war in Afghanistan in his acceptance speech. And although foreign policy hasn't been much of an issue in 2012 so far, the Obama campaign sees an opening to make it one. While still acknowledging that the election isn't going to be decided by national security — the president and his campaign have gone all out to put doubts into the electorate about Romney's ability to handle foreign affairs.

Privately, Obama allies will make case that Romney and Ryan possess an almost Palin-esque naivete to the world. Publicly, too: Senator John Kerry linked Romney's comments on Russia as the number one geopolitical threat with Palin's comment on seeing that country from Alaska. Romney appears "reckless" and "out of touch," as one campaign official put it. All of this is laying the groundwork for what could be one of the most pivotal moments of the campaign—the final presidential debate, just two weeks before the election. The topic: foreign policy.
Daniel Drezner also suggests that, even in the middle of an election where the economy is the number one issue for pretty much every voter and certainly every swing voter, could be a decisive factor in the election:
[I]f the economy doesn't produce the national poll movements that the Romney campaign wants, they'll have to shift to secondary issues.  For the last forty years, the GOP has been able to go to foreign policy and national security.  If Romney does that this time, however, he'll alienate the very independents he needs to win.

Could Romney/Ryan simply retool their foreign policy message for the general election to allay the concerns of independents and undecideds?  No, I don't think they can.  For one thing, it's simply too late to rebrand.  For another, when cornered on these questions they seem to like doubling down on past statements. Finally, I get the sense that one reason Romney sounds so hawkish is because the campaign thinks it's a cheap way to appeal to the GOP base.  Deviating from that script to woo the undecideds will only fuel suspicion of Romney's conservative bona fides.

So maybe, just maybe, foreign policy will matter a little bit during this election.  And not in a way that helps Mitt Romney.
It's certainly possible, I suppose. As noted above, the final debate in October will be focused exclusively on foreign policy and it takes place a mere two weeks before the election. Even if foreign policy issues don't end up being the most important issue in the election, and absent some crisis in the next nine weeks I doubt it will be anywhere near the top, an effective attack on Romney in this area could be quite effective for one very simple reason. Like any candidate challenging an incumbent President, Romney needs to establish that he would be able to take over as President starting on January 20, 2013.  Notwithstanding Romney's qualifications as an executive both in the public and private sector, there's no doubt that his experience with regard to foreign policy is minimal to non-existent and it's only rational for the Obama campaign to hit him on that topic, especially given the fact that the President has been getting consistently high marks on foreign policy for the better part of two years now.
As for Romney, his initial response to the situation in Egypt in Libya has left much to be desired. Based on a wholly incomplete version of the truth, his campaign issued a statement that tried to hold the Obama Administration responsible for a statement issued by the Cairo Embassy yesterday that was never approved by anyone in Washington according to all credible reports. You can, perhaps, chalk that up to a rookie mistake by a campaign that hasn't really been spending much time talking about foreign policy. However, that excuse doesn't apply when the truth of the situation became evidence and Romney still chose to continue the previous evening's political attack:
Once again, unexpected and frightening events abroad have planted themselves squarely in the middle of a presidential race at home – and Mitt Romney on Wednesday sought to capitalize politically with a searing slam on President Barack Obama.

Romney ripped the White House for a since-disavowed statement from the U.S. embassy in Egypt that came on the day that mobs attacked the American embassy in Cairo. The GOP nominee said the embassy's statement was "akin to apology" and he called it "disgraceful to apologize for American values."

"It's their administration," Romney said at a press conference on the campaign trail in Florida. "Their administration spoke. The president takes responsibility not just for the words that come from his mouth, but also the words from his ambassadors, from his administration, from his embassies, from his State Department. They clearly sent mixed messages to the world. And the statement that came from the administration—and the embassy is the administration—the statement that came from the administration was a statement which is akin to apology. And I think it was a severe miscalculation."
Reacting to Romney's morning presser, Time's Mark Halperin said this:
Unless the Romney campaign has gamed this crisis out in some manner completely invisible to the Gang of 500, his doubling down on criticism of the President for the statement coming out of Cairo is likely to be seen as one of the most craven and ill-advised tactical moves in this entire campaign.
I couldn't agree more. The statement issued last night was ill-advised and dumb, but at least the campaign had the excuse of not being aware of the facts behind the embassy statement. Nearly twelve hours later, after we not only knew the truth behind the Cairo Embassy statement but also knew that four Americans, including an Ambassador, had died was there any attempt by the Romney campaign to walk back their ill-advised statement? Of course not. Instead we got this:
A worse response to the news of the deaths of four Americans who were serving their country I cannot possibly imagine. Worse yet for Romney, it was sandwiched between televised statements by Secretary of State Clinton and President Obama that made his attempts to characterize the Obama Administration in the manner that he did look foolish and ham-handed. Remarkably, if the talking points now being distributed by the Romney campaign are any indication, they are going to continue to push this message and look as if they are politicizing the deaths of four Americans. This does not reflect well on Mitt Romney at all, and you can be sure that the Obama campaign and its surrogates will, at some point, be hammering this home as well.