Rick Perry's Odd And Alarming Critique Of U.S. Mideast Policy
Rick Perry's speech criticizing the President's policies in the Middle East raised more questions than it answered.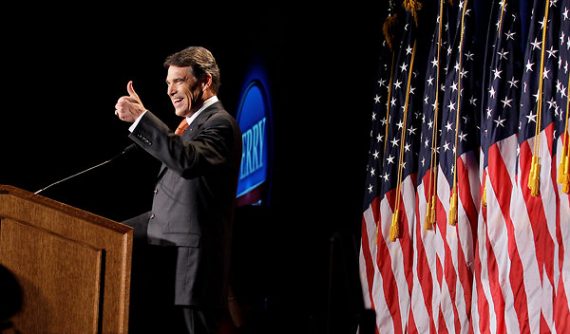 Yesterday, surrounded by American Jewish supporters and others, Rick Perry delivered a speech in which he essentially held the President responsible for the fact that the Palestinian Authority is seeking to make an end run around peace negotiations by seeking statehood via the United Nations:
Texas Gov. Rick Perry (R) assailed the Obama administration Tuesday for "appeasement" over its policy on the Israeli-Palestinian issue.

Governor Perry was speaking in New York City alongside a group of conservative Jewish leaders from the United States and Israel, as President Obama attended meetings at the United Nations elsewhere in the city. The Palestinian bid to receive UN recognition of statehood has put the Obama administration on the spot as it tries to head off the effort.

"Simply put, we would not be here today at the very precipice of such a dangerous move if the Obama policy in the Middle East wasn't naive, arrogant, misguided, and dangerous," said Perry, the front-runner for the Republican presidential nomination.

He continued: "The Obama policy of moral equivalency, which gives equal standing to the grievances of Israelis and Palestinians, including the orchestrators of terrorism, is a very dangerous insult."

Perry accused the Obama administration of encouraging the Palestinians to abandon direct talks with Israel, in a "policy of appeasement." The Palestinians have said they will resume talks only after Israel stops building settlements on disputed land. Perry also criticized Mr. Obama for suggesting the 1967 borders as a starting point for Israeli-Palestinian negotiations, saying the statement demonstrated "a willingness to isolate a close ally."
Perry is referring, of course, to President Obama's May 2011 speech in which he waded back into the Middle East quagmire by calling on both parties to begin negotiations toward a final settlement. That speech created controversy on the right, both in Israel and the United States, due to President Obama's reference to the basis for such negotiations being "based on the 1967 lines with mutually agreed swaps, so that secure and recognized borders are established for both states." Obama had stated a position that had been part of United States Middle East policy for more than a decade, and that it had been advocated by Hillary Clinton, George W. Bush, former Israeli Prime Minister Ehud Olmert, and even a chief aide to former Prime Minister Ariel Sharon. Despite this, the myth has grown on the right that the President had "sold out" Israel, and it's been reinforced by the intransigence of the Likud government of Benjamin Netanyahu on settlements in the West Bank and related issues.
On it's face, Perry's claim that the President is responsible for the Palestinian decision to pursue this statehood resolution through the United Nations is simply absurd. While conservatives continue with the claim that the President has sold Israel out, the truth is that the United States under Barack Obama has been the best friend Israel could ask for:
Again and again, when Israel has been embroiled in international dustups—over its attack last year on a flotilla filled with activists headed from Turkey to Gaza, to cite but one example—the White House has had Israel's back. The security relationship between the countries, on everything from intelligence sharing to missile-­defense development to access to top-shelf weapons, has never been more robust. And when the Cairo embassy was seized and Netanyahu called to ask for Obama's help with rescuing the last six Israelis trapped inside the building, the president not only picked up the phone but leaned hard on the Egyptians to free those within. "It was a decisive moment," Netanyahu recalled after the six had been freed. "Fateful, I would even say."
To that you can add the numerous times the President has said that both the Palestinian Authority and Hamas must recognize Israel's right ot exist as a Jewish State as a pre-condition to negotiations. Of course, at the same time that the United States has stood by Israel, the President has also made some requests of Israel as a show of good faith. Primarily, this involves attempting to get the Israelis to agree to new settlement construction in the West Bank. Considering that these areas are the subject of the parties' dispute and likely to be part of the "mutually agreed swaps" that would occur if there ever was a final resolution of this dispute, this strikes me as a perfectly reasonable position to take. While the Israelis did agree to freeze construction for a time, that time passed and resumption of construction activity in some areas has led to an impasse between the parties that the Palestinians at least have cited as a reason not to return to the negotiating table. How the President is responsible for creating this impasse which has led to the Palestinian's U.N. initiative is beyond me.
During the question period that followed his speech, though, Perry said the following:
Well, obviously, Israel is our oldest and most stable democratic ally in that region. That is what this is about. I also as a Christian have a clear directive to support Israel. So from my perspective, it's pretty easy. Both as an American and as a Christian, I am going to stand with Israel.
Will Saletan finds Perry's comments here alarming, and a substantial change from Bush Administration positions:
Go back and look at Bush's comments about Israel. In eight years, he never mentioned his Christianity as a basis for his policies there. He defended Israel as a democracy and an ally. When he mentioned Judaism and Christianity in this context, he always included Islam. "The Middle East is the birthplace of three great religions: Judaism, Christianity, and Islam," Bush said in a speech to the American Jewish Committee a few months before 9/11. "Lasting peace in the region must respect the rights of believers in all these faiths." In 2007, Bush told Al Arabiya: "I believe that all the world, whether they be Muslim, Christian, or any other religion, prays to the same God. … I believe that Islam is a great religion that preaches peace." Again and again, Bush affirmed: "If you're a Jew or a Christian or a Muslim, you're equally American."

Perry has trashed this legacy. By declaring that "as a Christian, I am going to stand with Israel," he has vindicated Bin Laden's narrative. Across the Muslim world, Perry's policies—starting with his declaration that "it was a mistake to call for an Israeli construction freeze" as a precondition for talks with the Palestinians—would be seen as a Christian-Jewish alliance against Islam.

In the age of Bin Laden, this kind of sectarian bluster would have been bad enough. In the age of the Arab Spring, it's catastrophic. Country after country is grappling with Islam, democracy, and anti-Americanism. The last thing we need is a crusading president who turns the Muslim world against us.
To some degree, Saeltan's alarm may be just a bit over-stated. Perry isn't the President of the United States yet, and even if he does get elected he's going to find himself surrounded by a host of State Department, Defense Department, and National Security Council advisers who are going to be warning him about the inherent dangers that exist in turning American policy in the most volitile part of the world into some kind of religious crusade. Nonetheless, he does have a point here. At the very least, it's of no small concern to me that Perry apparently views foreign policy through a theocratic lens, at least in this particular case. The idea that United States foreign policy in any area should be guided by religious doctrine is bizarre. The idea that United States foreign policy in the Middle East of all places should be guided by religious doctrine is simply insane. The only relevant considerations for an American President should be what is in the interests of the Untied States, and how can the peace be preserved. Helping to create the conditions for Armageddon, or whatever it is that Perry has in mind here, simply don't belong in the thought process.
This isn't something new for Perry, he said pretty much the same thing in 2009. It's fine if his faith requires him to support Israel but if he becomes President of the United States, his Oath Of Office requires him to support, protect, and defend the United States. That's going to mean choosing what's more important, American interests or Israeli ones, and if he's going to let some weird interpretation of the Book of Revelation be his guide there, then we're going to have a huge problem.
Saletan points to another part of Perry's speech that raises eyebrows:
Perry seems eager for such a confrontation. "We have been slow to recognize the risks posed by the new regime in Egypt," he warned yesterday in his prepared remarks. "We must signal to the world, including nations like Turkey and Egypt whom we have considered allies in recent years, that we won't tolerate aggression against Israel." Considered allies? Is that a declaration of separation? And in case Perry's blasts at Turkey and Egypt weren't enough, he threatened to cut off the United Nations: "America must make it clear that a declaration of Palestinian Statehood in violation of the spirit of the Oslo accords could jeopardize our funding of U.N. operations."
Bashing the United Nations has been popular since the rise of the conservative movement, so that's not particularly shocking. The comments about Egypt and Turkey, though, are interesting to say the least. Egypt has been an ally for 30 years, and that alliance has helped maintain the peace between Israel and Egypt and make Egypt a partner in the peace process. Turkey isn't just another ally, they're a member of NATO and, notwithstanding the changes going on there, still an important ally. Throwing such relationships under the bus at a time of massive change doesn't strike me as wise.
Now, it's possible, even likely, that most of Perry's speech was just a sop to the American right, which sometimes seems more fanatically pro-Israel than the Likud Party itself. It's also a fairly naked play for Jewish support in the election, a strategy that Jonathan Tobin for one doesn't think will work very well if Perry is the nominee. As I said, if Perry did become President he'd be surrounded by advisers who would likely work to temper some of this rhetoric. Nonetheless, if this is the way the Rick Perry views the world, then someone needs to ask him some more questions about it.