Ron Paul 2012 Campaign Looking A Lot Like Ron Paul 2008 Campaign
Despite how it many have seemed in January, Ron Paul's 2012 Presidential effort is ending just about the same way his 2008 effort did.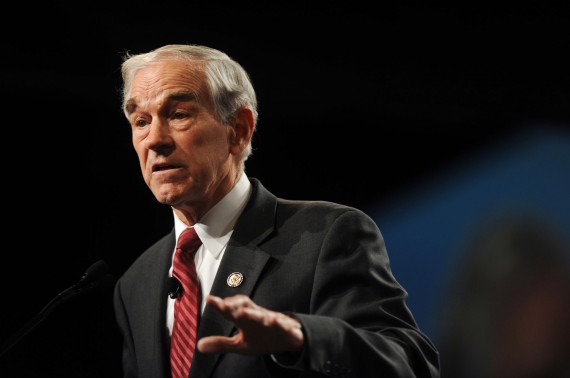 Perhaps bruised by the criticism they received for largely ignoring him during the 2008 campaign, the news media spent a good deal of time in the run up to the voting in the GOP Presidential race covering Ron Paul's campaign for President. He was a frequent guest on all three cable networks, his campaign was being followed around by reporters on a regular basis, and he got far more attention at the candidate debates than he had four years ago. As it turns out, though, Paul's 2012 effort isn't turning out any better than his 2008 campaign. He's fourth in the national polls, fourth in the delegate count with less than 100 delegates, and fourth in the popular votes cast to date with just 10.7% of the vote. And if that wasn't enough, it looks like his campaign is running out of money, and may be about to lose the support of its SuperPac:
Ron Paul's flagging presidential campaign is also bleeding cash, spending more money than it raised in February and finding itself with less cash on hand than during any other point this election cycle, federal filings show.

Paul ended February with about $1.37 million in his campaign account — a pittance for a political campaign competing nationally.

The veteran Texas congressman has yet to win a primary or caucus contest, save for a partial caucus victory in the U.S. Virgin Islands, and he badly trails Republican presidential rivals Mitt Romney, Rick Santorum and Newt Gingrich in delegates amassed.

At this juncture, Paul winning the GOP presidential nomination is a near impossibility.

(…)

Such declining campaign finance health coincides with the decision by Endorse Liberty, a super PAC supporting Paul, to reassess its efforts and consider broadening its support to other political candidates.

Federal records show Endorse Liberty hasn't made an independent expenditure on behalf of Paul since March 6, while super PACs supporting Romney, Santorum and Gingrich together have spent millions during that time.
Additionally, earlier this week NBC News pulled the last campaign embed that was following Paul's campaign around and sent him back to New York City, an obvious recognition of the fact that there isn't any news coming out of the campaign and no reason to cover it on a daily basis.
None of this is surprising, really. Outside of the core group that has supported Paul since 2008 there isn't a wide audience for Paul's peculiar brand of libertarianism in the GOP, and his non-interventionist foreign policy positions are completely outside the GOP mainstream, especially as applied to nations such as Iran and Israel. There seems to be some hope among Paul supporters that Paul will somehow become a power broker at the Tampa convention if none of the candidates manages to garner a sufficient number of delegates to win on a first ballot. That would seem to depend, however, on Paul's ability to deliver his delegates to a particular candidates, something that is by no means certain. More so than any other candidates, Paul's supporters are highly devoted to him personally, and this would seem likely to be even more true of those actively involved enough to have put their names up on a delegate slate. I honestly don't see them listening if Paul urges them to get behind Romney, and I think that even he recognizes that fact. This is why I tend to discount the speculation that has been tossing around for months now about a secret deal between Romney and Paul, if anything the fact that Paul has generally kept the gloves off  Romney can probably be explained by his desire not to annoy the GOP establishment out of concern for his sons political future.
In 2008, Ron Paul responded to the Republican National Convention by holding his own shadow convention in Minneapolis. He may not do the same thing in Tampa this year, but I also don't expect him to be given a major role in the convention regardless of how many delegates he thinks he can deliver.