Ronald Reagan's Lesson For Donald Trump On Responding To Hate And Bigotry
Thirty-seven years ago, Ronald Reagan spoke out against hatred and bigotry in a way that the current President refuses to do.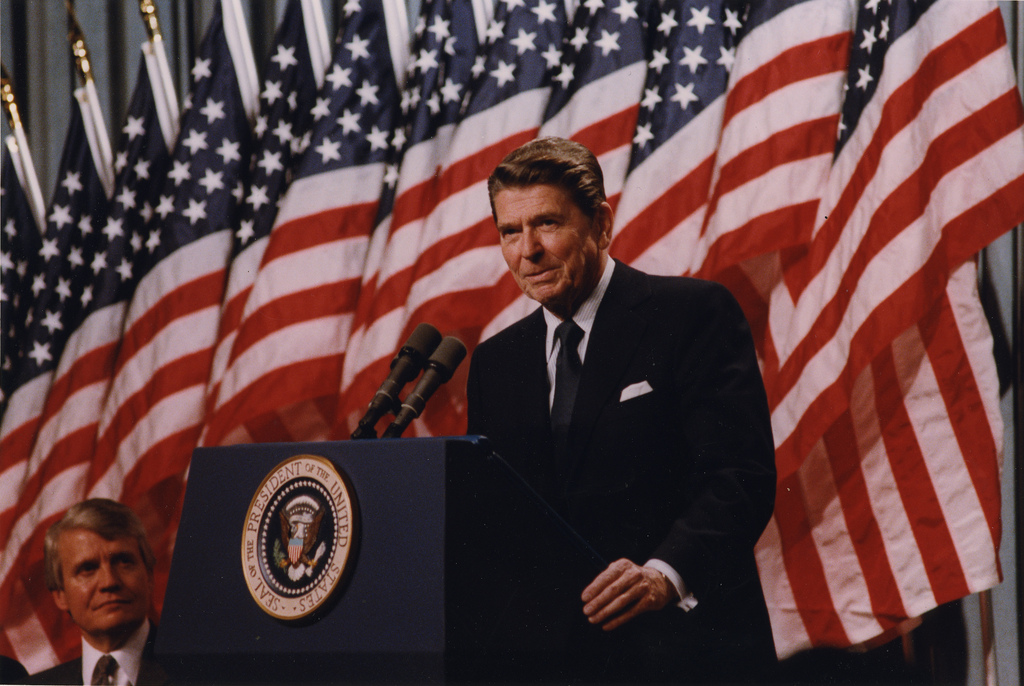 With last week's news about the bomber who sent at least fourteen devices to critics of President Trump and Saturday's horrible attack on a synagogue in Pittsburgh, many people have criticized President Trump for not only the rhetoric that has appeared to give succor to the bigots of the world, but also for his largely tone-deaf response to both events. By way of contrast, many people have been pointing to remarks that President Reagan made back in 1981 that struck a far different tone:
Former President Ronald Reagan spoke to the NAACP's annual convention in 1981 when he was commander in chief, and his comments stand in sharp contrast to Trump's tepid response to racist violence.

"A few isolated groups in the backwater of American life still hold perverted notions of what America is all about," he said in a clip going viral. "Recently in some places in the nation there's been a disturbing reoccurrence of bigotry and violence."

Then, Reagan sent a direct message to those "who still adhere to senseless racism and religious prejudice."

"You are the ones who are out of step with our society. You are the ones who willfully violate the meaning of the dream that is America. And this country, because of what it stands for, will not stand for your conduct."

"My administration will vigorously investigate and prosecute those who, by violence or intimidation, would attempt to deny Americans their constitutional rights," he promised.
Here's the video:
This video also made the rounds after Trump's tone-deaf response to the events last year in Charlottesville, and the words ring as true now as they do then. And the contrast could not be more apparent.
Also of note is a letter that America's first President, George Washington, wrote to the worshipers at a synagogue in Rhode Island:
Gentlemen:

While I received with much satisfaction your address replete with expressions of esteem, I rejoice in the opportunity of assuring you that I shall always retain grateful remembrance of the cordial welcome I experienced on my visit to Newport from all classes of citizens.

The reflection on the days of difficulty and danger which are past is rendered the more sweet from a consciousness that they are succeeded by days of uncommon prosperity and security.

If we have wisdom to make the best use of the advantages with which we are now favored, we cannot fail, under the just administration of a good government, to become a great and happy people.

The citizens of the United States of America have a right to applaud themselves for having given to mankind examples of an enlarged and liberal policy—a policy worthy of imitation. All possess alike liberty of conscience and immunities of citizenship.

It is now no more that toleration is spoken of as if it were the indulgence of one class of people that another enjoyed the exercise of their inherent natural rights, for, happily, the Government of the United States, which gives to bigotry no sanction, to persecution no assistance, requires only that they who live under its protection should demean themselves as good citizens in giving it on all occasions their effectual support.

It would be inconsistent with the frankness of my character not to avow that I am pleased with your favorable opinion of my administration and fervent wishes for my felicity.

May the children of the stock of Abraham who dwell in this land continue to merit and enjoy the good will of the other inhabitants—while every one shall sit in safety under his own vine and fig tree and there shall be none to make him afraid.

May the father of all mercies scatter light, and not darkness, upon our paths, and make us all in our several vocations useful here, and in His own due time and way everlastingly happy.

G. Washington
We don't have a Washington or a Reagan, though, we have Trump.