Santorum Admits He Cannot Win The Nomination Without A Brokered Convention
Rick Santorum's campaign is starting to tilt at windmills.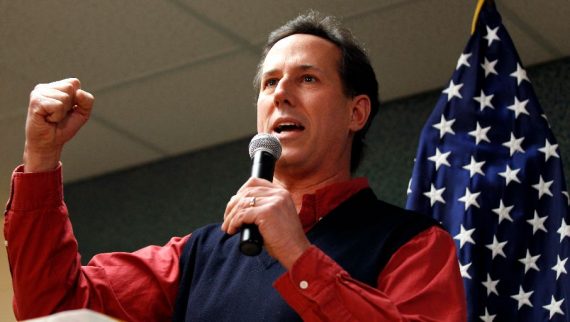 Buzzfeed's Zeke Miller has gotten his hands on a memorandum from the Santorum campaign wherein it essentially admits that the campaign's strategy at this point is aimed not at winning the delegates necessary to win the nomination on the first ballot so much as it is at forcing a brokered convention:
Rick Santorum has conceded that he can't win a majority of the delegates to the Republican National Convention outright.

In a strategy memo pushing back on Mitt Romney's narrative that it will take an "act of God" to deny him the nomination, advisor John Yob argued that they have a strategy to win — at a contested convention.

Majority Needed for Romney, Not for Santorum

Mitt Romney must have a majority on the first ballot in order to win the nomination because he will perform worse on subsequent ballots as grassroots conservative delegates decide to back the more conservative candidate. Subsequently, Santorum only needs to be relatively close on the initial ballot in order to win on a later ballot as Romney's support erodes.

The memo, to be distributed today, indicates that the Santorum campaign seems more concerned with arguing that Romney will not win a majority of delegates to the Republican National Convention, rather than making the case for why he will. Indeed, the over-2,000-word memo only addresses the possibility of Santorum reaching a majority in its final paragraph, and only as a throw-away.

Central to Santorum's strategy are county and state conventions, which select delegates to the convention in caucus states. Santorum's campaign asserts that they will outperform their caucus-night delegate shares because convention-goers are by-and-large more conservative than the average Republican voter. But they are making the (weak) assumption that Ron Paul's libertarian army won't try the same thing.
Of course, Paul's supporters are doing exactly this and likely have been since long before the Santorum campaign thought of it. The idea is based on the fact that nearly all the caucus states choose their delegates not via the straw poll results that are announced on caucus night, but at a statewide party convention held many months afterward. In the case of Iowa, for example, the  caucuses sent delegates to County GOP Conventions, which will take place next weekend, which then send delegates to Congressional District Conventions in April, which then send delegates to the statewide convention in June. The idea behind the Paul and Santorum strategy is that concentrating on these county and district conventions with the idea that the delegates ultimately selected at the state level might actually support their candidates. I'm not aware of any examples in the past where this strategy has actually worked, but when you're dealing with a fight over as many delegates as you can grab it might just be worth a try.
Ironically, a brokered, or to put it more properly contested, convention seems to be what Michael Steele was aiming for when he supported changes the GOP primary calendar and delegate allocation rules in 2010:
"I wanted a brokered convention," Steele tells me. "That was one of my goals." Why in the world would a party chairman desire apparent turmoil? To create excitement and shake up the party, Steele explains. So far this year, he has indeed succeeded in one regard: The Republican race remains unsettled. And that's unsettling many within the party's upper ranks.

Not all of the RNC officials at the time craved such creative disorder. Steele, recalls Doug Heye, then the RNC's communications director, "said in a few interviews that as a political junkie, he'd like to see a brokered convention, and I counseled him that the party chairman may not want to advocate for chaos at a convention he has to manage." But, in what now seems a profound miscalculation, the Romney camp backed Steele's reforms—and helped create the monster that now threatens him and the party.
The logic behind Steele's argument seems to have been the belief that Republicans convinced themselves of in the wake of the 2008 election that the long campaign battle between Hillary Clinton and Barack Obama helped the party, and ultimately helped Obama when the General Election rolled around. Republicans, meanwhile, had wrapped their race up within the first month of the process and the race was effectively over when Mitt Romney dropped out of the race at CPAC in 2008. So, while Clinton and Obama continued to fight it out in what was without a doubt the most epic primary fight modern Presidential politics has ever seen, John McCain was reduced to going on a tour of the country and making speeches that got little media attention. The result was predictable, Obama started to rise in the head-to-head matchups against McCain. McCain wasn't really able to reverse that until he picked Sarah Palin, and that bump in the polls ended when people started to get to know her and the economy crashed.
So, how likely is it that we'd see Santorum's and Steele's dreams come true? As it turns out, not very likely at all:
If and when Romney locks down the GOP nod, this weekend's voting will mark a case in point as to how. Romney was decimated in the biggest contest held Saturday, in Kansas, with Rick Santorum securing an outright majority in a four-way field, and Romney struggling to hit 20 percent.

But Romney appears likely to walk away from the weekend with about as many delegates in his column, and possibly even more. Romney won overwhelmingly in the U.S. territories of Guam, the Northern Mariana Islands, and the Virgin Islands; add that to the final set of caucus contests in Wyoming, and Romney got to wash out his big loss in Kansas.

That means a handful of contests where turnout is rivaled by class presidency elections in midsize high schools may end up being responsible for selecting the party's nominee. To cite one example, 181 individuals attended the Guam Republican convention, according to the territory's party. (In Kansas, turnout topped 30,000.)

Wins like this weekend's did not happen by accident. Romney's was the only campaign to prepare for the long haul of the race with detailed legal and structural plans for how to win delegates in every obscure corner. That work is now paying off, as the battle for 1,144 Republican National Convention delegates slogs on.

Romney has 454 delegates secured, according to ABC's estimate, more than twice the 217 in Santorum's column. Newt Gingrich, with 109 delegates, and Ron Paul, at 48, lag far behind.

The fact that most states don't award all the delegates to a single winner makes it very difficult to amass enough delegates to clinch. But it makes it even harder for a lagging candidate to catch up.
This weekend's outcome is a good case in point. Santorum scored a huge victory in Kansas and gained most of that state's delegates. But Romney won in Wyoming, as well as winning caucuses in three American Territories (Guam, the Northern Marianas Islands, and the U.S. Virgin Islands). At the end of the day, Santorum had won 39 delegates but Romney had won 36 delegates, meaning that the massive victory in Kansas only garnered Santorum a net gain of three delegates. In the end, the weekend resulted in Romney picking up more delegates to add to his total while the odds of Santorum being able to catch up, surpass, or even deny him a majority became longer. With each primary and caucus, that will continue to happen and while it might mean that Romney will have to wait until the last contest to put this race to rest, it means that it is becoming less and less probable each week that the scenario set forth in the Santorum campaign's memo will play out the way they want it to, especially since they don't have anything near the organizational structure that Romney does.
Even if we get to the end of the road and it doesn't look like any of the candidates have a  majority of the delegates, that still doesn't mean that we'll have a contested convention in Tampa. In an interview with The Hoover Institution's Peter Robinson, Michael Barone makes an analogy to the 1976 Republican Convention, where a deal was reached that gave Gerald Ford his majority long before the convention opened in Kansas City. That's what's likely to happen here. Romney's people will make a deal, either with Santorum, Gingrich, or Paul, and Romney will be elected on the first ballot. All the rest is just political fantasy.
The Santorum campaign is absolutely correct about one thing, though. They cannot win the nomination outright at this point, that's why they're talking about a contested convention. Well, they could win under one circumstances. If Mitt Romney were to implode somehow that could probably be enough to shift support to Santorum as the last man standing. But Mitt Romney isn't going to implode. He's been running for President since at least 2007 and, for all his faults, he is a highly disciplined politicians with a tightly run campaign organization. The odds of his campaign collapsing at this point are somewhere between slim and none. Which is right about where the odds that Sanoturm will be the nominee stand at this point.