Sarah Palin Most Polarizing Figure In 2012 Field
This is a strange disconnect between Sarah Palin's popularity within the Republican Party and her popularity with the nation as a whole. One wonders if the GOP notices, or cares.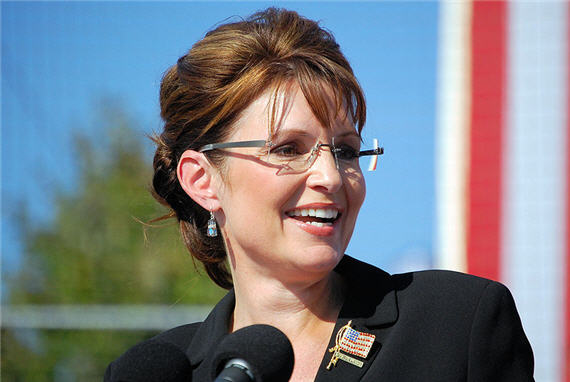 A new Associated Press poll confirms something that we sort of already knew:
Sarah Palin is the most polarizing of the potential 2012 Republican presidential candidates, while impressions of Mike Huckabee and Mitt Romney lean more positive, according to an Associated Press-GfK poll. As for the rest — Pawlenty, Barbour, Thune, Daniels — most Americans say, "Who?"

The election, of course, is far away, and polls this early largely reflect name recognition and a snapshot of current popularity. A year before the last presidential election, the top names in public opinion polls were Rudy Giuliani for the Republicans and Hillary Rodham Clinton for the Democrats. Neither won their party's nomination.

But jockeying among the dozen-plus Republicans eyeing a chance to challenge President Barack Obama is under way. Soon, they will be slogging their way to living rooms in snowy Iowa, New Hampshire and other early primary states.

Palin, the former Alaska governor and 2008 vice presidential nominee, is the best-known and most divisive of the bunch. In the wake of her high-profile role in endorsing candidates all over the country, 46 percent of Americans view her favorably, 49 percent unfavorably, and 5 percent don't know enough about her to form an opinion.

Her "don't know" score is considerably lower than those registered by other possible candidates tested in the poll.

Huckabee, the former Arkansas governor who won the 2008 GOP Iowa caucus, received the highest favorability rating, 49 percent. About one in four people has no opinion of him, and 27 percent view him unfavorably.

Romney, the former Massachusetts governor who ran in 2008, had similar results. Nearly a quarter of all Americans have no opinion about him, while 46 percent view him favorably, and 31 percent unfavorably.
The astounding thing about this poll is the fact that, unlike Romney and Huckabee, there are very few people who don't have an opinion about Sarah Palin at this point. This suggests that, while it might be possible for those candidates (or one of the unknowns) to improve their numbers by educating the public about who they are, Palin's task in a General Election would be far more difficult — she would have to convince large numbers of people to forget everything they've seem from her and learned about her since she was first introduced to the public on August 29, 2008. While not an impossible task, it's certainly a difficult one and when you're running against an incumbent President it's one that is unlikely to succeed.
This is made even more apparent once you realize that the overall public opinion of Palin hasn't changed all that much since Americans went to the polls in November 2008:

In the national Election Day exit poll, fully 60% of voters said they did not consider her qualified to serve as president if necessary, while only 38% thought she would be ready to step in. Those figures were daunting enough, but new calculations from the exit poll provided by the NBC News political unit show that outside of the Republican base skepticism about Palin's credentials reached even more imposing heights. While 74% of Republicans thought Palin was qualified, just 35% of independents and 9% of Democrats agreed, the figures (first aired on David Gregory's 1600 Pennsylvania Avenue Monday night) showed.

And while 40% of voters without college education thought she could step in, just 35% of college graduates agreed. Fully 63% of college graduates rated her unqualified.

Likewise, while Palin scored relatively better in the South-45% of southerners thought she was qualified, and 53% did not-she faced towering levels of resistance in the east and west (where voters by more than two-to-one in each case considered her unqualified.) The Midwest tracked the national numbers, with two-fifths calling her qualified, and three-fifths not.

The same pattern was evident by location: Palin ran best among rural voters (45% qualified, 53% not), but sagged among suburbanites (40% yes, 59% no) and collapsed among urban residents (just 30% qualified, 67% not).

In all, the figures underscore the dilemma Palin presents for the GOP: while quite popular among the party base, she faces deep resistance from voters outside of it, including many of the groups (independents, college graduates, residents of the coasts) who turned most sharply away from the GOP in last week's rout.
And for Palin, the numbers have never improved: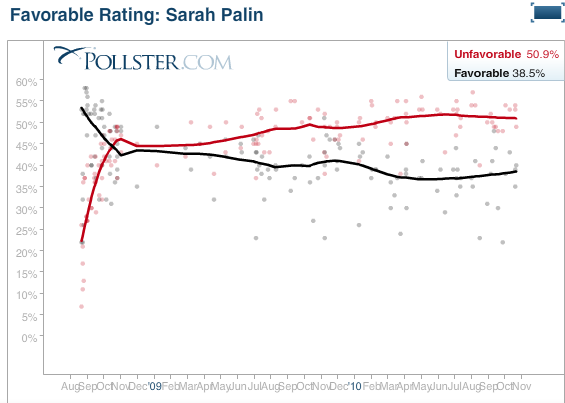 Despite these facts, however, Palin remains oddly, almost inexplicably, popular within the Republican Party:
In terms of winning the 2012 nomination, the question is how Republican-leaning Americans view the contenders. Palin comes out on top. Among adults who identify themselves as Republicans or GOP-leaning independents, 79 percent view her favorably, and 17 percent unfavorably.
I took note of this strange phenomenon back in July when a Gallup poll showed similar results to this one:
We are witnessing an almost unprecedented phenomenon. The most popular person in the Republican Party has no realistic chance of beating Barack Obama, and yet she's got a very realistic shot at winning the nomination.
Republicans who are actually interested in winning in 2012 should pay attention before it's too late.