Sarah Palin: Hot In The GOP, Not So Hot In America
When it comes to opinions about Sarah Palin, there is a striking difference between Republicans and Americans in general.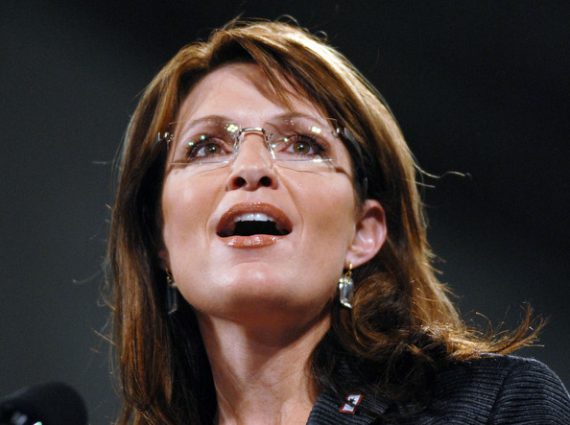 A new Gallup poll reveals the stark difference between the way Republicans feel about Sarah Palin, and the way the rest of America feels about her:
Washington (CNN) – For many Democrats in Washington, a Sarah Palin presidential run would be a dream come true.

As their thinking goes, Palin's popularity among Republican base voters in early primary states would be enough to swamp the rest of the 2012 field and vault the conservative firebrand to the GOP nomination.

But in a general election, her standing among independent and swing voters, which began to crater in the closing weeks of the 2008 presidential race, might be too much to overcome.

New (admittedly early) polling data suggests that very scenario could play out if she decides to seek the White House.

According to a new Gallup survey, 76 percent of Republicans have a favorable opinion of Palin – the highest rating among any of the presumed presidential candidates. The former Alaska governor also maintains the strongest name recognition of any potential candidate, while only 20 percent of Republicans view her unfavorably.

(…)

Among all Americans, though, Palin's numbers are upside down. More Americans view her in a negative light (47 percent) than a positive one (44 percent). What's more, only nine percent of Americans haven't formed an opinion of the former Alaska governor, making it difficult for her to correct that deficit.
Here are the full results of that last question: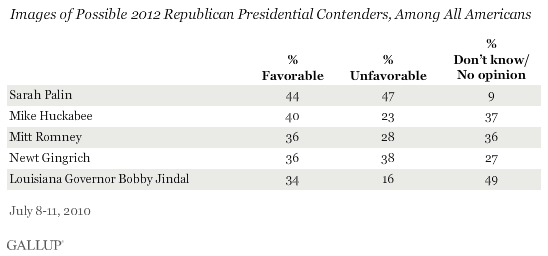 Palin's biggest problem, this poll shows isn't just her high negatives, its the fact that nearly everyone has already formed an opinion about her. In fact, the overall public opinion of Palin hasn't changed all that much since Americans went to the polls in November 2008:
In the national Election Day exit poll, fully 60% of voters said they did not consider her qualified to serve as president if necessary, while only 38% thought she would be ready to step in. Those figures were daunting enough, but new calculations from the exit poll provided by the NBC News political unit show that outside of the Republican base skepticism about Palin's credentials reached even more imposing heights. While 74% of Republicans thought Palin was qualified, just 35% of independents and 9% of Democrats agreed, the figures (first aired on David Gregory's 1600 Pennsylvania Avenue Monday night) showed.

And while 40% of voters without college education thought she could step in, just 35% of college graduates agreed. Fully 63% of college graduates rated her unqualified.

Likewise, while Palin scored relatively better in the South-45% of southerners thought she was qualified, and 53% did not-she faced towering levels of resistance in the east and west (where voters by more than two-to-one in each case considered her unqualified.) The Midwest tracked the national numbers, with two-fifths calling her qualified, and three-fifths not.

The same pattern was evident by location: Palin ran best among rural voters (45% qualified, 53% not), but sagged among suburbanites (40% yes, 59% no) and collapsed among urban residents (just 30% qualified, 67% not).

In all, the figures underscore the dilemma Palin presents for the GOP: while quite popular among the party base, she faces deep resistance from voters outside of it, including many of the groups (independents, college graduates, residents of the coasts) who turned most sharply away from the GOP in last week's rout.
Sound familiar ? It should, because it's pretty much the same thing that we're seeing today — Republicans love Palin, but the general public most decidedly does not. The reality that that central point has not changed in nearly two years makes it incredibly unlikely that anything will happen between now and 2012 to redeem Palin in the eyes of the general public.
Finally, there's the fact that Palin has history against her. There has only been one occasion in American history where the Vice-Presidential nominee on a losing ticket went on to become President themselves. It happened in 1932, when Franklin Roosevelt, who had been the Vice-Presidential running mate of Democrat James Cox in 1920, became the first such person to be elected President. And Sarah Palin isn't Franklin Roosevelt.
Nonetheless, we are witnessing an almost unprecedented phenomenon. The most popular person in the Republican Party has no realistic chance of beating Barack Obama, and yet she's got a very realistic shot at winning the nomination. This is going to be fun to watch.