Sarah Palin's Emails
A quick glance provides some insights into Palin's thought processes and leadership style.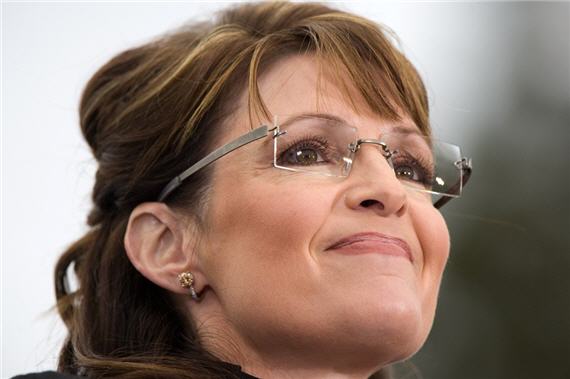 When I first saw buzzing that Sarah Palin's emails from her time as governor had been made public under a Freedom of Information Act request and that the New York Times and other media outlets were attempting to crowdsource reporting on them, I was deeply skeptical. While the public has a right to know what their officials are doing, it's never been taken to the point of eavesdropping on their everyday conversations. Typically, private correspondence was available years later but even then it wasn't usually at the level of deliberations with the staff. And I'm not at all sure that it's a good idea in that 1) it's likely to cut down on candor and 2) it's likely to lead to subterranean activity to avoid disclosure (which it seems to have done in Palin's case).
Still, the information is now public and of interest. MSNBC has a live blog of the releases and has scanned every single email (12,045 docs and 24,361 pages) into searchable form. A quick glance provides some insights into Palin's thought processes and leadership style.
Troopergate:
6:25 p.m. AT (10:25 ET): When the Alaska Legislature appointed investigator Stephen Branchflower to look into possible ethics violations by Gov. Palin's role in the "Troopergate" case, the Palin administration's response was to spread rumors about his wife to attack his credibility. In a series of emails on Aug. 1, 2008, the governor and her aides discussed how to respond to the inquiry. The conversation is heavily censored. The current governor's office withheld most of the e-mail thread.  But the progression is clear. It starts with the subject line, "Fw: Branchflower," with questions posed by the Anchorage Daily News, which asked whether the Palin administration's planned to cooperate with the investigation. The content is mostly marked "Privileged or Personal Material Redacted." Then Palin changed the subject line to "Re: Fairness?: Branchflower." We can't see what the governor wrote. Then the governor changed the subject line again, to "Re: MRS.: Fairness?: Branchflower," with this message from her Blackberry and her Yahoo account gov.sarah@yahoo.com: "Just got another call about Mrs. Blanchflower [sic] having retired after working FOR Walt at APD and the conflict involved there." Walt is apparently Monegan, whom she dismissed in a dispute that began with Palin family difficulties with a state trooper who was Palin's former brother-in-law. Press aide Sharon Leighow replies, "I dropped all sorts of questions about linda," referring to Branchflower's wife, "… license lasping [sic] … Walt association etc." Palin replied again from her Blackberry, "Thank u." That email thread is in this PDF file.
Paranoia:
5:54 p.m. AT (9:54 ET): Guess who was in favor of using the public records laws to read emails of state officials and employees? During August 2008, when she was upset about administrationand budgets in the state's Department of Public Safety, Palin sent this email to Randall Ruaro, her deputy chief of staff: "Very, very concerning the 'untruths' coming from them. I am dumbfounded at this, as I have never worked in an organization where these unethical practices seem to go ignored and unanswered. The lack of accountability is appalling in all of this. It is so concerning, the damage that is being done and the public trust that is eroding, that we need to gather as much information as possible,  including FOIA-ing emails, tapes, communications in all forms, regarding the untruthful information being spread to the public." The rest of this email, like so many others, was withheld by the governor's office.
Strange Priorities:
3:57 p.m. AT (7:57 ET): Gov. Palin's staff ghost-wrote a newspaper op-ed piece for her ally Kristan Cole in 2007, during the controversy over a dairy called Matanuska Creamery. (This is a well-known controversy in Alaska, where the it's known as the Mat Maid dairy. You can read a summary here.) In September 2007, Kristan Cole, Palin's good friend and chairwoman of the creamery's board, submitted an op-ed piece. Deputy press secretary Sharon Leighow sent around an e-mail: "Folks – This is our final draft of the Mat Maid Op/Ed to be submitted on behalf of Kristan Cole. Thoughts?" Palin responded to the group, "i'm tweaking it." The conversation continued the rest of the day, with another aid, Bruce Anders, writing, "I edited substantially from the original, and including some major rewrites and deletions." The public cannot see what was written, or rewritten, because the office of Gov. Parnell, Palin's former lieutenant governor, deleted that content with the note, "Privileged or Personal Material Redacted." What could be privileged or personal about a rewritten ghostwritten op-ed column?
More Paranoia:
3:24 p.m. AT (7:24 ET): Gov. Palin had more than the Yahoo accounts. Not only did she use gov.palin@yahoo.com and gov.sarah@yahoo.com to conduct state business, but she also used sp@hslak.com, an address set up for her by an aide. Very little of her official business went through her official email accounts. Remember, under the state's policy so far, citizens of Alaska are still not able to see emails sent between her private accounts and the private accounts of her staff and department heads. There's more about those holes in the document release, in our main story on msnbc.com.
Unintentional Irony:
2:45 p.m. AT (6:45 ET): After she was named as Sen. John McCain's running mate, Gov. Palin started getting e-mails from citizens asking whether her attentions were still focused on the state. One citizen asked whether taxpayers still had to pay her salary, now that she was working for the McCain campaign. The governor replied by asking her staff make sure that she appeared to be involved in state issues every day.  After an announcement on the state Permanent Fund dividend went out under the name of Lt. Gov. Sean Parnell, Palin wrote to deputy Michael Nizich on Sept.  6, 2008, "As often as possible we'll need to have the announcements come under my name in these next few weeks. Pls let Comm (Communications) know that we need to do that. Thanks. Also – is there anything else to announce soon? Remember we talked about having almost daily annoucements coming from our office w my name on it so alaskans know that still my #1 priority is serving them as Gov."
UPDATE:  The above was a quick take in the wee hours fueled by a bout of toddler-aided insomnia. Some additional thoughts spring to mind after more sleep:
1. Palin comes across poorly because her composition style is that of a teenager. I don't mean that insultingly: She's dashing off quick thoughts, using incomplete sentences and and abbreviations, as if she were texting. It's very efficient and makes perfect sense for someone with a hectic schedule but it's a practice I've never adopted– even on Twitter and other forms where space is limited. Out of the context of the rapid flow of a workday, it comes across as unprofessional and insipid. But, of course, they weren't intended for public dissection.
2. We don't have any point of comparison here, making it easier to confirm pre-existing biases on Palin. We don't have similar access to the daily communications of governors and presidents thought to be highly intelligent, competent, and self-confident. What comes across to me as obsession about public image to the point of paranoia may well be par for the course. My sense from the outside is that it's usually staffs, not the executives themselves, who spend their days worrying over such things. But that could be a function of successful orchestration of image management that would be dispelled if we were privy to their emails.
3. Moving official correspondence off of public servers to email accounts set up precisely to avoid transparency is problematic. But recall that both George W. Bush and Barack Obama almost instantly stopped using their BlackBerrys and keeping personal journals upon taking office, under the similar rationale that they didn't want them to become public records. Not recording things for the purposes of evading transparency goes further than conducting public business on private accounts; but they spirit is the same. Which, again, is why I'm leery of having these things subject to FOIA requests.