Second Lawsuit Filed Against Virginia's Same-Sex Marriage Ban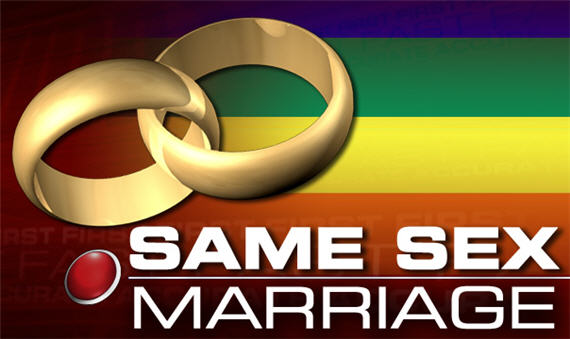 Just last week, I noted that a couple in the Tidewater area had filed suit against Virginia's ban on same -sex marriage, now that lawsuit has been followed up by a second suit by two couples living further west in the state:
The American Civil Liberties Union, the ACLU of Virginia, Lambda Legal and the firm Jenner and Block filed a federal class action lawsuit Thursday challenging Virginia's ban on same-sex marriage and the state's refusal to recognize out-of-state marriages by gay couples.

The suit comes on the same day that Minnesota and Rhode Island became the 12th and 13th states to start issuing marriage licenses to same-sex couples.

The groups filed the suit in U.S. District Court for the Western District of Virginia on behalf of Joanne Harris and Jessica Duff of Staunton and Christy Berghoff and Victoria Kidd of Winchester, and seeks to represent all same-sex couples who are seeking marriage rights in the state.

"Virginia is home for us. Our families are here, our jobs are here, and our community is a great support for us, but it makes us sad that we cannot get married where we live," said Joanne Harris, a native Virginian who grew up on a Bedford, Va. pig farm, in a statement.

Harris noted that she has "a serious medical condition" and because the couple is not legally married, "We've had to spend lots of money to try to make sure that Jessi can make decisions for me if there were ever a crisis."

Virginia attorney general Ken Cuccinelli spokesman Brian Gottstein said  the office does not comment on pending litigation. But he has stated in the past Cuccinelli would defend the state's 2006 constitutional amendment unlike attorneys general in some states, such as Pennsylvania and Illinois.

"Virginia has followed the traditional definition of marriage as being between one man and one woman for more than 400 years, and Virginians voted overwhelmingly to add this traditional definition to their constitution," Gottstein said in a June 26 statement, after the Supreme Court issued its same-sex marriage rulings. "Consistent with the duties of the attorney general, this office will continue to defend challenges to the constitution and the laws of Virginia."

The complaint highlights the two couples' conservative backgrounds as well as what they describe as the ban's economic and emotional impact on their families.

According to the lawsuit, "Jessi fell in love at first sight with Joanne when they met in 2002 through mutual friends" and "Joanne realized that she wanted to spend the rest of her life with Jessi when Jessi's grandmother wrapped her in a big hug and welcomed her into the family." It said the two share "a commitment to their Christian faith" and were baptized together in 2006 "in the backyard river of a fellow church member."

Their four year-old son Jabari, the complaint says, is Harris's biological son and refers to Duff as "Momma DeeDee," or "DeeDee."

"He is proud of their family, but even at the age of four is very aware that his parents cannot marry," the suit states. "A picture from their commitment ceremony hangs in their home, and [Jabari] points to it and says to others, 'Mommy and Momma DeeDee got married, and they need to really get married.'"

Berghoff is an Air Force veteran, and she and Kidd, who were raised as Jehovah's Witnesses, got legally married in the District.

"If Virginia would just respect our marriage from D.C., it would ensure that my spouse and family could access all the benefits I've earned," Berghoff said.

Berghoff and Kidd, who are both 34 and have been together almost a decade, have an eight-month-old daughter named Lydia. The complaint details how after Berghoff gave birth to Lydia last year at Winchester Medical Center, "One nurse was overtly hostile to both Victoria and Christy, delaying service and responding with unkind words so often that the couple felt like they were 'on their own'" even after Kidd requested medical attention for Berghoff."

"Victoria and Christy believe this kind of experience would be far less common for same-sex couples if the Commonwealth recognized the equal dignity of their relationships," the complaint states.

No Southern state allows same-sex marriage at this point; activists are pursuing litigation in Virginia because it would be difficult to overturn the state's ban legislatively, given that the the General Assembly must pass the initiative in two different years with an election for the House of Delegates in between before it can be voted on by the public in a referendum.
This case will likely move in tandem with the case filed last week, although the faster docket in the Eastern District of Virginia may mean that we get a decision in that case first. In either case, though, both cases are ultimately headed for the Fourth Circuit Court of Appeals and, potentially, the U.S. Supreme Court itself and are likely to be tied together once they get to the appellate level. These two Virginia lawsuits are not the only challenges to same-sex marriage bans to be filed recently. Last week, there was also a lawsuit filed in Kentucky challenging that states ban on same-sex marriage.
You can read the Complaint filed in the new Virginia lawsuit here, and the Complaint filed in the Kentucky lawsuit here.