Some Messages from CPAC
What is CPAC telling us about the contemporary conservative movement?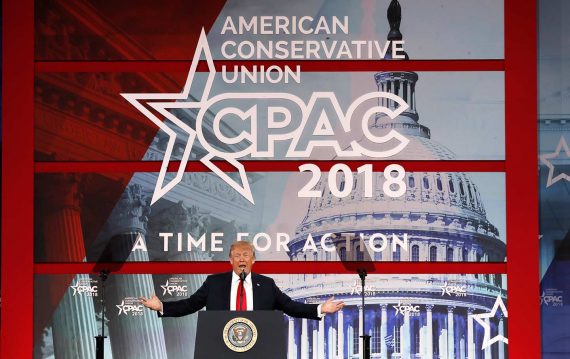 The following are stories that have come to my attention regards events at the American Conservative Union's annual event, CPAC.
1. Mona Charen is Booed and Given Armed Escort to Leave
Mona Charen, who stunned #CPAC by rebuking conservatives for excusing the behavior of Donald Trump and Roy Moore, was just escorted outside by 3 security guards after her speech. More in @POLITICOMag story later.

— Tim Alberta (@TimAlberta) February 24, 2018
Via USAT:  Columnist escorted out of CPAC after calling out conservatives for supporting Trump, Moore
Charen, who was speaking on an all-women panel titled "#UsToo: Left Out by the Left," rebuked conservatives for excusing the behavior of both President Trump and Alabama Republican Roy Moore.

"I'm disappointed in people on our side for being hypocrites on sexual harassers and abusers of women who are in our party, who are in the White House, who brag about their extramarital affairs, who brag about mistreating women," she said. "And because he happens to have an 'R' after his name, we look the other way, we don't complain."

She also criticized Republicans who endorsed Moore, who was accused of pursuing and assaulting teenagers while he was in his 30s.

"You cannot claim that you stand for women and put up with that," she said.

Shouts of "not true" came from the audience afterward.
She also was booed for criticizing the invitation of Marion Maréchal-Le Pen to the event (in fairness, she did also receive some applause, but the boos took the day, especially at the end):
So, a prominent conservative is booed at CPAC for denouncing sexual assault and for criticizing extreme nationalism.  No doubt part of the animus aimed at Charen is that she is a NeverTrumper.  But, then again, that shows the degree to which the conservative movement has been shaped by Trump (as well as the degree to which the conservative movement was fertile ground for Trump in the first place–that is to say, Trump is as much a symptom as a cause).
Charen's Republican/conservative credentials are clear (from her own column today in the NYT):
I've been a conservative my entire life. I fell hard for William F. Buckley as a teenager and my first job was as editorial assistant at Buckley's National Review, followed by stints writing speeches for first lady Nancy Reagan and then working for the Gipper himself. Looking toward the 1988 race, Vice President George H.W. Bush wasn't conservative enough for me. I went to work as a speechwriter for Representative Jack Kemp in 1986.

So you'd think that the Conservative Political Action Conference, or CPAC, would be a natural fit. It once was. But on Saturday, after speaking to this year's gathering, I had to be escorted from the premises by several guards who seemed genuinely concerned for my safety.

What happened to me at CPAC is the perfect illustration of the collective experience of a whole swath of conservatives since Donald Trump became the Republican nominee. We built and organized this party — but now we're made to feel like interlopers.
The whole piece is worth reading.  I will note the following brief, but damning, observation about Le Pen's invitation:
So it has come to this: a conservative group whose worst fault in years past may have been excessive flat tax enthusiasm now opens its doors to the blood and soil nationalists of Europe.
2.  Michael Steele is Called out for being Black
Ian Walters, Communications Director for the ACU, said the following: "We elected Mike Steele to be the R.N.C. chair because he's a black guy. That was the wrong thing to do."
I would recommend the video, as the passion behind the remark undercuts, in my opinion, later claims that he was simply inarticulate:
Steele and ACU's Chairman, Matt Schlapp, discussed Walters' comments on a SiruisXM radio program.  Quite frankly, Schlapp made it worse.  While he apologized for Walters' statement, he does what so many conservatives seem to do:  they turn around a race-based remark and attitude and ask the black person why they are making it about race.  The video is 9+ minutes long, but is worth a watch, in my opinion.
Steele is rightly indignant about Schlapp's tone-deafness on this issue (and that is the best interpretation for Schlapp's response).  From Deadline's write-up about the interchange:
Schlapp attempted to smooth things over but only seemed to dig himself and his organization deeper into the muck. He called Walters' comment "unfortunate words," and repeatedly professed his love and friendship for both Steele and Walters.

"It's not 'unfortunate,' " said Steele. "Call it what it is. It is stupid to sit there and say that we elected a black man chairman of the party…Do you know how that sounds to the black community?"

"I've spent 41 years in this party. Forty-one, all right?" Steele continued. "I have taken crap you have no idea about, and I have carried this baggage. And for him to stand on that stage and denigrate my service to this party, and for you as a friend to sit there and go, 'Well, you have been critical of this party.' There is only one word I can say, and I can't say it on this air."

Schlapp suggested that Steele was unpopular among some conservatives because of his lack of support for Donald Trump. "You have not been very graceful to the Republicans and conservatives in this room for a very long time," Schlapp said, prompting Steele to snap,"What the hell does my race have to do with any of that, at the end of the day? What does the color of my skin have to do with anything you just said?"

Schlapp, conceding that Walters' comment was "not our best moment," advised Steele not to "jump to the conclusion that just because people use inarticulate words that they have it in for you."

"I didn't say he had it in for me," Steele said. "It's just stupid."
BTW, to describe Walters simply as using "inarticulate words" is to downplay a pretty direct statement by Walters that Steele's election to RNC chair was pure tokenism (especially in the context of Obama's election–again, see the clip of Walters).  I recognize that Walters in also a person of color, but that strikes me as irrelevant here (and I mention only before someone in the comments tries to deflect from the broader point).
Really, the standard defense against racist language and arguments tends to be some claim of inarticulateness, or of misspeaking.  These ring hollow.
And Steel is right:  criticize his RNC tenure all you like and criticize his current commentary all you like.  But Steele is also right:  the comments, and Schlapp's defense, come across as utterly dismissive of race as an issue, and reinforces the signal that the black community constantly hears from the GOP.
Another noteworthy element is that Schlapp criticizes Steele for criticizing Trump, which is just more evidence of what I have noted more than once:  Trump is the leader of the Republican Party, not the other way around.
3.  President Trump Promotes Xenophobia
During the campaign Donald Trump would read the lyrics of a song, "The Snake" based on one of Aesop's fables.  In the song a woman saves a snake she find in the wild, and the snake eventually bites her. He re-created that for CPAC.
WaPo describes the following from the campaign trail:
Trump's performances of "The Snake" take on a relatively common routine. After listing the dangers of refugees, terrorism and "the wrong people" coming into our country, Trump will take out a piece of paper and display some of his showmanship, which is part carnival barker, part parent hoping to scare a child straight and part Fox News host.

"You ready?" He asked an adoring crowd in Ohio.

"Who likes 'The Snake'?" he asked another group in Pennsylvania. "Has anybody heard 'The Snake'? Not that many! Should I do it again?"

[…]

Trump likes to emphasize the last line, taking gusto as he repeats the snake's words:

" 'Oh, shut up, silly woman!' said the reptile with a grin. 'You knew damn well I was a snake before you took me in,' " Trump will say, his voice often rising to a growl.

Usually, the crowd cheers. Other times, it breaks into a spontaneous chant of "U-S-A!" At CPAC, the audience gave Trump a standing ovation.
The video of the entire thing at CPAC, including the direct and unambiguous connection of the lyrics to immigration in a broad way, is below.  If you have not seen this, I recommend watching it in full:
Somehow I had missed this particular bit of performance art from the campaign, so was especially struck by the President of United States (not just a candidate for office) so clearly promoting xenophobia with gusto to a cheering crowd (I find that an unnerving combination).  Indeed, the crowd is more concerning than is Trump.  I would note that he displays far more emotion here than, say, in denouncing neo-Nazis or in expressing concern over mass shootings.
The best case scenario here is that Trump likes performing that poem in that way because it gets a huge reaction from his crowds (and, quite frankly, the only guiding principle I am certain Trump has is that he loves to be loved by a crowd).  Even in this best case scenario, however, the crowds love the xenophobia.  The worse case scenario is that Trump is actively promoting xenophobia to an adoring and accepting audience. Neither of these is a comforting scenario. It is one thing to have strong views on border security, it is yet another to equate immigrants with treacherous, poisonous snakes who will betray American kindness and give back death in return.
I suppose someone could say that the lesson here is simply that we can allow people into our country who can be harmful, so we should be careful.  This is true, as logic dictates that this is a possibility.  But such a reading is highly charitable.  The way the lyrics are read, and the clear context provided by the President is to stoke the crowd with xenophobia.  The message is:  hate and fear the immigrant, because they might kill you.  How is this commensurate with American values? (But, of course, this is the administration that doesn't like the Emma Lazarus poem on the Statue of Liberty).
Again:  security is one thing, fear and loathing is another.
A side note, as the linked WaPo story notes, the song's origins:
Trump might be surprised to learn the origin of the song. Long before he used it as an anti-immigrant poem, "The Snake" was just a simple tune, a parable open to interpretation.

The lyrics were written in the 1960s by [Oscar] Brown [Jr.], an outspoken singer, songwriter, social activist and former Communist Party member from Chicago.

His work has been described as a celebration of black culture and a repudiation of racism. He wrote the lyrics for drummer Max Roach's 1960 album "We Insist! Freedom Now Suite," one of the first jazz records to deal heavily with the growing civil rights movement. Brown directed stage shows that cast gang members and other teens from poor neighborhoods in Chicago. And he created the musical adaptation of a play about a black militant leader that made it to Broadway with Muhammad Ali as the lead.
Conclusions.
So, what are the messages here?  In the above we have several key examples that suggest that the contemporary conservative movement is hostile to women and blacks, is pro-nationalist, and revels in xenophobia.
And before someone tells me that CPAC is to be dismissed because it is comic-con for conservative nerds, please note that one of the data points here is the President of the United States and note that CPAC is a gathering that brings in numerous elites in the conservative movement and the Republican Party. Note, too, the cheering crowds and the lack of repudiation of these messages from broader conservatism.
There was a time that I (naively) discounted charges of sexism, racism, and xenophobia within the GOP.  I certainly understood that many who held such views might vote Republican, but did not see a major strand within the party as being motivated my racial animosity.  It is very difficult to make that case at the moment.
Look, I have friends, colleagues (yes, at a university), and family members who identify as Republican. I do not think that they are on board with the racism, sexism, and xenophobia noted above (indeed, I expect they would all react to these issue the way I used to:  to minimize and then pivot to issues of policy preference*).  Further, a lot of people simply do not pay attention to these things.  Indeed, most probably have no clue about CPAC or the individuals involved.  And, perhaps most important of all, our party system's binary nature keeps pushing all voters to make a dichotomous choice.  This leaves a lot of well intended persons voting GOP despite all of these concerns.  This is already a very long post, so I will not get into a lot about institutional dynamics, but I will note that the problem at the moment for these voters is that their choices are as follows:  continue to vote Republican because of general policy preferences (e.g., taxes, abortion, etc.), vote Democratic because of opposition to Trumpism and its allies (which is difficult do when you sincerely disagree with elements of Democratic policy positions), vote third party (which will have an effect only if enough current Republicans are willing to vote their consciences while allowing Dems to win**), or don't vote at all.
The fundamental question is, however:  what should be the reaction to these messages from CPAC?  I don't think we can dismiss them as unimportant.  Is this where the contemporary conservative movement is headed?  Is this where it has already arrived?  If one is conservative/prefers Republican policy preference in broad strokes, what does one do?
Set aside partisan preferences and ask: is it healthy for a major American political party to be moving in this direction? Note that this is more than Trump (again:  note the cheering crowds, because they vote).
---
*To be clear, I think that generalized demonization of political opponents, especially in the current polarized climate is unproductive.  To continue to repeat a core political truth:  our system presents a binary choice and voters choose to vote for either party in a given contest for any number of reasons (even when a candidate is highly problematic), and so it is unfair and unproductive to assume the worst about why someone voted as they did. However, as I have done here in the post, it is utterly and totally fair to point out and highlight the actions of party elites and hope that voters see and understand what is going on and to make appropriate decisions in light of that information.
**If there are factions of Republicans who want to change their party, the electoral options are limited.  One option is to mobilize in the primaries to effect who is nominated.  The second is to be willing to have the GOP lose in the hopes that losing leads to reform.  This could happen by voting Democratic, voting for a third party that would siphon substantial votes from the GOP, or via large scale abstention.  All of these require coordinated effort to work.  I am not sure that the NeverTrump folks are large enough or well organized enough to accomplish this goal.
I would note that in terms of likely efficacy, voting Democratic is the easiest pathway (a more concerted NeverTrump approach in 2016 might have averted the Trump presidency, given the margins in that election).