Trump is the Leader of the GOP, not an "Independent"
No, the deal this week is not Trump becoming an independent.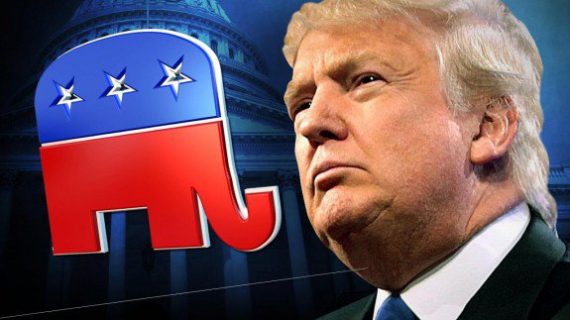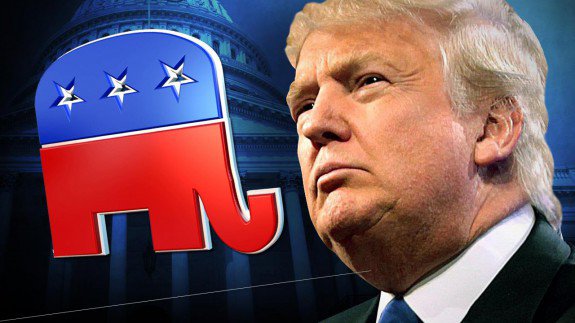 Via the NYT comes a stunningly terrible bit of political analysis:  Bound to No Party, Trump Upends 150 Years of Two-Party Rule.
President Trump demonstrated this past week that he still imagines himself a solitary cowboy as he abandoned Republican congressional leaders to forge a short-term fiscal deal with Democrats. Although elected as a Republican last year, Mr. Trump has shown in the nearly eight months in office that he is, in many ways, the first independent to hold the presidency since the advent of the current two-party system around the time of the Civil War.

In recent weeks, he has quarreled more with fellow Republicans than with the opposition, blasting congressional leaders on Twitter, ousting former party officials in his White House, embracing primary challenges to incumbent lawmakers who defied him and blaming Republican figures for not advancing his policy agenda. On Friday, he addressed discontent about his approach with a Twitter post that started, "Republicans, sorry," as if he were not one of them, and said party leaders had a "death wish."
There is some serious "no true Scotsman" thinking going on here.
There is a weird species of American political thought that wants to define partisan activity as being about some abstract set of behaviors, rather than by the label used by a politician (it is how we get the whole RINO business).  I have written on this before:
Look:  Donald J. Trump, regardless of past political affiliations or political utterances, ran as a Republican in the Republican primary and was nominated by the Republican National Convention to be the Republican nominee for President and was sworn in as POTUS as a Republican.  He is the nominal head of the Republican Party.  He is, by definition, a Republican. Indeed, regardless of what some Republicans might want to be the case, he is the most important Republican in Washington.
When the voters of a party (who have the ultimate say in our systems over who is nominated) select a Donald Trump to be the leader of the party, the party is going to undergo change. And, it should be noted, the institutional party can do nothing to change this fact.  They cannot remove him office early, save under extraordinary circumstances and they have no mechanism to kick him out of the party.  And, if they did try, it would create a civil war inside the party.
Here is some evidence of his leadership role in the Republican Party:  when he cut a deal over the debt ceiling with Chuck and Nancy* the leadership of the Republican Party in the House and Senate scheduled a vote in both chambers and proceeded to allow the legislation to pass (even with the defection of a substantial number of rank-and-file Republicans in the House).
To be clear:  legislative leadership directly responded to the leader of the party.  They did not draw a line in the sand in opposition.  They did not treat him like anything other than the Republican leader.
Keep in mind the following:
1.  Parties have factions.  Just because one faction (e.g., the Freedom Caucus) has one preference, doesn't mean another faction (e.g., Trump's) doesn't have another.  Indeed, the Republicans have been dealing with internal fracturing for some time now, and the debt ceiling issue has been a major schism point.
2.  This is one data point.  We should not be making sweeping generalizations about the Trump presidency from one event.  Remember when his speech to Congress made him "presidential"–remember how long that lasted?
Side note:  critics of the media constantly carry on about bias, but the reality is that the bias is focused on things like a dramatic story (see, e.g., Irma) rather than a political bias.  Trump acting "presidential" or wrecking the two-party system is the kind of "man bites dog" story that the press loves.
3.  Negotiating with the opposition and cutting one deal deal is not an example of blowing up the party system. To use an example that is relevant to current politics:  NAFTA was passed in the Congress because Democratic President Bill Clinton worked with Republicans.  Reagan, that Great Saint of Republicanism, was known to negotiate with Tip O'Neil.
4.  The current politics of the day increased the chances of a deal.  As I have noted already:  Hurricane Harvey (and now Irma) have changed the political dynamics of what was going to be a confrontational September.   Using either the debt ceiling or the end of the fiscal year as a bargaining chip went away when Harvey dumped feet of water on Houston.  I think any vote has to be understood in this context.
What we are seeing here is the way presidential systems influence the parties of presidents.  The underlying assumption of most people seems to be the expectations that the party should shape the president.  Hence, when Trump does not conform to some vision of the party, it is taken as evidence that Trump isn't a "real" Republican.  However, what tends to happen is that parties conform to their leaders and Trump is the leader of the GOP.  Again, this is what we saw this week.
For that matter, parties as coherent drivers of policy are weakened in presidential systems (versus parliamentary ones).
To quote Samuels and Shugart:  "In contrast to prime ministers, executives in pure presidential systems face far weaker intraparty constraints on their own actions" (226).  This is exactly what we saw this week.  Ryan and McConnell could not exert the kind of intraparty influence over Trump that would have been the case if we had a parliamentary system wherein the executive would have been selected by the legislative majority instead in a separate electoral process.
For it to be said that Trump is acting like an independent, several things have to happen. The most obvious would be for Trump to simply declare himself not a Republican.  This seems unlikely.  From there, he would need to utterly alter the way he interacts with the majority and minority leaderships.  If he actually starts treating with them in an undifferentiated fashion on a regular basis, we can talk.  Having a bipartisan meeting is not an example of this.
—-
*A new sitcom coming this Fall to CBS! (It is what I think of every time I hear the phrase).