All Republicans are RINOs (and all Democrats are DINOs).
Party labels are just names, as such all Republicans are Republicans in name only.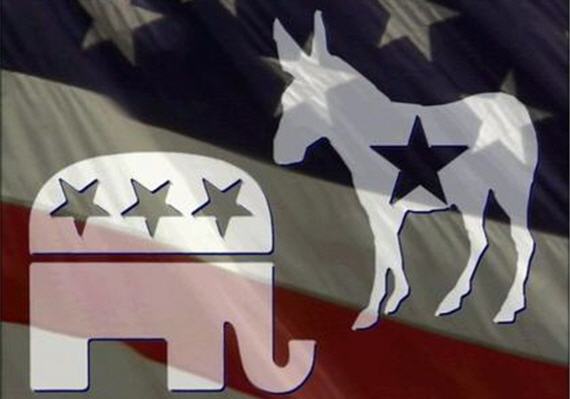 Steve Bainbridge asks:  So what if Mike Castle is a RINO?  Specifically he address what he calls "The holier than thou crowd on the right" who want to defeat Mike Castle as the GOP nominee to compete for the Delaware Senate that was recently held by Joe Biden.
First, Steve is correct in his basic argument that Castle's primary opponent, the Tea Party endorsed Christian O'Donnell   would basically guarantee a Democratic hold on the seat.  He further notes
The US is a center-right country, with at most maybe 35% ideological conservatives, and a lot of them want the government to keep its hands off their Medicare! By letting the perfect be the enemy of the good, Riehl and his ilk are ensuring themselves of a pure minority. I guess it makes for good talk radio and blog posts, but it's a lousy electoral strategy.
Indeed.
Second, and more importantly, I want to take this opportunity to discuss the term "RINO" (i.e., Republican in Name Only) and suggest that it is actually a redundancy.  Specifically, all Republicans (and Democrats and Libertarians, etc.) are only Republicans because they choose to use the label "Republican" to describe themselves.
Hence:  Senator Richard Shelby is a Republican because he had a press conference saying that he was no longer a Democrat and likewise Arlen Specter is a Democrat and not a Republican because, well, he said so.
You can do the same with any number of figures over time, including, off the top of my head, Phil Gramm and Ben Nighthorse Campbell as well as former Alabama Governor Fob James.  Other recent examples include Charlie Crist and Joe Lieberman.
On one level the label only tells us 1)  what party nominated the candidate in the first place via the primary process, and 2) what party's caucus the individual will affiliate with once in Congress, which matters in terms of voting for leadership as well as things such as determining the ratio of Republicans to Democrats on committees.
Certainly as a shorthand for voters as well as for an organizing principle for the internal structures of the legislature, party label is quite important—in many ways moreso for the latter than the former.
Indeed, Steve's basic point in terms of electoral strategy is quite sound:  if Republicans want to actually control Senate leadership, then they almost certainly need Castle to win the GOP nomination in Delaware, as he is the only Republican in the race with the high likelihood of a November victory.
Beyond all of that, there is a difference between the precise policy preferences of a given candidate and their party label.  This should be quite obvious.  This is true is terms of broad categories like how liberal or conservative they may be, as well as their specific stances on specific issues.
I can fully understand why someone who is particularly conservative, or conservative in a particular way might not like Castle and would prefer O'Donnell in that race.  Still, that fact does make Castle any less a Republican than O'Donnell.  Indeed, since Castle has held numerous offices as a Republican and O'Donnell has not, Castle has a better claim to the label at this moment in time than does O'Donnell.
I will say this:  if a person is elected to Congress as a Republican and then caucuses with the Democrats and votes for Democratic leadership and still claims the label Republican, then I would say that the RINO label would be fair.