Republican Backlash Hits Tea Party Endorsee Christine O'Donnell
The nation's 2nd smallest state is becoming the biggest battleground between the Establishment GOP and Tea Party insurgents.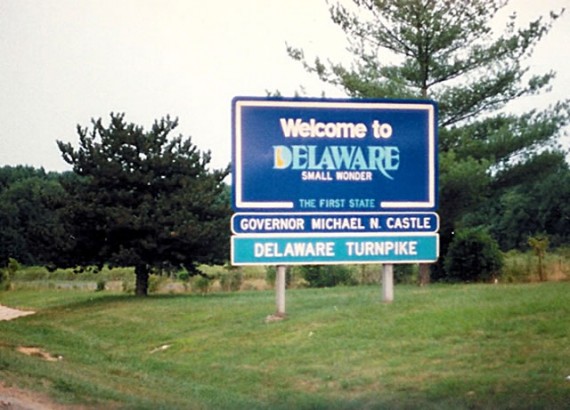 The backlash among even conservative Republicans against Christine O'Donnell in the days since she received the endorsement of Tea Party Express seems to be intensifying:
Washington (CNN) – Fresh on the heels of Joe Miller's surprising win over Sen. Lisa Murkowski in the Alaska Republican Senate primary, the Tea Party movement is setting its sights on Delaware.

Now the Delaware Republican Party is taking heed – and taking on – the Tea Party-backed candidate in the state's Republican Senate primary, sparking a war of words between the state's establishment GOP and the Tea Party movement.

It's a race that pits conservative Tea Party favorite Christine O'Donnell against moderate Rep. Mike Castle, Delaware's former two-term governor and lone Congressman since 1993.

Both candidates' campaigns have become increasingly caustic, especially as Tea Party-backed candidates across the country have picked up win after win against GOP establishment candidates.

The Tea Party Express endorsed the conservative O'Donnell in July, and recently committed to spending at least six-figures in the state.

"We are launching an aggressive multimedia and multi-platform campaign to help propel Christine O'Donnell to victory, and we've only just begun," Amy Kremer, Chairman of the Tea Party Express, said in a statement.

The group originally planned to spend about $250,000 on the race, but is now considering expanding their presence with TV and radio ad buys in Philadelphia, said Tea Party Express political director Joe Wierzbicki.

A similar last minute media blitz by the Tea Party Express is credited with propelling Miller – a formerly little known candidate – to victory over Murkowski, the Republican Party-backed incumbent.

The group launched a series of TV and radio ads Thursday that support O'Donnell, and rail against Castle as a liberal candidate who "just keeps supporting the failed policies of Nancy Pelosi and Harry Reid."

It's a move that has the Castle campaign fighting back.

"Out-of-state interest groups have threatened to spend half a million dollars to fund the disgusting tactics being used by the O'Donnell campaign to make accusations," said Castle campaign manager Mike Quaranta.

Meanwhile, the Castle campaign has launched therealchristine.com, a site devoted to aggregating negative news about O'Donnell.

Tom Ross, state committee chairman of the Delaware Republican Party, defended the negative nature of the site. "The stories might not be flattering, but they are factual. …Sometimes it is necessary to make sure that the facts get out there," Ross said.
Just the other day, conservative rock star Chris Christie crossed the river from New Jersey to appear with and endorse Castle in  a video that is likely to end up being a campaign commercial before the primary race is over.
The battle has also played itself out in the conservative blogosphere, with people like Dan Riehl and Robert Stacey McCain taking what can only be described as an ideological purist view of the race to the point where Riehl actually seems to believe something like this:
And on principle, I'm not going to pick up his dirt and drop it on her head. Why so many would be conservatives seem intent on doing just that in this case makes no sense to me. We've been fighting to take back the GOP for years. Finally we're winning. And now we should surrender to such a liberal Republican? Not me, no matter what. I'd rather have a Democrat, than a Mike Castle. The potential for damage with him under our banner is even worse than the alternative, as far as I'm concerned.
Now, principles are good things. I've got principles of my own that I feel very strongly about, and they quite honestly lead me to wonder if the GOP controlling the Senate is really any better than Democrats controlling the Senate. However, I know this much; if you are a partisan who views Democrats in power as a bad thing then you want the GOP to win and it's going to be a lot easier for the GOP to win control of the Senate with Mike Castle in Joe Biden's former seat than some Democrat.
Gabriel Malor is among those conservative bloggers who gets that:
I'm genuinely puzzled at folks who say they'd rather the seat be Democrat than in the hands of a RINO. Given the number of Senate seats now in play, this is tantamount to declaring that they'd rather have a Democratic Senate than a Republican one.

I'm saying, it might be different if Republicans were going to have control of the Senate anyway. Then, heh, no real harm to letting our "problem Senators" know what we expect in the future. Same thing on the flipside. If the Democrats were going to have insurmountable control of the Senate…again, it doesn't matter so much whether the Democrat or the RINO wins.

But we're talking about taking control of the Senate, something that only now is turning into a real possibility. And that's going to take putting up with folks like Collins and Snowe and Castle. As infuriating as they are, I'd rather put up with them than watch the Democrats run the country into the ground under another two years of Majority Leader Reid (or his successor).

It's just astonishing that folks — good, genuine, GOP people — are actually advocating for a path that leads to Democratic majority in the Senate.
As does Stephen Bainbridge:
Ronald Reagan successfully rebranded the conservative movement as one with a big tent. Why exclusionists like Dan Riehl want to turn it into a small tent movement puzzles me. If they think there is a conservative majority in this country, they're dead wrong–and their narrow views on issues like immigration, gay rights, and so on are helping make sure there never will be one. The US is a center-right country, with at most maybe 35% ideological conservatives, and a lot of them want the government to keep its hands off their Medicare! By letting the perfect be the enemy of the good, Riehl and his ilk are ensuring themselves of a pure minority. I guess it makes for good talk radio and blog posts, but it's a lousy electoral strategy.
The Republican party wasn't always this way, of course. As Professor Bainbridge points out, there was a time not too long ago when it was the home of conservatives like Paul Laxalt and moderate Republicans like William Cohen. If it's ever going to be the kind of national party capable of getting it's agenda through Congress, it's going to need to be that kind of party again, and that means acknowledging the fact that Mike Castle is the kind of Republican that can be elected statewide in Delaware, and Christine O'Donnell, as she has proven time and again in her quixotic efforts to run for office, most definitely is not.
Purism is a fine thing, it's even got a nobility of its own, but when it becomes this rigid it just leads to defeat.