Stephanie Grisham, Aide To First Lady, Named New White House Press Secretary
Stephanie Grisham, presently a top aide to First Lady Melania Trump, has been named the new White House Press Secretary and Communications Director.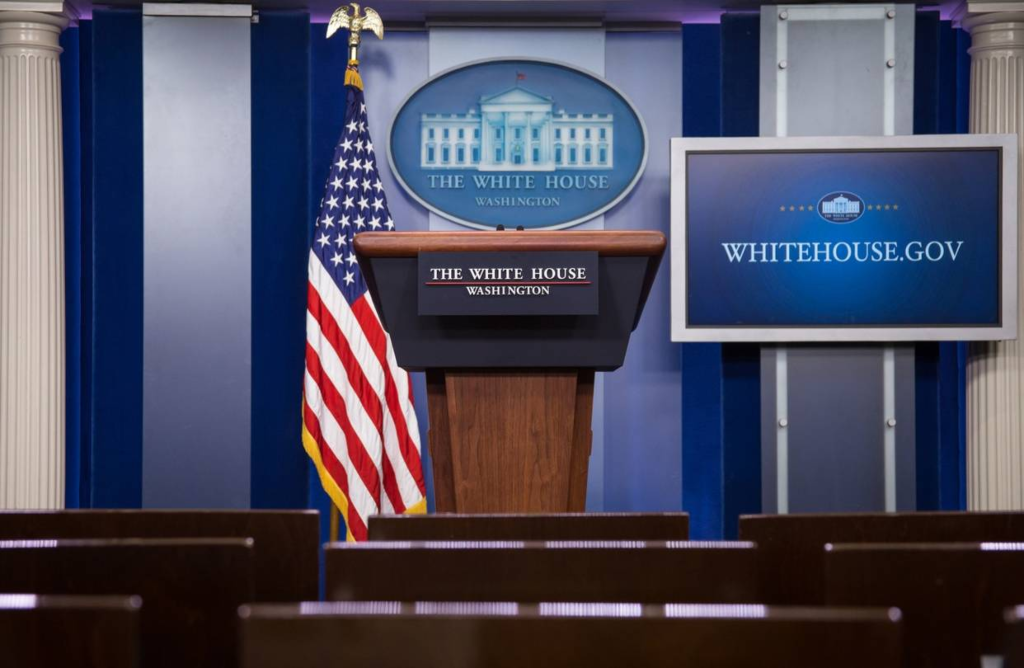 The White House has announced that Stephanie Grisham, who previously worked on the Trump campaign and has been a top aide to First Lady Melania Trump since the start of the Administration, will succeed Sarah Huckabee Sanders as White House Press Secretary and Communications Director:
Stephanie Grisham, a top aide to First Lady Melania Trump, will be the next White House press secretary, replacing Sarah Huckabee Sanders and taking on an elevated role as President Donald Trump's communications director.

Melania Trump announced the news on Twitter on Tuesday. "She has been with us since 2015 – @potus & I can think of no better person to serve the Administration & our country. Excited to have Stephanie working for both sides of the @WhiteHouse. #BeBest," she wrote

Grisham, who serves as the first lady's deputy chief of staff and communications director, had long been seen as the leading candidate for the job. She won the trust of both the president and the first lady after working on Trump's campaign and as a deputy to then-press secretary Sean Spicer before moving to the East Wing.

Since going to work for the first lady, Grisham has emerged as a fierce advocate for Melania Trump, pushing back on negative stories about her both behind the scenes and in public.

She will take on dual role in the East Wing and West Wing, a massive portfolio that will make her the lead public spokeswoman for both the first lady and the president. She will continue doing communications for Melania Trump, at least for now, as she transitions to her new role. And she will serve as both White House press secretary and communications director, a senior administration official said.

She is accompanying Trump on his trip to Japan for the G-20 summit this week, the official added.

Grisham will become Trump's sixth communications director, stepping into the role vacated most recently by former Fox News executive Bill Shine, who resigned in March. White House aides had previously said that Trump didn't intend to install a replacement for Shine, arguing that the president sees himself as his own communications director.
Speaking to reporters in the Oval Office Tuesday afternoon, Trump praised Grisham, adding that he offered her the job earlier in the day after multiple people encouraged him to choose her, including Hope Hicks, his former senior adviser.

"She's here. She knows everybody. She actually gets along with the media very well," Trump said, calling Grisham "very talented." Trump said deputy press secretary Hogan Gidley will stay on in his current role.

(…)

Grisham takes the helm at a tumultuous period for the Trump administration that has been frequently marked by tensions between the White House and the press. It has been more than 100 days since Sanders held a formal, televised briefing. Trump pushed for fewer briefings because he believes they had given reporters an opportunity to grandstand. Instead, Sanders mostly takes questions from reporters on the White House driveway after doing interviews on cable news networks, namely Fox News.

Sanders also came under intense criticism for her unequivocal defense of Trump and for sparring with reporters. Public attention particularly focused on Sanders after the release of special counsel Robert Mueller's report, which said Sanders acknowledged her claim that "countless" FBI officials told her they were pleased with Trump's move to fire FBI chief James Comey was a "slip of the tongue" and not based on facts. Sanders later insisted that the thrust of the comment was accurate.

That glare is expected to now shift to Grisham, who has a much lower profile and isn't a frequent presence on television.

Grisham is one of the most influential figures in Melania Trump's orbit. She has chastised reporters for what she views as tabloid-style coverage of the first lady. She also released a statement last year on behalf of Melania Trump calling for the ouster of one of the top officials on the National Security Council, Mira Ricardel, the deputy to national security adviser John Bolton. The White House subsequently removed Ricardel.
Washington Post media critic Eric Wemple comments:
Before she accepted the job of White House press secretary under President Trump, Stephanie Grisham would have been well advised to take a peek at the Twitter bio of Sean Spicer. He was the first disastrous press secretary to toil under Trump. His bio reads: "President of RigWil, Sr Advisor @AmericaFirstPAC check out seanspicer.com Horrable speller, @RedSox/@Patriots fan. Author of #TheBriefing."

Which is to say, Spicer's career has lost some altitude since his lie-filled half-year fronting for the Trump administration. From his first day on the job, Spicer found that his mission was to lie on behalf of the president, which is why he attempted to revise the historicity of Trump's inaugural crowd. Things never got better.

Grisham — communications director for first lady Melania Trump — was surely watching the sequel under press secretary Sarah Sanders. So distasteful was the work of briefing the media that Sanders often brought in administration officials to gobble up time, and she made sure to usually limit her own appearances to about 20 minutes. There was always some reason or other that she had to hurry through the proceedings.

And like Spicer, Sanders lied in accordance with the job's requirements. There's no alternative when the boss is a full-time liar who demands 100 percent loyalty. For example, the Mueller report nailed her lying in defense of the president's decision to fire then-FBI Director James B. Comey in May 2017; Sanders claimed that "countless" FBI officials had contacted the White House in support of the firing. Total garbage.

Sanders hasn't held a formal press briefing since the Mueller report. It has been 105 days since the last briefing.

(…)

Commentators are now riffing on Grisham's background and tendencies in an effort to divine what's ahead. Yet we know what's ahead: more vigorous defense of lying. Perhaps Grisham will do it with a little more or a little less poise than Sanders. What a cliffhanger.
Under this President, the job of White House Press Secretary and Communications Director basically means pleasing one person, the President of the United States. That's why Sean Spicer went out on his first day as Press Secretary and endorsed President Trump's lies about the size of his crowd on Inauguration Day. It's why Sarah Huckabee Sanders joined in with the President's attacks on the reporters that she is supposed to work with every day. It's why she revoked the press credentials of CNN's Jim Acosta, who has been this President's equivalent of Dan Rather and President Nixon or Sam Donaldson and President Reagan. And it's why she has spent the last 106 days avoiding the press except for very carefully arranged encounters and press gaggles with the President during which he has been allowed to repeat lie after lie without being called out for it. Being White House Press Secretary under Trump has ruined the career of Sean Spicer, it's sending Sarah Huckabee Sanders home to Arkansas where she's apparently thinking of running for Governor in the only state where someone named Huckabee could get elected, and it's why Stephanie Grisham will come to regret saying yes to this job offer.