Steve King Stripped Of Committee Assignments Over Racist Comments
The House GOP has moved to rebuke Iowa Congressman for his racist remarks. What took them so long?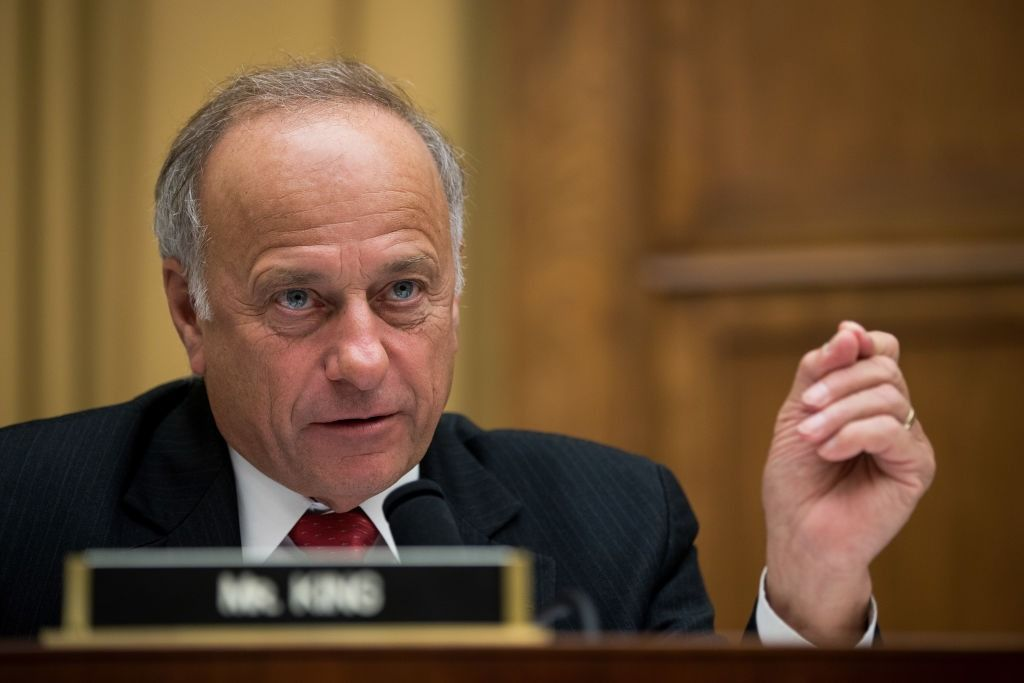 Iowa Congressman Steve King, who is back in the news thanks to new revelations about racist comments made during an interview with The New York Times, has been stripped of his committee assignments and may face further rebukes from his party and from Congress for his comments:
House Republican leaders removed Representative Steve King of Iowa from the Judiciary and Agriculture Committees on Monday night as party officials scrambled to appear tough on racism and contain damage from comments Mr. King made to The New York Times questioning why white supremacy is considered offensive.

The punishment came on a day when Mr. King was denounced by an array of Republican leaders, though not President Trump. The Senate majority leader, Mitch McConnell, suggested Mr. King find "another line of work" and Senator Mitt Romney said he should quit. And the House Republicans, in an attempt to be proactive, stripped him of the committee seats in the face of multiple Democratic resolutions to censure Mr. King that are being introduced this week.

Those measures would force Republicans to take a stand on the House Democratic majority's attempt to publicly reprimand one of their own.

Mr. King, who has been an ally of President Trump on the border wall and other issues, has a long history of making racist remarks and insults about immigrants, but has not drawn rebukes from Republican leaders until recently. In November, top Iowa Republicans like Senator Charles E. Grassley endorsed Mr. King for re-election even after one House Republican official came out and denounced him as a white supremacist.

But in an interview with The Times published last week, Mr. King said: "White nationalist, white supremacist, Western civilization — how did that language become offensive?"

Speaking to reporters on Monday night after the House Republican leadership team acted, Representative Kevin McCarthy of California, the minority leader, said he was not ruling out supporting a censure or reprimand resolution against Mr. King. He said the Republicans are not removing Mr. King from the G.O.P. House conference itself, so he can still attend its party meetings, and it was up to Iowans whether Mr. King should stay in office.

"This is not the first time we've heard these comments," Mr. McCarthy said of Mr. King, an acknowledgment of the racist language the congressman has used before. "That is not the party of Lincoln and it's definitely not American."

Mr. McCarthy, who conferred privately with Mr. King for an hour before the vote, did not say why the most recent comments were a breaking point given Mr. King's long public record of similar remarks. "Maybe I did not see those, but I disagree with these."

The full Republican conference must still technically ratify the leader's decision, but Mr. McCarthy presented the matter as closed.

Mr. King remained defiant after losing his committee seats, releasing a long statement insisting that his comments in the Times article had been misunderstood. He said he had been referring only to "western civilization" when he asked "how did that language become offensive," not "white nationalist" or "white supremacist."

"Leader McCarthy's decision to remove me from committees is a political decision that ignores the truth," he said.

He said he told Mr. McCarthy, "You have to do what you have to do and I will do what I have to do." He pledged to continue to "point out the truth" and serve his district for "at least the next two years."

The push to condemn Mr. King illustrated how alarmed senior Republicans are about the party's image just two months after they lost 40 House seats, most of them in suburban or diverse districts — including seven in Mr. McCarthy's home state of California, where the G.O.P. is on the brink of extinction.
This action by the House GOP Caucus follows after several days during which many Republicans in both the House and the Senate came forward to condemn King and his remarks, and Democrats in the House openly began to suggest that they may use their control of the House to institute some kind of formal rebuke of the long-serving Iowa Congressman that could include something such as an informal condemnation to a formal censure. Another, albeit less likely, scenario would be to attempt to expel King from Congress, although that is an avenue that would take more time and would require at least some support from the Republican side of the aisle. Additionally, the House Republican Caucus could seek to punish King further by expelling him from the caucus altogether, which would essentially make him a powerless member of the House of Representatives whose only ability to make himself heard would be through his floor vote. In the meantime, some members of Congress, including Wyoming Congresswoman Liz Cheney and Utah Senator Mitt Romney have already taken the step of calling on King to resign from office in light of his remarks. So far at least, King is remaining defiant and giving no indication he would step aside or otherwise relent in expressing his racist points of view as he has done in the past. This suggests that House Republicans, and the House as a whole, will have to revisit this issue in the future.
As I've said before, King long ago made a name for himself as the Republican Party's loudest anti-immigration voice, including voicing opposition to not just illegal but also legal immigration, which he has repeatedly said should be drastically curtailed. He's also been among the loudest voices on the right speaking out against Muslims being allowed in the United States, being allowed to hold public office, or even being allowed to take their oath of office on the Korean if they choose to do so. Not surprisingly, King was one of President Trump's early supporters in the 2016 campaign and has been among the President's more vocal supporters since Inauguration Day.
In the time since then, King has seemingly become more open about his sympathy for what are clearly white supremacist points of view, and an examination of his history shows he has a long history of remarks that can only be described as racist. Over the course of the past several years, for example, King has endorsed a candidate for Mayor of Toronto, Canada who has neo-Nazi ties, he has met with the leaders of a far-right political party in Austria that has been accused of questioning and downplaying the seriousness of the Holocaust. Among the accounts he follows on Twitter is an activist on the far-right of Australian politics who has, among other things, called for the hanging of a portrait of Adolf Hitler in every classroom in that country. On Twitter, he follows an Australian anti-Semitic activist, who proposed hanging a portrait of Hitler "in every classroom."
When he spoke with a far-right publication in Austria last year, King seemed very familiar with racist conspiracy theories, books, and ideas embraced by white supremacists and neo-Nazis across the globe. For example, as the Times article noted, King spoke of something called "the Great Replacement," which is basically a far-right conspiracy theory that so-called "elites" are seeking to reduce white populations across the globe and replace them with minority groups from other parts of the world. This is the conspiracy theory that inspired the torch-bearing protesters in Charlottesville who chanted slogans such as "Blood And Soil!," a slogan that has its roots in Nazi Germany, and "Jews will not replace us!"  King has also forged close ties with far-right political leaders in Europe such as France's Marine Le Pen and Geert Wilders of the Netherlands, who has built his reputation on being one of the most virulent anti-Muslim politicians in Western Europe and has advocated ideas such as closing mosques. in response to the influx of mostly Muslim refugees and immigrants from Syria and other parts of the Middle East. In March of 2017, King tweeted his endorsement of Wilders in a tweet, saying that "We can't restore our civilization with somebody else's babies."
Domestically, King has become something of a hero to those on the so-called alt-right who have become more open about their beliefs in the wake of President Trump's election. Andrew Anglin, who operates the far-right website Daily Stormer, and who joined others on the white supremacist right in celebrating Trump's win in 2016, has been quoted as saying that King is "basically an open white nationalist at this point." More recently, when the new Congress was sworn in last week along with a record number of women and African-Americans, as well as Muslim and Native American women, King apparently remarked that the Democratic side of the chamber looked like "no country for white men."
Taking that into account, The Washington Post's Eugene Robinson wonders why it's taken until now for Republicans to speak out against him:
Republicans are shocked, shocked, to learn that Rep. Steve King (R-Iowa) is a dyed-in-the-wool racist. Also, that snow is cold, the ocean is wet and the sky is often blue.

The clamor of GOP voices denouncing King's latest racist eruption is more amusing than inspiring. Where have his Republican colleagues been all these years? Surely the "party of Lincoln" is aware that race has been the most divisive issue in our national history. Surely Republicans were aware of King's toxic views, which he makes no attempt to hide. Why such an uproar now?

Perhaps King's newly outraged critics were waiting for him to finally spell it out in language that even the "party of Trump" cannot ignore. Which he did.
Robinson is, of course, quite correct. As I've noted above, King's history of racist and controversial remarks goes back far further than just the interview that appeared in the Times and they have been part of his rhetoric for years. Given that, one has to note no small degree of skepticism about the sudden shock among Republican Congressman, Senators, and the leadership in both chambers who have jumped all over themselves to condemn King in the wake of these most recent comments. To some extent, of course, one wants to welcome them to reality and to welcome the decision to punish him in the manner that they have. At the same time, though, one also has to ask, what took you so long? This is a man whose racism has been apparent to anyone who paid attention, to his fellow Republicans, and to his constituents for years. Those who served with him and voted for him notwithstanding this bear at least some level of moral culpability for giving sanction to his views. So, while their voices are welcome now, it's long past time.
Now guys, when are you going to speak out against your President and the similar views he has expressed?