Support For Same-Sex Marriage Hits Record High In New Poll
A new Gallup poll puts support for same-sex marriage above 60% for the first time ever.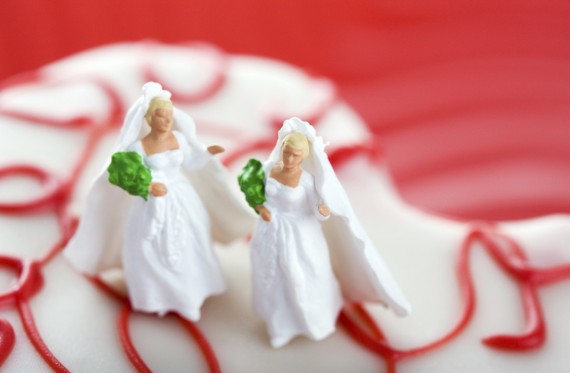 With likely just over one month to go before the Supreme Court rules on the question of whether or not the Constitution bars state laws that ban same-sex marriage, a new Gallup poll finds that the number of Americans support same-sex marriage has once again hit a record high:
WASHINGTON, D.C. — Sixty percent of Americans now support same-sex marriage, as the Supreme Court prepares to rule on its constitutionality next month. This is up from 55% last year and is the highest Gallup has found on the question since it was first asked in 1996.

Public support for the legality of same-sex marriage first reached a majority in 2011, when 53% supported it. Since then, support has ranged from 48% to 55%. The five-percentage-point increase in this year's Values and Beliefs poll, conducted May 6-10, is the largest year-to-year climb since 2011, when support rose by nine points.

Support for the legality of gay marriages in the U.S. has been a fast-changing trend. Just two decades ago, only 27% of Americans backed gay marriage, while 68% opposed. By 2005, the percentage in favor had increased by 10 points to 37%, and by 2010 it had reached 44%.

(…)

Though same-sex marriage continues to be politically divisive, support for its legal status has reached new highs among Americans of all political stripes — with Democrats at 76% support, independents at 64% and Republicans at 37%.

In general, Democrats have been the most likely to say gay marriage should be legal, and Republicans have been the least supportive. Independents typically fall in between but side closer to Democrats than to Republicans.

From a long-range perspective, Democrats' support has increased the most, by 43 points since 1996. That was the year Democratic President Bill Clinton signed into law the now-overturned Defense of Marriage Act (DOMA), which barred federal recognition of state-granted gay marriages. Since then, the Democratic Party has undergone a complete makeover on the issue, and its members have been champions of marriage equality on the state level. Democrats' support for same-sex marriage first reached majority level in 2004, the same year Massachusetts became the first state to legalize it.

Republicans have consistently been the least likely to say same-sex marriage should be legal, and their support has increased the least since 1996, by 21 points. Between 1996 and 2009, no more than 20% of Republicans believed same-sex marriages should be legally valid. Since then, support has ranged from 22% to 31%, leading up to this year's high of 37%.

The party divide between Democrats and Republicans may hinge largely on the age groups that compose each party. Gallup has found that younger Americans are significantly more likely to lean Democratic, while older Americans skew Republican. And while majorities of each age group under 65 support marriage equality in 2015, those aged 65 and older are still more likely to oppose it. This is a new phenomenon for the 50- to 64-year-old group. Last year, just 48% of these middle-aged Americanssupported legally recognizing gay marriage. But in 2015, this figure has climbed to a majority of 54%.
The last time Gallup polled this issue one year ago, support for marriage equality was at 55%, and while an increase of 5% in one year is still something of a large move, it is largely consistent with the trend that we have seen since Gallup started polling this issue in 1996 when just 27% of respondents said they believed same-sex marriage should be legal: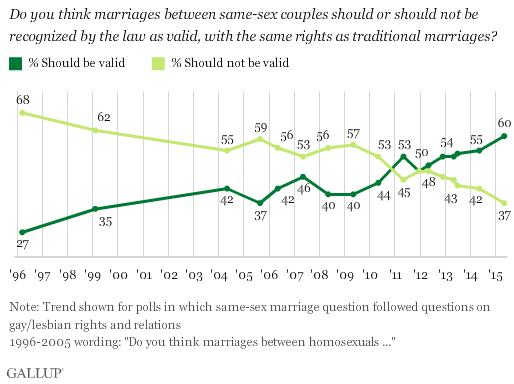 Additionally, the differences between Democrats, Republicans, and Independents remain largely consistent with previous polling, but there were increases across the board there as well with support among Republicans rising 7% and support among Independents rising 6%: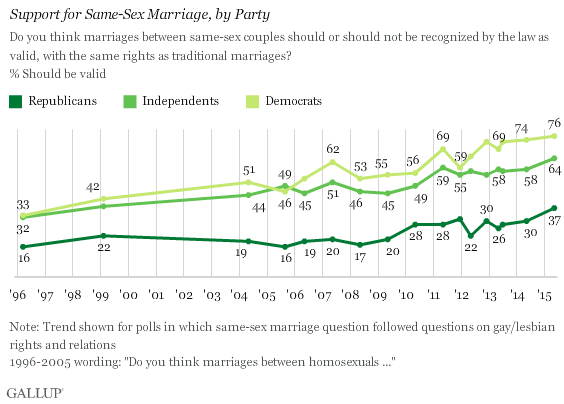 These numbers are largely consistent with other recent polling, including an ABC News/Washington Post poll that put support for legal same-sex marriage at 61% and an NBC News/Wall Street Journal poll that showed a similar number saying that the hoped the Supreme Court ruled in favor of legal same-sex marriage when it hands down its decision some time next month. What we're seeing, in other words, is just further evidence supporting the idea that support for same-sex marriage has crossed the cultural barrier and become something that is an accepted part of mainstream American life. This obviously runs counter to what the conservative and religious critics of marriage equality have been saying virtually since the debate began, but one gets the impression that they have already lost this particular battle.
The more interesting part of the Gallup poll from a political point of view is what it says about how important an issue this is for voters:
About a quarter of Americans (26%) say they vote for a political candidate solely based on his or her stance on gay marriage. Many others say it is but one of several important factors (43%), and about one in four say it is not a major issue influencing how they vote (26%).

The 26% of American adults who say a candidate must share his or her views on the issue of same-sex marriage is up from just 16% in 2004 and 2008.

Those who are opposed to gay marriage are a good deal more likely to say that a candidate's stance on the issue can make or break whether that candidate receives their vote (37%) than those who are supportive of gay marriage (21%). And both are more likely to say the issue is a defining factor than they have been in the past.

On both ends of the political spectrum, this could make same-sex marriage a more salient issue in the 2016 election than it has been previously. While pro-gay marriage voters are more likely to hold a political candidate's feet to the fire than in the past, there is an even larger bloc of anti-gay marriage voters who could reject a candidate for espousing marriage equality.
The interesting question, of course, is what impact a Supreme Court decision striking down the remaining state law bans on same-sex marriage would have on voter sentiment. Conceivably,it's likely to cause opponents to double down on their position and demand that the candidates they support do so as well by supporting some form of "resistance" to the Court's ruling such as a Constitutional Amendment, even though such measures have absolutely no chance of success. That's one reason why we haven't seen any of the Republican candidates for President deviate from conservative orthodoxy on this issue, because they're unwilling to take the risk to do so until they see how the Supreme Court rules and how Republican voters react to it. Of course, the paradox that the eventual Republican nominee faces here is that they may be forced to double down on opposition to same-sex marriage to  please the base in the primary but that doing so will harm them with swing voters in the General Election. Even though it's unlikely that support for marriage equality will be a decisive issue for the majority of voters, it could end up being the kind of threshold issue that causes marginal voters to tune out a candidate who continues to maintain opposition even in the face of a Supreme Court ruling. That could be enough to decide the election in a purple state like Ohio, Florida, or Virginia, all of which a Republican candidate must win if they are going to have any chance at getting 270 Electoral College votes.
Along these same lines, a second part of the poll shows some interesting developments as well:
PRINCETON, N.J. — For the first time, a majority of Americans say same-sex orientation is something gays and lesbians are born with rather than something that is determined by their upbringing or environment. Over the past 15 years, Americans had been much more closely divided on the issue. And in the 1970s and 1980s, majorities attributed same-sex orientation to environmental factors rather than innate characteristics.

(…)

In addition to their changing views on the origins of being gay or lesbian, Americans' views on the morality of same-sex relations have also shifted in recent years. Currently, a record-high 63% of Americans describe gay or lesbian relations as "morally acceptable." That became the majority view in 2010. Only a decade ago, a majority thought same-sex relations were morally wrong.

Since 2001, increasing percentages of both Republicans and Democrats say gay or lesbian relations are morally acceptable, though Democrats continue to be much more likely to express that view. Notably, for the first time, a majority of Republicans believe that same-sex relations are morally acceptable. Democrats crossed the majority threshold more than a decade ago.
This is yet another example of the change in cultural attitudes on homosexuality that we've seen over the past two decades, and it's even having an impact inside the Republican Party, a fact that the politicians who continue to pander to the social conservatives would do well to take notice of. In the long run, of course, Republican politicians will find that they too will need to adjust to the new reality. If the Supreme Court rules as expected in June, then it's likely that public support for same-sex marriage will continue to rise even higher in the coming years. At that point, Republicans and conservatives will either have abandoned a position that they can't seem to even defend in a coherent manner at this point, or they will find the political price of stubbornness can be quite high indeed.