Supreme Court Appears Split In Political Gerrymandering Case
The Supreme Court appears split on the question of whether or not partisan Gerrymandering is unconstitutional.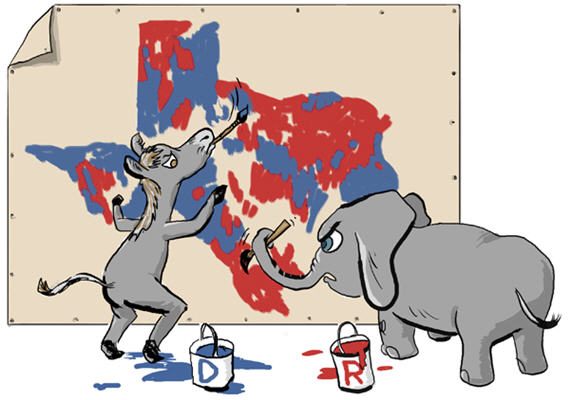 The Supreme Court heard oral argument today in a case that could have a huge impact on American politics and the manner in which Congressional and state legislative districts are drawn every ten years:
WASHINGTON — Justice Anthony M. Kennedy has long been troubled by extreme partisan gerrymandering, where the party in power draws voting districts to give itself a lopsided advantage in elections. But he has never found a satisfactory way to determine when voting maps are so warped by politics that they cross a constitutional line.

After spirited Supreme Court arguments on Tuesday, there was reason to think Justice Kennedy may be ready to join the court's more liberal members in a groundbreaking decision that could reshape American democracy by letting courts determine when lawmakers have gone too far.

Justice Kennedy asked skeptical questions of lawyers defending a Wisconsin legislative map that gave Republicans many more seats in the State Assembly than their statewide vote tallies would have predicted. He asked no questions of the lawyer representing the Democratic voters challenging the map.

There was something like consensus among the justices that voting maps drawn by politicians to give advantage to their parties are an unattractive feature of American democracy. But the justices appeared split about whether the court could find a standard for determining when the practice was unconstitutional.

"Gerrymandering is distasteful," said Justice Samuel A. Alito Jr., "but if we are going to impose a standard on the courts, it has to be something that's manageable."

Some of the court's more liberal members said the problem represented a crisis for democracy and that the Supreme Court should step in.

"What's really behind all of this?" Justice Ruth Bader Ginsburg asked. She answered her own question: "The precious right to vote."

In extended remarks, Chief Justice John G. Roberts Jr. expressed worry that the court's authority and legitimacy would be hurt were it to start striking down voting districts in favor of one political party or another.

"That is going to cause very serious harm to the status and integrity of the decisions of this court in the eyes of the country," he said.

Paul M. Smith, a lawyer for the Democratic voters, urged the court to act. "You are the only institution in the United States that can solve this problem just as democracy is about to get worse because of the way gerrymandering is getting so much worse," he told the justices.

Without the Supreme Court's intervention, Mr. Smith said, other states will follow Wisconsin's lead. The round of redistricting that will follow the 2020 census, he said, "will produce a festival of copycat gerrymandering the likes of which this country has never seen."

The Supreme Court has never struck down an election map on the ground that it was drawn to make sure one political party wins an outsize number of seats. The court has, however, left open the possibility that some kinds of political gamesmanship in redistricting may be too extreme.

The problem, Justice Kennedy wrote in a 2004 concurrence, is that no one has devised "a workable standard" to decide when the political gerrymandering has crossed a constitutional line.

On Tuesday, he pressed Erin E. Murphy, a lawyer for Wisconsin lawmakers, about whether a state law could require drawing districts to have the maximum number of votes for a given political party. Other justices followed up on the point, and Ms. Murphy gave equivocal answers.

Justice Kennedy grew frustrated. "I have to say that I don't think you ever answered the question," he said.

Justice Sonia Sotomayor asked Ms. Murphy more fundamental questions.

"Could you tell me what the value is to democracy from political gerrymandering?" Justice Sotomayor asked. "How does that help our system of government?"

Ms. Murphy said that gerrymandering "produces values in terms of accountability that are valuable so that the people understand who isn't and who is in power."

That did not seem a sufficient reason, Justice Sotomayor said, "to stack the decks."

Much of the argument concerned various statistical tests for identifying extreme gerrymandering. Misha Tseytlin, Wisconsin's solicitor general, said the challengers were relying on flimsy and hypothetical social science evidence.

"Plaintiffs are asking this court to launch a redistricting revolution based upon their social science metrics," he said.

Chief Justice Roberts told Mr. Smith that courts are poorly equipped to evaluate social science data. "It may be simply my educational background," the chief justice said of the studies before the court, "but I can only describe it as sociological gobbledygook."

Other justices seemed more comfortable with the studies.

"This is not kind of hypothetical, airy-fairy, we guess, and then we guess again," Justice Elena Kagan said. "I mean, this is pretty scientific by this point."

Justice Sonia Sotomayor said that "every single social science metric points in the same direction."

There may be close cases, Justice Kagan said, but this was not one of them. "This map goes pretty much over every line," she said.

(…)

Last year, a divided three-judge Federal District Court panel ruled that Republicans in Wisconsin had gone too far. The map, Judge Kenneth F. Ripple wrote for the majority, "was designed to make it more difficult for Democrats, compared to Republicans, to translate their votes into seats."

The decision was the first from a federal court in more than 30 years to reject a voting map as partisan gerrymandering.
The assessments of today's arguments from other sources, such as The Washington Post,  Politico, Reuters, and the Associated Press largely agree with those that Adam Liptak notes in his piece for The New York Times quoted above. Ian Millhiser at Think Progress is more optimistic in his summary and suggests that there's a majority of the Court that appears to be ready to declare political gerrymandering unconstitutional. Over at SCOTUSBlog, meanwhile, Amy Howe also appears to think that it was a good day for the Plaintiffs in this case, although she's not quite as optimistic as Millhiser. As I've noted before, though, it's quite often inadvisable to attempt to guess at what a court will do on that basis alone since Judges and Justices frequently ask one side or the other questions that make it appear they are leaning in one direction only for us to discover when the decision is handed down that they ended up on the other side of the argument. Quite often, those questions get asked for reasons that have nothing to do with revealing what they believe and are based on addressing a point raised by one of their colleagues or to push one side or the other into considering arguments that they may not have anticipated. Additionally, there are times when Judges have been known to ask questions simply because it's a legal point they have a personal interest in. Given that, I'd take Millhiser's and Howe's assessments of what the arguments indicate with a grain of salt for now.
That being said, it does appear that this will be one of what is likely to be many cases this term where Justice Kennedy will end up playing an important role and in which his vote will likely be the deciding vote. If he ends up agreeing with the Plaintiffs that egregious partisan Gerrymandering violates the Constitution's Equal Protection Clause, then this could end up being a landmark case from the Court that will set off a new round of litigation in which redistricting schemes are challenged in court with as much frequency as claims of racially biased redistricting have been since the passage of the Voting Rights Act. If he remains true to his concurrence in the 2004 case noted above, though, then the Court's decision will likely mean the death knell for this area of litigation for the foreseeable future unless and until Plaintiffs lawyers can come up with an argument that will have better chances with the Supreme Court. As  noted when the Court accepted this case for appeal and in my preview of the Court's new term that was posted yesterday, one thing that may influence Kennedy in this regard is that ruling for the Plaintiffs would open a legal can of worms that would end up flooding the Federal Courts with challenges alleging "political Gerrymandering" in every state in the union, most likely cases that would last for years after the redistricting plans have been passed into law and implemented in those states. As a general rule, the Justices have traditionally tried to avoid issuing opinions that end up turning the courts into the arbiters of something that, in the end, seems as though it properly should be purely a matter for the legislative and executive branches of government at the state and federal level. In any case, we'll have to wait until the Court issues its opinion to see which way Kennedy came down.
Here's the transcript of today's argument:
Gill Et Al v. Whitford Et Al Transcript by Doug Mataconis on Scribd