Supreme Court Strikes Down Abortion Clinic Buffer Zones
Another solid victory for the First Amendment from the Roberts Court.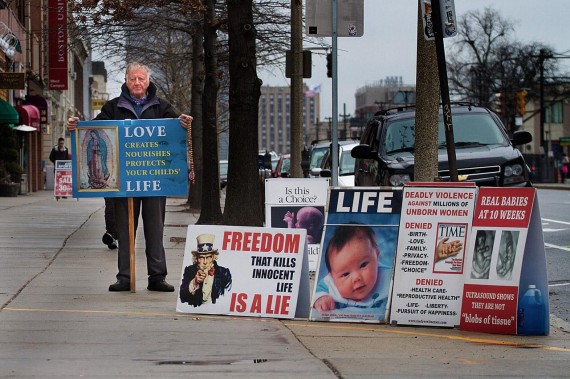 In a surprisingly unanimous decision, the Supreme Court has struck down a Massachusetts law that prohibit protests from a zone within 35 feet of an abortion clinic, even if that zone included public property:
WASHINGTON — The Supreme Court on Thursday unanimously struck down a Massachusetts law that barred protests near abortion clinics.

The law, enacted in 2007, created 35-foot buffer zones around entrances to abortion clinics. State officials said the law was a response to a history of harassment and violence at abortion clinics in Massachusetts, including a shooting rampage at two facilities in 1994.

The law was challenged on First Amendment grounds by opponents of abortion who said they sought to have quiet conversations with women entering clinics to tell them about alternatives to abortion.

The court was unanimous about the bottom line but divided on the reasoning. Chief Justice John G. Roberts Jr. wrote a relatively narrow majority opinion. He was joined by Justice Ruth Bader Ginsburg, Stephen G. Breyer, Sonia Sotomayor and Elena Kagan. He suggested that the state could pursue other alternatives.

Justice Antonin Scalia, in a concurrence joined by Justices Anthony M. Kennedy and Clarence Thomas, said the majority's approach was too tentative. The law, he said, is "unconstitutional root and branch."

Justice Samuel A. Alito Jr. filed a separate concurrence.

In 2000, the Supreme Court upheld a similar Colorado law in Hill v. Colorado. That law established 100-foot buffer zones outside all health care facilities, not just abortion clinics. Inside those larger zones, the law banned approaching others within eight feet for protest, education or counseling without their consent.

Massachusetts experimented with a similar law but found it inadequate.

In testimony before a legislative committee in 2007, Capt. William B. Evans, then a police commander and now Boston's police commissioner, said the floating-bubble approach made his officers' job impossible. "I like to make the reference of a basketball referee down there, where we're watching feet, we're watching hands," he said.

The 2007 law at issue in the case, McCullen v. Coakley, No. 12-1168, did away with floating bubbles and the need to determine who approached whom and whether the listener consented. Instead, it bars everyone from entering or staying in fixed buffer zones around entrances to reproductive health care facilities.
Lyle Denniston analyzes:
The lead opinion by Chief Justice John G. Roberts, Jr., in McCullen v. Coakley went to considerable lengths to suggest ways that cities or states could pass new laws to protect patients' access to abortion facilities. But all of those approaches, it appeared, would be to thwart actual obstruction, physical intrusion, or actual intimidation of patients, not the kind of "counseling" that the Court found threatened by the Massachusetts law.

What the First Amendment does protect, the Roberts opinion made clear, is gentle persuasion, at least when that is carried out on the public sidewalks and roadways next to an abortion facility. Citing data by abortion foes who insist they engage only in benign counseling, the Chief Justice said they have had "far less frequent and far less success" in getting even to talk to patients personally or hand them literature since the buffer zone was imposed.

"It is no answer," the Chief Justice wrote, "to say that [abortion counselors] can be seen and heard by women within the buffer zones. If all that the women can see and hear are vociferous opponents of abortion, then the buffer zones have effectively stifled [the] message [of counseling]."

Concluding that sidewalk counselors working the sidewalks around abortion clinics are "not protestors," the Court's main opinion said that "they seek only to inform women of various alternatives and to provide help in pursing them. [They] believe that they can accomplish this objective only through personal, caring, consensual conversations."

The opinion thus put state and city governments on notice that, while they may act to ensure public safety around and abortion patients' access to medical facilities providing such services, they cannot do so by making entirely off limits to counselors the areas closest to the clinics that include public sidewalks and roadways.

This, then, was a ruling about "buffer zones." The Court's main opinion did not consider the continuing validity of a prior case about anti-abortion protests, dealing with the somewhat separate issue of "bubble zones." In its decision in 2000 in Hill v. Colorado, the Court had upheld a state law that limited close contact with persons entering or leaving an abortion clinic, by setting up a "buffer zone" and, within that zone, making it illegal to approach a person closer than eight feet (a "bubble zone") without that person's consent, to engage in counseling or literature distribution.

After this new ruling, it appeared that even a "bubble zone" might be vulnerable to challenge, at least when the patient was shielded from counseling on a public sidewalk or roadway near the clinic. The Chief Justice's approving remarks about the First Amendment right to engage in counseling in public arenas appeared to contradict some of the reasoning of the 2000 decision.

In a future test case on "bubble zones," it would appear that four Justices who on Thursday wanted to strike down the Massachusetts law on broader grounds than those used by the Chief Justice might well be prepared to vote to strike down a "bubble zone." In fact, three of those four Justices called specifically on Thursday for overruling of the Hill v. Colorado precedent. Those three were Justice Antonin Scalia, the author of a separate opinion, joined by Justices Anthony M. Kennedy and Clarence Thomas.
Eugene Volokh comments on the opinion:
The majority (Chief Justice Roberts, joined by the four more liberal Justices, Justices Ginsburg, Breyer, Sotomayor, and Kagan) interpreted exception (2) as not allowing advocacy by clinic employees or agents, and thus concluded that this exception doesn't make the law content- or viewpoint-based. And the majority also concluded that the fact the law was limited to abortion clinics doesn't make it content-based: The law doesn't draw any content distinctions on its face, didn't "require[] 'enforcement authorities' to 'examine the content of the message that is conveyed to determine whether' a violation has occurred," and was justified by concerns unrelated to the content of speech — concerns about "public safety, patient access to healthcare, and the unobstructed use of public sidewalks and roadways."

Nonetheless, the majority held, the law is unconstitutionally overinclusive even though it is content-neutral. It bars communication in a traditional public forum (public sidewalks), including face-to-face conversation (and not just shouting across many yards) that is important to persuasion, and it does so even in many situations where there is no material threat of violence, congestion, obstruction, and the like. The government had many alternatives to these 35-foot-radius buffer zones, such as banning instances of obstruction, violence, or threat of violence, or even issuing injunctions following specific findings that a person or group has engaged in such misbehavior and less burdensome means for preventing misbehavior would likely ber ineffective. And the government hadn't shown that such alternatives would do a poor job of protecting safety and clinic access.

To be sure, the majority said, the alternatives might be harder for the government to implement and enforce than a simple buffer zone — but that, the majority said, wasn't enough
As a general rule, the Court has been very careful in examining laws that purport to regulate the manner in which people protest in public. The case law in this area has established the general rule that the regulations can only relate to the time, place and manner of the protests, that they must be content neutral, and that the regulations must be narrowly tailored to meet the governmental interest asserted. In this case, Chief Justice Roberts held for a unanimous court, that the Massachusetts law failed because it was not narrowly tailed to meet the interest asserted because it places too stringent a burden on speech.
Tara Culp-Essler at Think Progress seems to see this as an attack on women's abortion rights:
Reproductive rights advocates had been hoping the justices would uphold the policy, which they say has gone a long way to ensure that woman can safely enter abortion clinics. More than 30 pro-choice organizations filed an amicus brief urging the Supreme Court to rule in favor of Massachusetts' buffer zone, which was approved in response to a mass shooting at several of the state's abortion clinics.

According to the National Abortion Federation (NAF), which closely tracks threats and violence against abortion providers across the country, buffer zones have had a measurable impact in the areas where they're in place. A recent survey conducted among NAF's member organizations found that 51 percent of facilities in areas with buffer zones reported a decrease in criminal facility after the policy was enacted, and 75 percent of them said it helped improve patients' and staff members' ability to access the clinic.

"Buffer zones make a huge difference," Ashley Hartman, who holds a master's in public health from Ohio State University and has volunteered as a clinic escort in the Cleveland area, said in an interview with ThinkProgress. "The reality is, if you've ever been outside a clinic, it's not about exchanging ideas… Protesting is about creating the feeling of intimidation, so the more distance you can have from them, the less powerful that intimidation is."

Now that the policy has been struck down, however, the women visiting reproductive health facilities in Massachusetts won't be able to rely on that distance. Protesters will be allowed to crowd the sidewalks around the clinic and speak directly to patients — something that can make people feel uncomfortable enough to avoid the clinic and skip out on the health services they need.

"The fact that we even have clinic escorts is a good signifier that we need things like buffer zones," Hartman pointed out. Clinic escorts like her are typically responsible for providing a friendly face to women who are nervous to walk past protesters, often working to distract them from what abortion opponents are shouting at them. "We wouldn't need escorts if walking into a clinic didn't involve that type of harassment."

Thursday's decision may put other areas' buffer zones in jeopardy, too. Now that Massachusetts' policy has been invalidated, it could pave the way for opponents to strike down similar laws on similar grounds. In practical terms, that means it's probably about to get harder for many women to access clinics.
Culp-Essler's mistake her is that she immediately puts this case in the "abortion" category before she even starts to analyze. The Court makes clear that this is not a case about abortion or abortion rights, it is a case about what if any regulations a jurisdiction can enact to restrict people's rights under the First Amendment. Indeed,  this decision is consistent with much of the First Amendment jurisprudence that we've seen from the Roberts Court in recent years. Most notably in Snyder v. Phelps, in which the Court struck down a civil judgment against the Westboro Baptist Church related to its protests at funerals, the Court has made it clear that the fact that speech is offensive or aggressive is not sufficient reason to ban or punish people for engaging in it. Indeed, one could make the argument that the Roberts Court is developing a reputation for being one of the strongest protectors of First Amendment rights since the Warren Court era, perhaps even more so given that so many of their opinions in this area have been unanimous or near unanimous. Given the subject matter of the case here one could have reasonably expected that we'd see more of an ideological breakdown such as that which we'd see in a case actually dealing with abortion rights, but it's obvious that the Court viewed this case as a Freedom of Speech case, not an abortion case, and that made all the difference.
Here's the opinion: