Supreme Court: Westboro Baptist Church Funeral Protests Are Protected Speech
The Supreme Court rules that "offensiveness" does not trump the First Amendment. And they're right.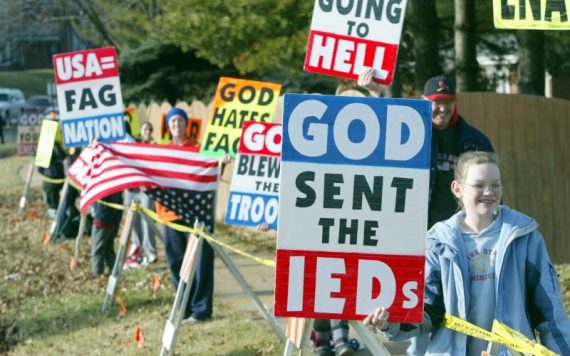 With the possible exception of the Nazis who wanted to march through the streets of a predominantly Jewish community in Illinois 35 years ago, there have been few First Amendment issues to come before the Supreme Court where the persons claiming the protection of the Constitution were more offensive than the Westboro Baptist Church. Since soldiers began dying in Afghanistan and Iraq, the group has risen to national ignominy with their protests outside of funerals carrying signs saying that America's soldiers were dying because of the nation's tolerance of homosexuality (I'm putting it far nicer than they do, obviously). Several years ago, they came to the funeral of  Marine Lance Cpl. Matthew Snyder, who had died in Iraq.
Snyder's father, however, wasn't going to take the WBC protests lightly. He sued them for Intentional Infliction of Emotional Distress, and won a jury trial in Federal District Court. That jury verdict was overturned by the Court of Appeals, however, which held that the church's First Amendment rights to protest on public property trumped whatever claims Snyder may have that he was offended by the protest. Today, the Supreme Court of the United States sided with the Court of Appeal and ruled, once again, that offensive speech deserves protection under the First Amendment:
WASHINGTON — The First Amendment protects hateful protests at military funerals, the Supreme Court ruled on Wednesday in an 8-1 decision.

"Speech is powerful," Chief Justice John G. Roberts Jr. wrote for the majority. "It can stir people to action, move them to tears of both joy and sorrow, and — as it did here — inflict great pain."

But under the First Amendment, he went on, "we cannot react to that pain by punishing the speaker." Instead, the national commitment to free speech, he said, requires protection of "even hurtful speech on public issues to ensure that we do not stifle public debate."

(…)

Chief Justice Roberts wrote in the ruling that three factors required a ruling in favor of the church group. First, he said, its speech was on matters of public concern. While the messages on the signs carried by its members "may fall short of refined commentary," the chief justice wrote, "the issues they highlight — the political and moral conduct of the United States and its citizens, the fate of our nation, homosexuality in the military and scandals involving the Catholic clergy — are matters of public import."

Second, he wrote, the relationship between the church and the Snyders was not a private grudge.

Third, the members of the church "had the right to be where they were." They were picketing on a public street 1,000 feet from the site of the funeral, they complied with the law and with instructions from the police, and they protested quietly and without violence.

Chief Justice Roberts suggested that the proper response to hurtful protests are general laws creating buffer zones around funerals and the like, rather than empowering of juries to punish unpopular speech.

The opinion acknowledged that "Westboro's choice added to Mr. Snyder's already incalculable grief" and emphasized that the ruling was narrow and limited to the kinds of protests staged by the church.

Justice Stephen G. Breyer joined the majority opinion but wrote separately to say that other sorts of speech, including television broadcasts and Internet postings, might warrant different treatment.
It strikes me that Roberts is largely correct here, and we're likely to see a host of jurisdictions enact legislation to try to establish the "buffer zones" that Roberts speaks of. However, even there, the First Amendment suggests that the Church should be permitted to protest so long as it is not directing its message directly at specific individuals. Case law on so-called time, place, and manner regulations on speech make it clear, basically, that the regulations must be reasonable and that they must not be so overly broad as to constitute a bar on speech itself. A "buffer zone" around a cemetery or funeral home would have to pass some kind of reasonableness test in order to pass Constitutional muster, and a straightforward "no protests near these places while funeral services are going on" strikes me as being overly broad.
Additionally, the "buffer zone" issue is one that impacts more than just the Westboro Baptist Church and military funerals. It has become quite common in recent years to see the establishment of so-called "free speech zones" during events like political party conventions, Presidential speeches, and the like. Typically, these zones are located far away from where the event is taking place, far away from where the press is likely to be, and, of course, far away from where the people at whom the protests are directly are likely to be.  Typically, any protests, outside these "free speech zones" are considered prohibited and the people participating in them are arrested. To my knowledge, none of these zones have ever been tested in Court, but the similarities between the "buffer" that Roberts talks about and this rather obvious attempt to silence speech by making it difficult through time, place, and manner regulations cannot be denied. The Courts need to address these issues, and the need to do so carefully.
Ilya Shapiro does an excellent job of summarizing Roberts' brief, concise, opinion:
As the brevity of Chief Justice Roberts's opinion confirms, there's very little to this case and the Phelpses' actions, ugly and objectionable as they are, are as constitutionally protected as a neo-Nazi parade.  If people don't like that, they can change state laws to put certain further restrictions on protests near funerals or other sensitive areas — or federal laws in the case of military cemeteries — but they shouldn't be able to sue simply for being offended.
Moving on to the rest of the opinion, Justice Breyer's concurrence is short, but it raises some concerns in my mind, if only because of the first paragraph:
I agree with the Court and join its opinion. That opinion restricts its analysis here to the matter raised in the petition for certiorari, namely, Westboro's picketing activ-ity. The opinion does not examine in depth the effect of television broadcasting. Nor does it say anything about Internet postings. The Court holds that the First Amendment protects the picketing that occurred here, primarily because the picketing addressed matters of "public concern.
Breyer goes on to repeat that his understanding is that the Court's decision is limited to the facts of this case, and that this is the reason he joins the opinion. However, it's unclear what he was trying to get at by bringing up television broadcasts and the internet. Is Breyer suggesting that WBC would enjoy less protection if its message were transmitted by these means? Is he suggesting that the Court should find that these forms of communication deserve less protection for some reason? I'll be interested in seeing the commentary on this one.
Justice Alito was the lone dissenter, and he suggested that the Court should have held that WBC's speech in this case was so outrageous as to be without any First Amendment protection:
It is well established that a claim for the intentional infliction of emotional distress can be satisfied by speech. Indeed, what has been described as "[t]he leading case" recognizing this tort involved speech. Prosser and Keeton, supra, §12, at 60 (citing Wilkinson v. Downton, [1897]  Q. B. 57); see also Restatement (Second) of Torts §46, illustration 1. And although this Court has not decided the question, I think it is clear that the First Amendment does not entirely preclude liability for the intentionalinfliction of emotional distress by means of speech.

This Court has recognized that words may "by their veryutterance inflict injury" and that the First Amendment does not shield utterances that form "no essential part of any exposition of ideas, and are of such slight social value as a step to truth that any benefit that may be derived from them is clearly outweighed by the social interest in order and morality." Chaplinsky v. New Hampshire, 315 U. S. 568, 572 (1942); see also Cantwell v. Connecticut, 310 U. S. 296, 310 (1940) ("[P]ersonal abuse is not in any proper sense communication of information or opinion safeguarded by the Constitution"). When grave injury isintentionally inflicted by means of an attack like the one at issue here, the First Amendment should not interfere with recovery.
The problem with Alito's reasoning is that, while Chaplinksky may still be good law, it's bad precedent. As with the protests over cartoon images of Muhammed, or Koran burning , or the so-called "Ground Zero Mosque", there is no such thing as a Constitutional right to not be offended.  The Westboro Baptist Church's protest outside Matthew Snyder's funeral offensive, so were the Nazis who marched through Skokie, Illinois but the mere fact that someone is "offended" ought not be a reason to bar or punish speech. Freedom of speech includes the possibility that someone will be offended, or angered The answer isn't to ban the offensive speech, it's to answer it with more speech.