Congress Bans Veteran Funeral Protests in Violation of 1st Amendment
The United States Congress can still work together to pander before election season.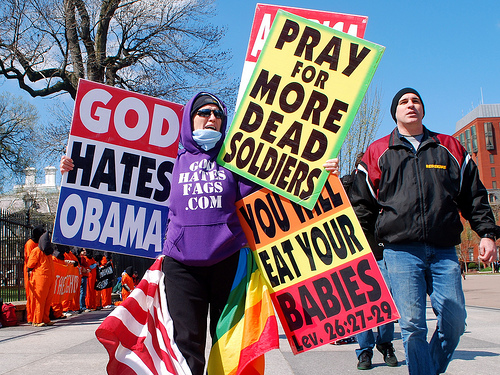 While generally useless at passing important legislation, the United States Congress can still work together to pander before election season. Even if  it has to violate the Constitution to do it.
HuffPo ("Congress Passes Restrictions On Military Funeral Protests, Delivers Blow To Westboro Baptist Church"):
Westboro Baptist Church protesters will soon be severely limited in their ability to disrupt military funerals, after Congress passed a sweeping veterans bill this week that includes restrictions on such demonstrations.

According to "The Honoring America's Veterans and Caring for Camp Lejeune Families Act of 2012," which is now headed to President Barack Obama's desk, demonstrators will no longer be allowed to picket military funerals two hours before or after a service. The bill also requires protestors to be at least 300 feet away from grieving family members.

This aspect of the legislation was introduced by Sen. Olympia Snowe (R-Maine), who, at the urging of a teenage constituent, proposed new limitations on military funeral demonstrations as a response to a 2011 Supreme Court case that ruled such actions were protected under the First Amendment.
Look, I hate these Westboro dirtbags as much as the next guy. Their message is vile and their targets innocent. But the Supreme Court has ruled that picketing funerals is protected by the First Amendment.  It was an 8-1 ruling, with only Justice Alito dissenting.
While the 300 foot buffer zone is certainly permissible—indeed, the Westboro cretins observed a 1000 foot buffer in the case decided by the Supreme Court—the two hour window is almost surely not. So say that you can't picket near a funeral while said funeral is going on is effectively ban it. And the Supreme Court has already said that the activity is protected by the Constitution.
Here's a key excerpt from Chief Justice Roberts' majority opinion:
We have identified a few limited situations where the  location of targeted picketing can be regulated under provisions that the Court has determined to be content neutral. In Frisby, for example, we upheld a ban on such picketing "before or about" a particular residence, 487  U. S., at 477. In Madsen v. Women's Health Center, Inc., we approved an injunction requiring a buffer zone between protesters and an abortion clinic entrance. 512 U. S. 753, 768 (1994). The facts here are obviously quite different, both with respect to the activity being regulated and the means of restricting those activities.

Simply put, the church members had the right to be where they were. Westboro alerted local authorities to its funeral protest and fully complied with police guidance on where the picketing could be staged. The picketing was conducted under police supervision some 1,000 feet from the church, out of the sight of those at the church. The protest was not unruly; there was no shouting, profanity, or violence.
Indeed, the activity was so quiet that, according to the summary of facts at the outset of the opinion, "Matthew Snyder's father (Snyder), petitioner here, saw the tops of the picketers' signs when driving to the funeral, but did not learn what was written on the signs until watching a news broadcast later that night."
As Roberts and seven of his colleagues rightly concluded, the only reason any of us find what the Westboro clowns do objectionable in the least is that we find the content of their speech loathesome. That is not sufficient grounds for banning it or imposing restrictions on it so burdensome that they can't get publicity for it. The fact of the matter is that the only reason we know of these people is because they engage in this particular activity.