Supreme Court Voids $3.4 Million Restitution Award To Child Pornography Victim
The Court gets the result right, but their reasoning will make things much more difficult for courts, defendants, and victims.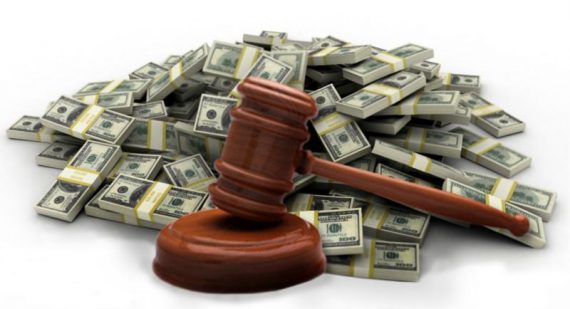 There were two more decisions handed down by the Supreme Court today, and while neither of them were quite as compelling as either the Michigan Affirmative Action case or the 4th Amendment decision I wrote about this morning, one of them touches on an issue we've discussed here before. In that case, Paroline v. United States, the Court voided a $3.4 million restitution order granted to a woman who had been depicted in child pornography from a person who had been convicted of possessing some of the images but otherwise had no connection to the woman's abuse:
WASHINGTON — The Supreme Court on Wednesday set aside a $3.4 million award to a victim of child pornography who had sought restitution from a man convicted of viewing images of her. That figure was too much, Justice Anthony M. Kennedy wrote for a five-justice majority, returning the case to the lower courts to apply a new and vague legal standard to find a lower amount that was neither nominal nor too severe.

The victim in the case said the majority's approach was confusing and meant that she might never be compensated for her losses.

The two dissents to the majority opinion would have taken more categorical approaches. Chief Justice John G. Roberts Jr., joined by Justices Antonin Scalia and Clarence Thomas, said that restitution was a worthy goal, but that the federal law at issue did not allow awards when many people had viewed the images.

Justice Sonia Sotomayor took the opposite view, saying that each viewer could be held liable for the full amount of the victims' losses.

The case arose from the prosecution of Doyle R. Paroline, who was convicted in 2009 of possessing 280 images of child pornography. Two of them were of a woman known in court papers as Amy.

Images of Amy being sexually assaulted by her uncle as a child have been widely circulated and have figured in thousands of criminal cases. Amy has often sought restitution for her losses under a 1994 federal law. Every viewing of child pornography, Congress found, "represents a renewed violation of the privacy of the victims and repetition of their abuse."

Amy's lawyers say her losses — for lost income, therapy and legal fees — amount to $3.4 million. She has been granted restitution in about 180 cases and has recovered about 40 percent of what she seeks.

The 1994 law allows victims of child pornography to seek the "full amount" of their losses from people convicted of producing, distributing or possessing it, and Amy asked the United States District Court in Tyler, Tex., to order Mr. Paroline to pay her the full $3.4 million.

Mr. Paroline said he owed Amy nothing, arguing that her problems did not stem from learning that he had looked at images of her. Amy's uncle, who was sentenced to 12 years in prison for his crimes, bore the brunt of the blame, Mr. Paroline said, but was ordered to pay Amy just $6,325.

Mr. Paroline was sentenced to two years in prison, but the trial judge said Amy was not entitled to restitution, saying the link between Amy's losses and what Mr. Paroline did was too remote.

The United States Court of Appeals for the Fifth Circuit, in New Orleans, disagreed and awarded Amy the $3.4 million she sought. Mr. Paroline should pay what he could and seek contributions from his fellow wrongdoers if he thought it was too much, the court said, relying on the legal doctrine of "joint and several" liability.

The Supreme Court adopted neither of the lower courts' approaches. Acknowledging that he was employing "a kind of legal fiction," Justice Kennedy said the only sensible method of apportionment was for courts to require "reasonable and circumscribed" restitution "in an amount that comports with the defendant's relative role."

"This cannot be a precise mathematical inquiry and involves the use of discretion and sound judgment," Justice Kennedy wrote. Justices Ruth Bader Ginsburg, Stephen G. Breyer, Samuel A. Alito Jr. and Elena Kagan joined the majority opinion.
 Lyle Denniston has also summarized the opinion:
The decision clearly will spare a Tyler, Texas, man, Doyle Randall Paroline, from paying all of the nearly $3.4 million that lawyers for a young woman identified only as "Amy" had demanded from him.  Paroline had two images of her being photographed as her uncle sexually abused her when she was eight years old.  Now a young woman, she had testified that "My life and my feelings are worse now because the crime has never really stopped and will never really stop."

The Court ruled that a federal district court judge must calculate how much to assess against Paroline personally.  There is no doubt, Justice Kennedy wrote, that Paroline "was part of the overall phenomenon" of distributing and keeping images of the abuse of Amy.  He should have to pay his share and, Kennedy said, it must be enough to send the message that his part in the crime was not victimless.

Lawyers for "Amy" had insisted that Paroline, like everyone who has her images and looks at them, contributes to her continuing injury, so each of them should be required to pay the full amount for her losses, in whatever multiples of individuals are found and prosecuted for having the pictures.

The pictures of "Amy" being abused are among the most widely circulated child pornography images in this country and, apparently, around the world.  The number of individuals possessing them — according to the Court — reaches into the thousands.

Only one Justice — Sonia Sotomayor — agreed with the demand for full restitution, but Sotomayor did so in dissent.  Three other Justices, also in dissent, said that calculating each possessor's share of the overall harm to "Amy" would necessarily be "arbitrary," so there should be no restitution to her because Congress had "provided no mechanism" for calculating shares of the cause of her injury.

Justice Kennedy's opinion took a position in the middle.  It was joined by Justices Samuel A. Alito, Jr., Stephen G. Breyer, Ruth Bader Ginsburg, and Elena Kagan.  Chief Justice John G. Roberts, Jr., wrote the dissent arguing that there was no valid formula for restitution in the child pornography law.  That dissenting opinion was joined by Justices Antonin Scalia and Clarence Thomas.

Justice Sotomayor's dissent spoke only for herself, arguing that Congress had specified that restitution for the "full amount" of losses was mandatory, as part of the punishment for each one convicted of possessing child pornography involving the victim.

While the Kennedy opinion said that each defendant convicted of having images of "Amy" should be assessed for the degree to which his individual crime was the "proximate cause" of her injury, the Justice stressed that no mathematical formula could be devised for it.
While I haven't had an opportunity to review the opinion in depth, it appears to me that the majority opinion has only made the job of future courts more difficult. How, exactly, is a judge or jury supposed to determine the relative degree of financial responsibility that a person possessing, say, a single image of child pornography has in the overall abuse that the child depicted therein has suffered? Given that we live in an age when such material can be easily, and surreptitiously traded online there would arguably be an incalculable numbers of copies of that file, so does that mean we have to divide the total amount of damages claimed by the victim by the number copies out there, assuming we can even determine what that number might be? And how do we factor the financial responsibility of the people who actually produced the child pornography into all of this? Shouldn't they be held more responsible than the consumers of the product they produced since they are the ones who actually abused the child in question?
Given all of these uncertainties, it seems to me that the Roberts, Scalia, Thomas dissent is correct. The fact that we cannot come up with an objective determination of how restitution is to be apportioned means that no restitution should be awarded, at least not when it comes to the people who are merely viewing the images rather than producing or actually participating in them. Indeed, it's easy to see how the majority's approach here is going to cause nothing but problems for future courts, criminal defendants, and child pornography victims.
On some level, I agree with James Joyner's assessment of this case in January when he suggested that the primary party that should be looked for when it comes to finanicial responsibility in this situation is the person who produced the child pornography. Indeed, it would arguably be a violation of due process to impose all of the financial burden for restitution on a person who only viewed images while the producer of the images is not held liable at all. However, there are arguably good policy reasons for imposing at least some level of responsibility for compensating victims on the people who view the images, especially given the fact that it is these viewers who end up paying the people who produce and traffic in the child pornography. If you are going to hold the viewers responsible though, due process would seem to require that there be an objective way to calculate the amount of restitution to be paid. The Court's decision does the exact opposite and, as a result, virtually guarantees that this issue will be back before it in the future. Maybe in that future case, they'll get it right.
Here's the opinion: