Who Should Pay Child Porn Victims? And How Much?
A man who viewed two photographs of a child abuse victim has been ordered to pay $3.4 million in damages.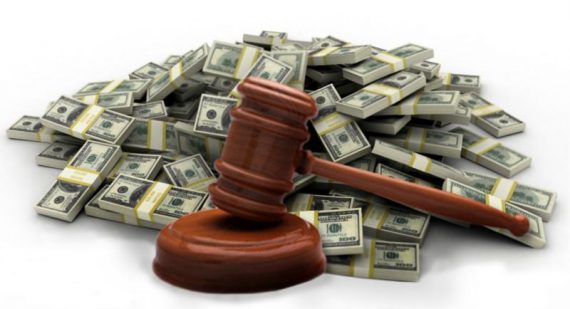 A man who viewed two photographs of a child abuse victim has been ordered to pay $3.4 million in damages.
WaPo ("Supreme Court weighs how much one person should pay pornography victim"):
A woman with the pseudonym Amy Unknown was at the Supreme Court on Wednesday as justices discussed the horrible events that changed her life: Her uncle raped her when she was a young girl, recorded that assault and other sex acts and put the images on the Internet, where they have been viewed tens of thousands of times.

All the justices seemed to think that those who downloaded the images of Amy should pay to help her put her life back together. But they struggled to decide what any one person should pay.

Congress made it clear in 1994 that victims such as Amy deserved restitution from those who have viewed the pornographic images that feature them. The cost of Amy's abuse, according to a psychological report that described her trauma and ongoing counseling and medical treatment, is $3.4 million.

The immediate question before the justices was how much of that should be paid by a Texas man named Doyle Randall Paroline.

Paroline pleaded guilty in 2009 to possessing 300 images of child pornography, including two of Amy. He was sentenced to prison. And on the matter of how much money he owes Amy, the U.S. Court of Appeals for the 5th Circuit said all $3.4 million.

The court based its decision on a section of the law that said courts are directed to make the defendant pay "the full amount of the victim's losses." The court's reading of the law conflicts with those of other courts, but Amy's attorney Paul G. Cassell said it was proper.

"Congress wanted to take these vulnerable victims — child pornography crimes, federal sex offense crimes and domestic violence — and get them full restitution as quickly and effectively as possible," said Cassell, a law professor at the University of Utah and a former federal judge.

Some justices said Congress surely meant that courts should consider how much a defendant had contributed to the victim's suffering.

"He's guilty, he's guilty of the crime," Justin Antonin Scalia said of Paroline. "But to sock him for all of her psychiatric costs and everything else because he had two pictures of her? Congress couldn't have intended that."

But Cassell said Congress could not have intended to send Amy on the hunt for defendants to sue. Alerted by the government when an image of her is discovered, it has taken Amy 41/ 2 years to collect $1.75 million, from 182 defendants ($1.2 million came from one man). Cassell said it is estimated that more than 70,000 people have seen Amy's image.

If each defendant was tagged with the total cost, Cassell said, Amy might receive the restitution quickly from one or more wealthy individuals. The hunt would then be over, and she would receive no more than the $3.4 million the court approved.

Paroline's attorney, Stanley G. Schneider, on the other hand, said his client should not have to pay anything, which is what a district judge decided.

Schneider, who was appointed by the court to represent Paroline, said so many people have seen Amy's image that the government could not prove it was Paroline who has caused her suffering.

Justice Elena Kagan said that could not be right.

"If only one person viewed the pornography, that person would be responsible for the entire damages, but if 1,000 people viewed the pornography and the harm was that much greater, nobody would be on the hook for restitution?" she said. "How could that possibly make sense?"
The answer here seems stunningly obvious, yet Congress, the lower courts, and two brilliant Supreme Court justices have missed it: The uncle is the abuser here, has caused one hundred percent of the damage, and therefore should be held solely liable. He raped her. He photographed his crimes and her suffering. He uploaded the images to the Internet to further her humiliation.
To be sure, those who view, and presumably sexually gratify themselves to, child pornography are hardly sympathetic figures. While they're quite probably mentally ill, so too is the uncle here. We nonetheless hold them responsible for their conduct, just as we do alcoholics who kill while driving drunk or psychopaths who go on shooting sprees. Whether prison time, fines, or medical treatment—or some combination of those–is the appropriate punishment for viewing is beyond my expertise and not something on which I have a strong opinion.
Regardless, however, it's not obvious to me how Paroline, whom "Amy" presumably never knew existed, much less met, contributed to her suffering, much less all of it. Her life was irreparably damaged by her uncle. But how does any one individual's viewing of photographs that are available to be seen by anyone with an internet connection and a perverse desire to do so, further harm the victim?
The notion that all of the damages should be paid by whichever pervert happens to have deep pockets, since that spares the victim the need to find and go after others, has the merit of easing the victim's grief. But we don't typically apportion liability on the basis of ability to pay but rather actual contribution to the damages caused. And Paroline's is, at most, infinitesimal.
Again, the obviously responsible party here is the uncle. If he's rich, I'm happy to see him on the hook for all of the damage he caused and more. He deserves to have his life ruined. If he's not in a position to pay, though, that doesn't mean than someone tangentially connected to the crime should therefore be on the hook. It might make life easier for the ultimate victim. But it's not justice.