D.C. Police Investigating NBC's David Gregory On Violation Of Gun Laws
Did NBC's David Gregory violate D.C. law on Sunday?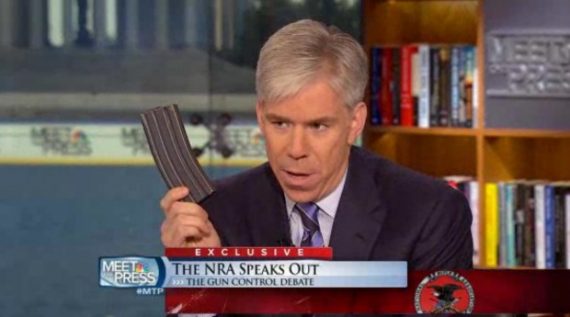 Meet The Press host David Gregory is being investigated for potential violations of the District of Columbia's strict gun control laws in connection with his interview with NRA Vice-President Wayne LaPierre on Sunday:
The Washington Metropolitan Police Department is investigating whether any city laws were violated when NBC's David Gregory displayed what appeared to be a 30-round gun magazine on NBC's "Meet the Press" on Sunday, a spokesman confirmed to POLITICO.

"The Metropolitan Police Department is investigating this matter," said police officer and spokesman Araz Alali in an interview Tuesday.

When pressed on what the police department was investigating, Alali added, "The 'Meet the Press', David Gregory incident."

"There are D.C. code violations, D.C. code restrictions on guns, ammunition. We are investigating this matter. Beyond the scope of that, I can't comment any further," he said.

On Sunday, in an interview with the National Rifle Association's head, Wayne LaPierre, Gregory displayed what appeared to be a 30-bullet gun magazine. He pushed LaPierre on the question of whether fewer children would have died during the Sandy Hook Elementary School massacre this month had the gunman had access to fewer bullets.

The presence of the gun magazine on the show raises questions about a section in the D.C. code — much cited by conservatives and gun rights activists after "Meet the Press" on Sunday — which stipulates that "No person in the District shall possess, sell, or transfer any large capacity ammunition feeding device regardless of whether the device is attached to a firearm. For the purposes of this subsection, the term 'large capacity ammunition feeding device' means a magazine," among other devices.
Based on a strict reading of the statute, and assuming that what Gregory was holding during his interview with LaPierre on Sunday was indeed a genuine 'large capacity ammunition feeding device' as defined in the D.C. Code, then it's not beyond the realm of possibility that there was a violation of the law, albeit a technical one since it's unlikely that Gregory was also in possession of the rifle that the magazine needs to be attached to. For that matter, we don't even know if the magazine in question is an empty one or one that is fully loaded.
For the record, though, if this is indeed a violation of the law, there isn't likely to be a "journalistic" exception. Several years ago, another journalist here in the D.C. area faced prosecution after it was discovered that he had images of child pornography on his laptop. As a defense, he claimed that he was investigating the world of underground child pornography for a story he was writing and that he should be entitled to a First Amendment defense. After several hearings and appeals, the defense was rejected and the journalist in question went to Federal Prison. In other words, you cannot violate the law in the practice of  journalism.
Is that what happened? It seems unlikely here, but it will be interesting  to see what this investigation reveals.
Update: It took a little digging on Google, but here's some detail on the journalist who asserted a First Amendment defense to a child pornography charge that I noted above:
An award-winning journalist was sentenced to 18 months in prison today after pleading guilty to two counts of receiving and trafficking child pornography on the Net.

Veteran radio reporter Larry Matthews was indicted on 15 counts of possessing the illegal material in July 1997. His attorneys, with support of media organizations, argued that Matthews obtained the material during a news investigation about the online trade of child pornography.

Despite Matthews's defense, he pleaded guilty–a risky strategy his attorneys hope will help them beat U.S. District Court of Maryland Judge Alexander Williams's July 1998 ruling that Matthews couldn't use the First Amendment as a defense to the charges. Matthews is now expected to appeal the conviction.

If the Fourth Circuit Court of Appeals reverses the lower court's ruling suppressing Matthews's First Amendment defense, the journalist can then withdraw his conditional guilty plea and return to the lower court for trial, where he can present his whole story, his lawyers say.

Matthews had faced up to 15 years in prison and more than $250,000 in fines for each count against him. He was not fined but must report to serve his time in 60 days.
In April 2000, the 4th Circuit Court of Appeals ruled that the First Amendment was not a defense to the charges of possession of child pornography:
A journalist charged with violating child pornography laws while he researched a story did not have the right to argue before the jury that his activity deserved First Amendment protection, the U.S. Court of Appeals in Richmond (4th Cir.) held on April 13.

The ruling upheld the 18-month prison sentence that journalist Larry Matthews accepted in a March 1999 plea agreement after federal District Judge Alexander Williams Jr. in Greenbelt, Md., refused to allow him to assert a First Amendment defense at trial. As part of the agreement, Matthews pleaded guilty to two charges of transmitting and receiving child pornography in June

Matthews has asserted since being indicted for violating federal child pornography laws in 1997 that he was working on a freelance article and needed to pose online as a trader in child pornography to adequately research the article, and that such reporting is protected by the First Amendment. Matthews had previously prepared a story on child pornography for WTOP, a Washington, D.C., radio station.

The court dismissed Matthews' First Amendment argument as "powerful rhetoric" that has "visceral appeal" but which is not a recognized defense under the law. While such a defense may work in a prosecution over adult pornography, it does not apply to child pornography, because the interest in protecting the sexual exploitation and abuse of children justifies greater limits on its distribution, the court held. The interest at stake in adult pornography cases — protecting "the sensibilities of unwilling recipients" — can be outweighed if a work has artistic, literary or other value.

The court also rejected Matthews' argument that the statutory provision under which he was prosecuted violates his due process rights because it applies even if there is no criminal intent. Proper application of the statute does not require that the defendant knew he was breaking the law or acted with bad motive or evil intent, the court held, but rather that he knowingly engaged in the activities that the statute criminalizes.
There's a legitimate debate about whether this is the right outcome, but it strikes me that it is a correct application of the law as it stands.