Chris Matthews Retires
The longtime talking head is the latest poster boy for #MeToo. And mandatory retirement.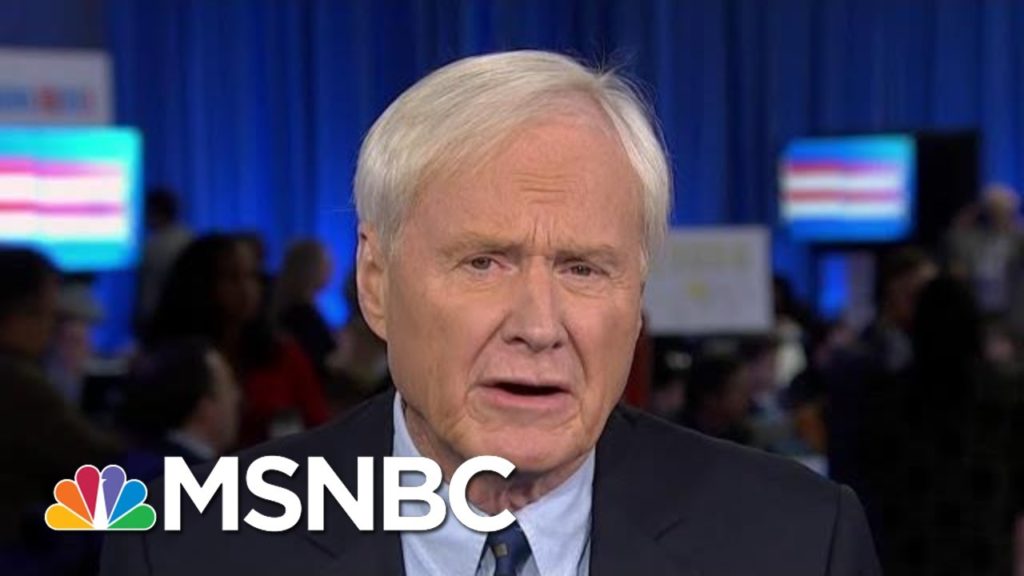 Former Capitol Hill staffer Chris Matthews has been talking politics on television for decades. He abruptly quit his show last night after coming under fire for his treatment of women and some increasingly unhinged on-air rants.
NBC News ("Chris Matthews announces retirement, mutually parts ways with MSNBC"):
Chris Matthews, one of the longest-tenured voices at MSNBC, announced his retirement during Monday's night's airing of his talk show, "Hardball."

Matthews, 74, said he and MSNBC had mutually agreed to part ways. The decision followed a series of events that resulted in criticism of the host's statements about Bernie Sanders, African-American lawmakers, and comments he had made to female journalists and coworkers.

"I'm retiring," Matthews said. "This is the last 'Hardball' on MSNBC."
Matthews was due to retire in the near future with the events of the past week playing a factor in the timing of the move, an MSNBC spokesperson said.

After MSNBC aired a commercial following the announcement, Matthews did not return to the program. Steve Kornacki, a political reporter for the network, took over the rest of the hour, and seemed shocked by the news. "That was a lot to take in," he said, saying it had been an honor to work with Matthews, and then beginning a discussion about the coronavirus response.

Matthews, a former speechwriter for President Jimmy Carter, has hosted "Hardball" on MSNBC since 1999 and remained a centrist voice on the cable news channel's prime-time programming, which often features commentary that is further to the left.

NBCUniversal is the parent company of MSNBC and NBC News.
Matthews said he was not retiring due to a lack of interest in politics, but nodded to changes taking place.

"The younger generations out there are ready to take the reins," he said.

Matthews also apologized for comments he made to women. On Friday, journalist Laura Bassett wrote an op-ed in "GQ" stating that Matthews "has a pattern of making comments about women's appearances in demeaning ways" and that Matthews asked "Why haven't I fallen in love with you yet?" just before a televised discussion about sexual-assault allegations against President Donald Trump.

The recent accusation that Matthews made inappropriate comments to a female journalist was not the first time he had faced such allegations. In 2017, The Daily Caller reported that MSNBC formally reprimanded Matthews over jokes and comments he made to a female employee in 1999.

"For making such comments in the past, I'm sorry," Matthews said on tonight's broadcast.

Matthews had recently drawn criticism for comments about Sanders, who is currently the frontrunner for the Democratic presidential nomination. Matthews apologized after comparing Sanders' win in the Nevada caucuses to the Nazis taking over France in World War II.
On Friday, Matthews mistook Jaime Harrison, a Democrat running for Senate in South Carolina, with Sen. Tim Scott, R-S.C. Both men are black.
CNN Business ("Chris Matthews retires from MSNBC after string of recent controversies") adds:
Matthews was told by management to step down, said a person with knowledge of the situation, who characterized it as a firing that was masked as a retirement announcement.

A different source disputed that and said it was "truly a mutual decision."
Matthews mentioned a "conversation" with management during his farewell on Monday evening.

"After a conversation with MSNBC, I decided tonight will be my last 'Hardball,' so let me tell you why," he said. "The younger generation's out there ready to take the reins. We see them in politics, in media, in fighting for their causes. They're improving the workplace."

[…]

Matthews did not specifically mention Bassett but that was the context in which Matthews' made his remarks on Monday night about workplaces implementing "better standards than we grew up with — fair standards. A lot of it has to do with how we talk to each other."

"Compliments on a woman's appearance that some men, including me, might have once incorrectly thought were okay, were never okay. Not then and certainly not today," Matthews said. "And for making such comments in the past, I'm sorry."

Bassett responded to Matthews' announcement by saying, in a tweet, "All I gotta say is… it's about time."
NYT ("Chris Matthews Out at MSNBC") adds:
An eminence grise of television news, Mr. Matthews has a pugilistic and red-cheeked persona familiar to viewers from countless election nights and parodies on shows like "Saturday Night Live." His rat-a-tat political commentary was informed by experience: Before his move into punditry, Mr. Matthews served as a speechwriter in President Jimmy Carter's administration and spent years as chief of staff to Thomas P. O'Neill Jr., the powerful Democratic speaker of the House.

But the Matthews style was increasingly out of step with the times. In 2017, MSNBC acknowledged that the anchor had been reprimanded in 1999 after making inappropriate remarks to a female colleague, prompting a settlement. In 2008, he was quoted in a magazine profile declaring the actress Kerry Washington "a total knockout."
MSNBC executives had discussed Mr. Matthews's looming retirement, with an exit after Election Day likely, according to two people familiar with internal network discussions. There was talk of shifting "Hardball," which ranked behind Fox News and CNN programming among crucial younger viewers, to a less prominent time slot.

Then came a painful 10-day stretch.
While I haven't been a regular viewer of television political commentary for 15 years or more now, this is sad news. I grew up on the Sunday shows and the rare political debate shows and didn't move away from them until blogging drove me almost completely online, not only because it was easier to link and quote web-based sources but because it's a better venue for finding diverse and interesting opinions.
"Hardball" has only been around since 1997 but it seems like he was on television forever. He left Capitol Hill in 1987 to become the Washington bureau chief of the San Francisco Examiner; I'm pretty sure he became an on-air fixture in that capacity but can't find verification.
While often exasperating to liberals and conservatives alike—his politics were complicated—I always found him likable and entertaining. I met him once or twice in the early 2000s, during that brief period where bloggers were the rage and got invited to various DC events, and found him pleasant and affable.
I hate to see him go out this way. He's had a long and distinguished career and yet he'll always have the gaffes and micro-scandals that forced him out the door affixed to his reputation.
Unlike Harvey Weinstein and some of the grosser figures ruined by the #MeToo movement, Matthews seems like a decent guy who simply caught on too slowly to the changing realities of our culture. I don't know whether he truly believes that the younger generation has "better standards than we grew up with — fair standards" or that "Compliments on a woman's appearance that some men, including me, might have once incorrectly thought were okay, were never okay. " But he's right.
Watching the current Presidential campaign, dominated by men Matthews' age and older, it has become apparent to me just how hard it is for people to keep up. People I've always liked and respected even while disagreeing with their politics, like Matthews and Joe Biden, have a lot of baggage simply because they're old enough to have a record of conduct and attitudes that were perfectly acceptable—maybe even progressive—at the time but seem positively retrograde today. (I think Mike Bloomberg is probably a jerk but think some of the more extreme statements that have come out may well be of the same piece.)
I'm twenty years younger than Matthews but old enough to remember the days of mandatory retirement. In particular, there was a short period when the network news anchors were all replaced by younger men.* Walter Cronkite was pushed out at CBS in 1981 at the age of 64 or 65. It was normal at the time but Cronkite always resented it and it turned out that he had a lot left in the tank.
Still, I wonder whether it's not better for public figures to leave the stage a little too early than too late.
__________________
*It turns out that either my contemporaneous understanding of what was happening was mistaken or my memory is playing tricks on me. John Chancellor pushed out at NBC in 1982 in favor of a much younger Tom Brokaw but I see now that Chancellor was only 55 and that it was perhaps more about ratings than age. And Frank Reynolds was replaced at ABC by a much younger Peter Jennings in 1983—but that was because Reynolds, only 59, had died.