MSNBC Abandoning Its Non-Existent Neutrality Pose
Forbes media critic Jeff Bercovici is a bit late spotting a trend.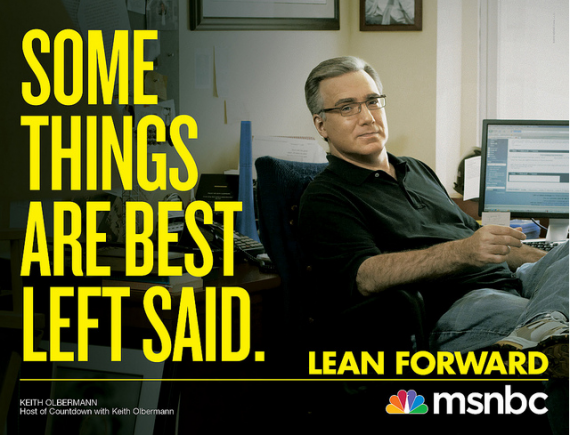 In "Olbermann Who? MSNBC Abandons Neutrality Pose For Convention Coverage," Forbes media critic Jeff Bercovici is a bit late spotting a trend:
Here's one indication of how much the news landscape has changed in the past four years: In 2008, with the presidential election heading into the home stretch, MSNBC pointedly took its top on-air personality, Keith Olbermann, off co-anchor duty in response to critics who said his coverage of the party nominating conventions was too partisan. In his place it assigned a straight-news reporter, David Gregory, to host coverage of the debates and election night.

The fig leaf of neutrality is no more. MSNBC just announced its on-air team for the upcoming Democratic and Republican conventions. Anchoring the broadcasts will be "Rachel Maddow with Chris Matthews," according to a press release. Matthews, who hosts the 5 p.m. show "Hardball," was Olbermann's co-anchor for the conventions in 2008, and "The Rachel Maddow Show" has replaced Olbermann's "Countdown" as the network's top-rated show.

To be clear, MSNBC's announcement called Maddow and Matthews hosts, not anchors, although I'm not sure that's a meaningful distinction. Phil Griffin, the network's president, wasn't available for an interview.

MSNBC has clearly settled into its identity as the liberal counterweight to Fox News over the past few years.
Well . . . yeah.  MSNBC gave us a hint that it was doing this two years ago when it announced it was "launching a two-year, multimillion-dollar marketing campaign, embracing its politically progressive identity with the new tagline 'Lean Forward.'"
"We've taken on CNN and we beat them," msnbc President Phil Griffin told employees at a series of celebratory "town hall" meetings Monday. "Now it's time to take on Fox."

The network has struggled to define itself with its audience since it launched in 1996. In the runup to the 2008 presidential election, network programming began to coalesce around primetime anchors Keith Olbermann and Chris Matthews. It branded itself as "The Place for Politics" — a description given by Tim Russert, then NBC News Washington Bureau Chief and "Meet the Press" moderator.

With the addition of left-leaning anchors including Rachel Maddow and Ed Schultz, the network increasingly became identified with a rising tide of progressive political sentiment. The new branding campaign, while not overtly political, implicitly embraces the network's progressive identity.
Its prime time line-up is unabashedly liberal and they still run the "Lean Forward" spots constantly touting that fact. Indeed, the main difference between MSNBC and Fox in this regard is that Fox still maintains that it's "Fair and Balanced" while MSNBC embraces its ideological (forward) lean. That's actually rather refreshing.
Oddly, the only daily news program that I watch—via TiVo delay and depending on whether the kids are up and I therefore can't get any work done, anyway—is MSNBC's "Morning Joe." While the "Lean Forward" ads run constantly during the program, show host and namesake Joe Scarborough occupies an ideological space similar to my own, simultaneously conservative enough to annoy liberals while viewed as a traitor to the cause by most conservatives. But even there, he's paired with a liberal co-host in Mika Brzezinski and a rotating stable of liberal panelists. (The wildcard is Willie Geist, whose ideological leanings I've never been able to discern.)
If the "Morning Joe" crew were hosting the convention, I'd almost surely watch MSNBC's coverage as they provide smart analysis and have a good give-and-take. Maddow and Scarborough would also be an interesting pairing of two sharp analysts who can honestly articulate each side's arguments and debate their strengths and shortcomings. A Maddow-Matthews pairing could well descend into parody and, in any case, would only be interesting to die-hard Democrats. Which, since that's the audience the network is aiming to reach, is just fine.