Susan Collins Faces Political Headwinds Back Home
Susan Collins hasn't officially announced her intentions for 2020 just yet, but she looks like she's running for re-election. If she does, she appears to be facing some political headwinds.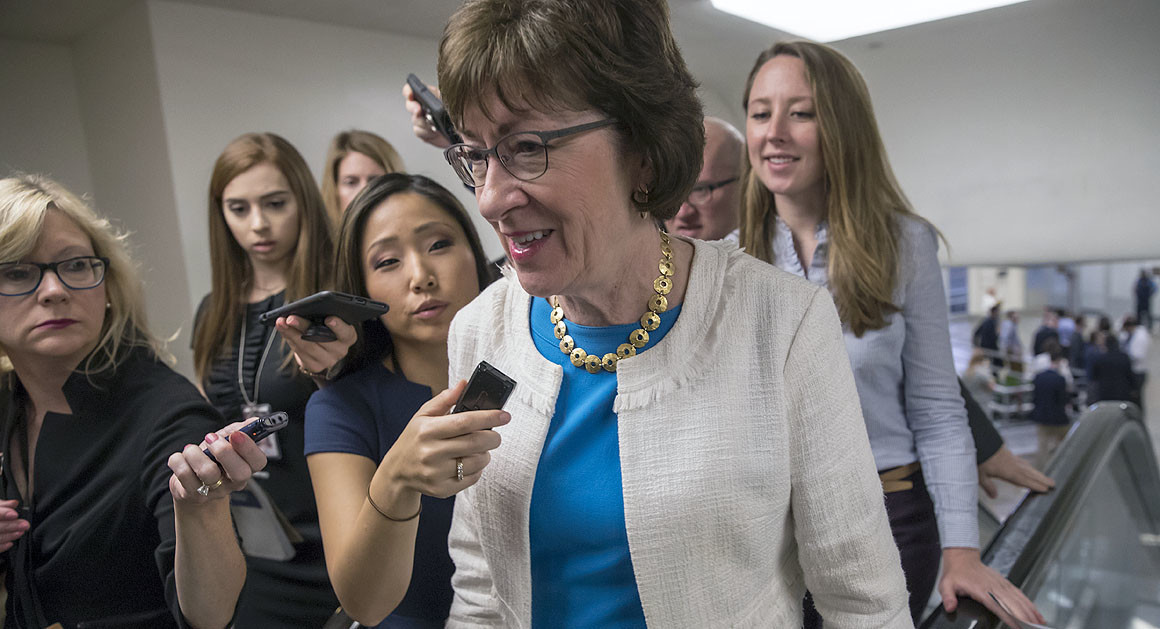 Maine Senator Susan Collins is a political survivor. A mostly moderate Republican in an era when the party has moved radically to the right. A pro-choice politician in a pro-life party. And a Republican in a party typically won by Democrats in Presidential election years. Despite all of that, she's finding her bid for re-election in 2020 running into more headwinds than she's faced before:
EASTPORT, Me. — Senator Susan Collins jogged her way through the Fourth of July parade in this picturesque little port city, handing out American flag stickers to cheers and shouts of "Thank you!" But beneath the bonhomie, there were hints that the once untouchable Republican may be in trouble because of two men: Justice Brett M. Kavanaugh and President Trump.

A retired restaurant worker shouted at Ms. Collins on Thursday to "get those kids out of cages" — a reference to border detention centers — and later invoked her vote to confirm Justice Kavanaugh. An organic-farm worker shouted "Kavanaugh!" as the senator ran past. A local shopkeeper has been sending Ms. Collins letters urging her to live up to the example of Margaret Chase Smith, the iconic Republican senator from Maine who stood up to Joseph McCarthy.

All three voted for Ms. Collins in 2014, persuaded by her reputation as a true moderate. "I want to vote for her again," said the shopkeeper, Linda Cross Godfrey, 72. "It will be up to her whether I do or not."

Ms. Collins, who coasted to a fourth term in 2014 with 68 percent of the vote, will be difficult to beat. But the polarization that has swept the nation is seeping into Maine as well, even here in the Collins-friendly part of the state known as Down East, where the nationalization of politics should seem far away. That has raised an important question: Can a cautious politician like Ms. Collins — at 66, the sole remaining New England Republican in Congress — survive in the loud and angry era of #MeToo and Trumpism?

In an interview, Ms. Collins said she would decide in the fall if she would seek re-election. For now, she is behaving like a candidate.

She had raised $4.4 million for her 2020 campaign as of March, according to federal elections data, money she will need: After her Kavanaugh vote, a crowdfunding campaign raised over $4 million to donate to her eventual opponent. Last week, she drew a formidable challenger: Sara Gideon, the speaker of the Maine House.

"I'm an important voice for the nation in an increasingly polarized environment," Ms. Collins said, noting that a conservative Democrat, Senator Joe Manchin III of West Virginia, who survived his own tough re-election battle last year, has endorsed her. "There are so few members left in the center."

She also took a swipe at Senator Chuck Schumer of New York, the Democratic leader: "It's ironic to me that I am among Chuck Schumer's top targets when there is no one who works more across the aisle."

Ms. Gideon, the Democratic Party's favored candidate, must first win a primary race to become the nominee. She said in an interview that she would make the case that during two decades in Washington, Ms. Collins had changed, "that she has over the years taken votes that don't put Mainers first."

(…)

Politics in Maine are complicated, which means Ms. Collins faces criticism no matter what she does. Independent voters — "unenrolled," in the Maine lexicon — account for the largest percentage of the electorate; these are the voters she must win. Democratic registration is growing, a problem for Ms. Collins. Just as problematic are the Trump Republicans who do not care much for their senior senator.

"She stabbed the Republican Party in the back," growled Arthur L. Carter, 86, a retired Army major wearing a "proud American" T-shirt. "She hasn't really supported our president."

Amy Fried, a professor of political science at the University of Maine, noted the changing landscape. "I'm looking at CNN exit polls from 2014 — 37 percent of liberals voted for Collins and it has 39 percent of Democrats voting for Collins," she said. "It's hard to imagine that that's going to happen again."
Since first being elected to the Senate to succeed former Senator and Defense Secretary William Cohen in 1996, Collins has won each of her bids for re-election easily. Most recently, she won re-election in 2014 with 68% of the vote, this in a state that President Trump lost by 22,000 votes in 2016 (though he did manage to pick up an Electoral Vote by winning the state's 2nd Congressional District. Ordinarily then, it would be expected that Collins would win re-election easily again in 2020, but some observers suspect that 2020 could prove to be a more difficult year for Collins.
The first reason for this, obviously, is the Trump factor, which is likely to result in a heavy anti-Trump voter turnout. The question for Collins will be how many of those voters end up splitting their vote between the Democratic nominee for President and her, and how many end up voting for the Democratic nominee for Senate. The second reason revolves around Collins's decision to vote to confirm Justice Brett Kavanaugh in the face of the sexual assault allegations that were made against him by Dr. Christine Blasey Ford and others during the hearings last year. That vote, which Collins said recently she did not regret, has proven to be controversial among some circles back home and it's unclear how much of a factor that would be in a race in November 2020.
As noted in the article linked above, Collins has not officially said that she is running for re-election, leaving until after the summer to make an announcement in that regard. However, from the reports back in Maine, it appears that she is certainly behaving like someone who intends to run for re-election to the point where it would be a shock at this point if she didn't. Additionally, while it's unclear how much this may factor into her decision, if Collins doesn't run for re-election then the odds of the GOP being able to hold on to the seat would slip significantly and that would endanger the party's chances of holding on to the Senate. If Collins does stay in the race, though, I suspect that she'll be able to survive whatever challenge she may face next year even if it means a narrower victory than she's been able to manage since taking office in 1997. In the end, I would not bet against Collins if she decided to run. She may be part of a dying breed of relatively moderate Northeastern Republicans, but she's also a political survivor, having lost only one race that she ran in. While 2020 may prove to be more difficult for her than past re-election bids, I suspect that reports of political doom on her part are greatly exaggerated.