Syria Reveals The Moral Bankruptcy Of Obama's Humanitarian Interventionism Doctrine
Events in Syria, and the world's response to them, are revealing the moral bankruptcy of the justification for the war in Libya.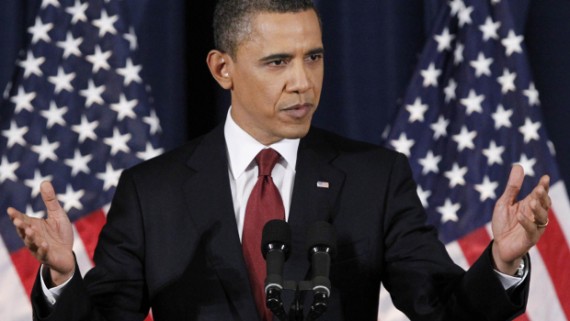 When President Obama spoke to the nation from the National Defense University last month about the then week long war in Libya, he said the following:
There will be times, though, when our safety is not directly threatened, but our interests and our values are.  Sometimes, the course of history poses challenges that threaten our common humanity and our common security — responding to natural disasters, for example; or preventing genocide and keeping the peace; ensuring regional security, and maintaining the flow of commerce.  These may not be America's problems alone, but they are important to us.  They're problems worth solving.  And in these circumstances, we know that the United States, as the world's most powerful nation, will often be called upon to help.

In such cases, we should not be afraid to act — but the burden of action should not be America's alone.  As we have in Libya, our task is instead to mobilize the international community for collective action.  Because contrary to the claims of some, American leadership is not simply a matter of going it alone and bearing all of the burden ourselves.  Real leadership creates the conditions and coalitions for others to step up as well; to work with allies and partners so that they bear their share of the burden and pay their share of the costs; and to see that the principles of justice and human dignity are upheld by all.
With specific regard to Libya, the President claimed that an imminent humanitarian crisis justified international intervention:
Ten days ago, having tried to end the violence without using force, the international community offered Gaddafi a final chance to stop his campaign of killing, or face the consequences.  Rather than stand down, his forces continued their advance, bearing down on the city of Benghazi, home to nearly 700,000 men, women and children who sought their freedom from fear.

At this point, the United States and the world faced a choice.  Gaddafi declared he would show "no mercy" to his own people.  He compared them to rats, and threatened to go door to door to inflict punishment.  In the past, we have seen him hang civilians in the streets, and kill over a thousand people in a single day.  Now we saw regime forces on the outskirts of the city.  We knew that if we wanted — if we waited one more day, Benghazi, a city nearly the size of Charlotte, could suffer a massacre that would have reverberated across the region and stained the conscience of the world.

It was not in our national interest to let that happen.  I refused to let that happen.  And so nine days ago, after consulting the bipartisan leadership of Congress, I authorized military action to stop the killing and enforce U.N. Security Council Resolution 1973.
All of this provides an interesting contrast for the manner in which the United States, and the rest of the West, is reacting to the ongoing situation in Syria:
FOR THE PAST five weeks, growing numbers of Syrians have been gathering in cities and towns across the country to demand political freedom — and the security forces of dictator Bashar al-Assad have been responding by opening fire on them. According to Syrian human rights groups, more than 220 people had been killed by Friday. And Friday may have been the worst day yet: According to Western news organizations, which mostly have had to gather information from outside the country, at least 75 people were gunned down in places that included the suburbs of Damascus, the city of Homs and a village near the southern town of Daraa, where the protests began.

(…)

The administration has sat on its hands despite the fact that the Assad regime is one of the most implacable U.S. adversaries in the Middle East. It is Iran's closest ally; it supplies Iranian weapons to Hezbollah in Lebanon and Hamas in the Gaza Strip for use against Israel. Since 2003 it has helped thousands of jihadists from across the Arab world travel to Iraq to attack American soldiers. It sought to build a secret nuclear reactor with the help of North Korea and destabilized the pro-Western government of neighboring Lebanon by sponsoring a series of assassinations.

(…)

Yet the Obama administration has effectively sided with the regime against the protesters. Rather than repudiate Mr. Assad and take tangible steps to weaken his regime, it has proposed, with increasing implausibility, that his government "implement meaningful reforms," as the president's latest statement put it. As The Post's Karen DeYoung and Scott Wilson reported Friday, the administration, which made the "engagement" of Syria a key part of its Middle East policy, still clings to the belief that Mr. Assad could be part of a Middle East peace process; and it would rather not trade "a known quantity in Assad for an unknown future."
Just today, the Syrian Army moved heavily on the city of Dara, which has been the center of much of the most recent protests. And yet, where is the Administration on this one? Where are Samantha Powers, Susan Rice, and Hillary Clinton, the triumvirate of femininity that led us into war in Libya? Well Rice and Powers have been pretty silent, but Secretary of State Clinton has said, even in the face of the recent violence, that Bashar Assad is a "reformer." Additionally, she's differentiated the crackdown in Syria from the one in Libya by pointing out, helpfully for future dictators, that Assad isn't bombing his citizens like Qaddaffi was prior to the United Nations intervention.
This is, of course, blatant hypocrisy. If a humanitarian crisis created by government crackdowns against a civilian uprising is justification for international intervention in Libya, then why doesn't the same apply to Syria? Are Syrians worth less than Libyans? Where's the "humanitarianism" in that?
Don't get me wrong, I'm not calling for military intervention in Syria. Given the facts on the ground, involving ourselves in Syrian affairs would, if possible, be even dumber than involving ourselves in the internal affairs of Iraq, Afghanistan, and Libya was. Nonetheless, this episode does provide a perfect opportunity to point out something that Jazz Shaw noted back in March, that the entire humanitarian argument that the President used to justify war in Libya is nothing more than hypocrisy:
The fact is that for all our talk about the sacred value and dignity of every human life, we actually assign very different levels of value to those lives depending entirely upon how much political capital each group represents. Further, an even larger consideration seems to be who is doing the actual oppressing and what they might mean to our own interests. We seem to have broken all of humanity down into three basic categories based on that assumption.

First there are the people who simply don't merit the kind of political capital needed to send American forces to war. Some of the best and most oft cited examples of these are residents of the nations in sub-Saharan Africa. If you stacked up the number of bodies that Gaddafi has generated in Libya recently and compared them to the dead, raped, assaulted and displaced scored by the Janjaweed against the non-Arab Muslim Fur and Zaghawa in the Sudan or the Tutsi against the Hutu in Rwanda, Libya wouldn't amount to much more than a street scuffle following a soccer match in Scotland. And yet you don't see F-15s patrolling the southern African skies, do you? Oh, sure… you'll hear US presidents and other world leaders mouthing plaintive wails about how terrible it all is, but the fact is that those people simply aren't worth enough to us to invoke our "responsibility" to "protect" them.
Second there are the people who might represent a great amount of political capital, but are currently under the thumb of international powers that we frankly don't have the stomach to mess with. I'd wager you could find plenty of politicos who would have loved to see us take a much more aggressive stance in defense of the people of Georgia. But that would mean poking a stick at the Russian Bear, and they've still got all of those loose nukes lying about. Tales abound of the horrific treatment of the people of Tibet, so you'd think we might have some "responsibility to protect" them, eh? But then you're messing around with China, who is not only a major military force today with the ability to summon up an army with more men than we have bullets, but is also holding on to the checkbook from our last two decade shopping spree.
The final category is the people who are in a part of the world we find to be "interesting" enough to stir us to action but are not facing a government which is widely popular or powerful enough to threaten us. Libya falls into this category because of their central location in an oil rich region of geopolitical import, combined with the fact that their leader is nearly as despised on the Arab Street as he is in the Western world. So it should come as no surprise that our military is currently occupying its time there.
Libya fell into that last category both because Qaddaffi had no friends left who would back him up, and because it was an easy target. Syria? Not so much. They've got friends in Iran, Russia, and China and they control Lebanon, the home of Hezbollah. We're not going to intervene there both because the mission would be far more extensive than anyone is willing to undertake, and because the risks of failure, blowback, and adverse consequences are far greater there than they are in Libya. That's also why we'll never intervene in Georgia, or Chechnya, or Tibet.  And we're not going to invest a lot of resources in response to a humanitarian crisis in a place like Rwanda or Sudan because, frankly, it's not worth our time or resources.
So, what we've really got here is an entirely incoherent foreign policy and a world who thinks that we're going to intervene the next time there's a humanitarian crisis somewhere. Boy are they going to be unpleasantly surprised.