Tax Reform, Once The GOP's Midterm Hope For Survival, Is Becoming Less Popular
Republicans have been hoping that the tax bill passed in December would help them in the midterms. That's appearing to be less and less likely by the day.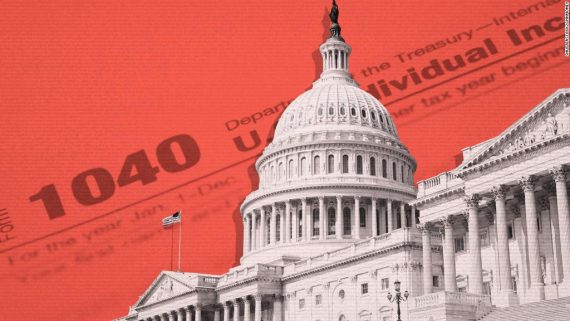 It's already fairly clear that Republicans face an uphill battle heading into this year's midterm elections, and that control of at least one, and possibly both, Houses of Congress stands in the balance seven months away from Election Day. First of all, historically speaking it's been the general rule that the incumbent President's party tends to lose seats in Congress even if they don't lose control of either the House or the Senate. The only recent exception to this rule can be found in the 2002 midterms when Republicans gained seats in both the House and in the Senate and in fact regained control of the Senate after having lost it when Vermont Senator Jim Jeffords switched his support to the Democratic Party in 2001. Second, as I noted yesterday, while the Generic Congressional Ballot has shown the race between Republicans and Democrats tightening in recent months, there are a number of factors that still point in favor of Democrats going forward.
Notwithstanding these headwinds, Republicans have been hoping that there would be some factors that would help them blunt the force of the coming blue onslaught. Primary among those has been the tax reform bill that was passed by Congress and signed into law in December. From the beginning, Republicans have contended that this bill would boost economic activity and lead to boosts in wages and economic activity that would enure to the benefit of pretty much the entire American workforce to such an extent that it would help them at the ballot box. At least initially, it appeared that they might be right about this. In the immediate aftermath of the passage of the new tax law, several large American employers announced wage increases or bonuses to employees that they said were tied to the new tax bill. In retrospect, it appears that many of the critics of the tax bill who said these announcements that bonuses and wage increases were due to the tax bill were mostly meant to curry favor with President Trump may have been correct, especially in light of reports that most corporations seem to be recycling the increased revenue they're seeing from lower taxes into stock buybacks rather than wage increases, new hiring, or expansion of their businesses. Now, there's increasing evidence that the hopes the GOP may have had that the tax reform bill could save them from utter disaster in November may be fading.
The first piece of evidence in this regard comes in the latest poll fromThe Wall Street Journal that shows that the tax bill has become less popular than it was back when the law was initially passed:
As congressional Republicans fight to preserve their majorities, they may need to find a weapon more powerful than the big December tax cuts.

The new NBC News/Wall Street Journal poll shows that the tax-cut law, never broadly popular, has sagged in public esteem lately. Just 27 percent of Americans call it a good idea, down from 30 percent in January. A 36 percent plurality call it a bad idea, while the rest have no opinion.

Moreover, a majority gives thumbs-down on the plan when asked to consider its potential effects. Just 39 percent foresee a positive impact from a stronger economy, more jobs and more money in their pockets; 53 percent foresee a negative impact from higher deficits and disproportionate benefits for the wealthy and big corporations

"Not a great starting point" for the fall campaign, said Fred Yang, a Democratic pollster who conducted the survey with Republican counterpart Bill McInturff. The telephone poll of 900 adults, conducted April 8-11, carries a margin of error of 3.27 percentage points.

Republicans began learning that lesson last month during a special House election in Pennsylvania. GOP strategists found the tax cuts an ineffective message against the Democratic candidates and dropped the issue as Election Day approached.

The Democratic victory in a district President Donald Trump had won by 20 percentage points in 2016 showed that tax cuts are "a political loser," says David Wasserman, a House analyst at the Cook Political Report.

The question now is how much effort GOP candidates sink into improving their stance on the tax-cut issue. They retain some advantages: Men still favor the tax cuts, although less strongly than women oppose it; so do rural residents, older men, and men without college degrees.

Yet working-class, middle-class and upper-class Americans all hold negative views of the tax-cut law. Women who have graduated from college call the tax cuts a bad idea by nearly a 3-to-1 margin.
Perhaps of even more concern to Republicans than this recent polling is the fact that Americans seem to have lost interest in the tax law:
President Trump went to West Virginia this month to talk about tax cuts, but he got a bit distracted. He talked about China, the North American Free Trade Agreement, border security, "sanctuary cities" and states he won in 2016. Eventually he turned to his prepared comments on taxes.

"This was going to be my remarks," he said, holding up a sheet of paper. "It would have taken about two minutes, but" — and here he threw the paper over his shoulder — "to hell with it. That would have been a little boring. A little boring. Right. Now I'm reading off the first paragraph, I said, 'This is boring.'"

If Mr. Trump has lost some interest in the $1.5 trillion tax overhaul that he signed into law last year — even though the White House keeps scheduling events to promote it, including one in Florida on Monday — well, the country is right there with him. A brief flurry of activity is planned this week by supporters and opponents of the new law, to coincide with Tuesday's filing deadline for 2017 income taxes. But otherwise, by all sorts of metrics, Americans aren't talking very much about a law that Republicans had hoped to make a centerpiece of their midterm election message.

Consider one of Mr. Trump's preferred yardsticks: cable news coverage. Throughout the fall, as Republicans rushed their tax bill through Congress in two breakneck months, CNN, Fox News and MSNBC routinely devoted 10 percent of their daily coverage to tax issues, according to data from the Gdelt Project. Interest spiked as Mr. Trump signed the bill in late December, and then it fell precipitously.

Several topics on cable have displaced taxes. In March, mentions of the word "Stormy" spiked on MSNBC and CNN, for example. All three networks have begun talking more about "trade" over the past two months, as Mr. Trump imposed tariffs on steel and aluminum imports and threatened additional tariffs on products imported from China.

Even Mr. Trump has struggled to keep his focus on tax issues since signing the bill. He tweeted the word "tax" about as much from January through the end of March as he did in December alone. His overall discussion of taxes — in speeches, interviews, news conferences, videos and Twitter — also declined through the end of March from late last year. Instead, Mr. Trump is talking and tweeting more about trade.

Congressional Republicans have pushed hard to keep tax cuts in the news, in the belief that they will be a potent electoral weapon for the fall. So have liberal organizers, who have held rallies protesting the overhaul throughout the winter and early spring, believing that opposition to it will galvanize support for Democratic candidates in the midterm elections.

For two months after the bill passed, it appeared that Republicans, buoyed by a surge of corporate employee bonus announcements linked to the new law, were right to press their case. The law's poll numbers improved from dismal levels before its passage. But as those bonus announcements died down — and the conversation around the law died, too — public support waned again. Interviews with voters in swing states suggest that the law may not have much power to move them to support Republicans this fall, and the party abandoned tax-themed ads in a special House election in Pennsylvania last month.
Given the amount of new material that appears in the news nearly every day thanks to Presidential tweets and other issues, it's not surprising that there would be less discussion about the tax cuts now than there was when the bill was before Congress back in December. At the same time, though, the fact that the President himself has lost interest in talking about the tax cut bill he was hailing just four months ago is a strong indication that this is unlikely to be something that will compel voters to rush to the polls on behalf of Republicans come November, and that could prove to be a big problem for them.