Democratic Lead In Generic Ballot Weakens, But The Enthusiasm Is On The Left
New polling shows the Democrat's lead in the Congressional ballot poll shrinking slightly, but enthusiasm is still on their side.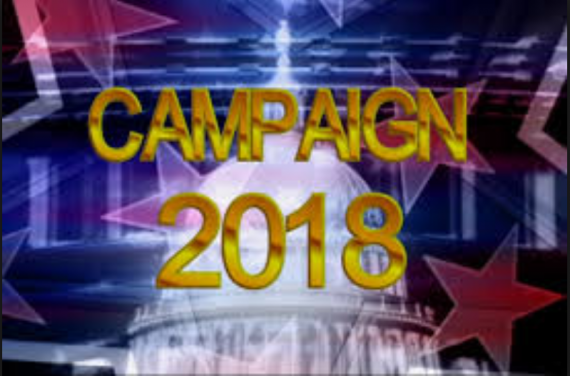 Two new polls show that the Democratic advantage in the race for control of Congress has diminished somewhat, but Democrats seem to have much more enthusiasm than Republicans as the midterm elections get closer.
First up, the new ABC News/Washington Post poll shows that the Democratic advantage in the Generic Congressional Ballot has narrowed from the last time the poll was taken:
Democrats hold an advantage ahead of the midterm elections, but a Washington Post-ABC News poll shows that edge has narrowed since January, a signal to party leaders and strategists that they could be premature in anticipating a huge wave of victories in November.

The poll finds that the gap between support for Democratic vs. Republican House candidates dropped by more than half since the beginning of the year. At the same time, there has been a slight increase in President Trump's approval rating, although it remains low. Measures of partisan enthusiasm paint a more mixed picture of the electorate in comparison to signs of Democratic intensity displayed in many recent special elections.

One potentially new factor in the mix of midterm issues is gun policy, which has emerged as a major voter consideration two months after the mass shooting at Marjory Stoneman Douglas High School in Parkland, Fla. More than 4 in 10 registered voters say it is extremely important that candidates share their views on gun issues. Fewer voters say it's critical that candidates share their views on Trump or House Minority Leader Nancy Pelosi (D-Calif.), leaders who are most likely to be targets in partisan messaging this fall.

With the Republicans' House majority at risk, 47 percent of registered voters say they prefer the Democratic candidate in their district, while 43 percent favor the Republican. That four-point margin compares with a 12-point advantage Democrats held in January. Among a broader group of voting-age adults, the Democrats' margin is 10 points, 50 percent to 40 percent.

Republicans owe part of their improved standing to Trump's thawing job ratings. The Post-ABC poll finds that 40 percent approve of the president, up slightly from 36 percent in January to his highest level of support since last April. Still, Trump continues to face majority disapproval at 56 percent, higher than any president at this stage since the dawn of modern polling, an indication that he remains a significant liability for Republicans on November's ballot.

The survey shows the GOP making a more pronounced shift among white voters, who now prefer Republicans by a 14-point margin over Democrats, up from five points in January. Republicans lead by 60 percent to 31 percent among white voters without college degrees, slightly larger than an 18-point GOP advantage three months ago.

The situation in the districts where control of the House is likely to be decided is slightly more favorable for Democrats. The Cook Political Report, which produces nonpartisan analysis, lists 56 of the 435 congressional districts as competitive — 51 of them in Republican hands to just five held by Democrats.

In competitive districts excluding Pennsylvania, where new boundaries were drawn this year, Democrats have an edge of 50 percent to 43 percent when voters are asked which party's candidates they would favor if the election in their district were held today. Democrats need a net gain of 23 seats to capture the majority.

Special elections and gubernatorial races over the past year have shown that Democrats are benefiting from a surge in voter enthusiasm, including a narrow victory in Pennsylvania's 18th Congressional District in March, which Trump won by nearly 20 points in 2016.

The Post-ABC poll finds parity in stated voting intentions. Among registered voters, 68 percent of both Republican-leaning and Democratic-leaning registered voters say they are certain they will vote. This contrasts with Post-ABC polling ahead of the 2010 and 2014 midterm cycles, when Republicans averaged a double-digit advantage in intentions to vote and Democrats suffered major losses in both years.

The new survey points to opportunities and challenges for both parties in coming months.

Some core constituencies for each party expressed tepid interest in turning out to vote in an off-year election, when many eligible voters typically stay home. Although 58 percent of all adults say they are sure they will vote this year, that falls to fewer than 4 in 10 among adults younger than 30. Young voters have heavily favored Democrats in recent elections. Certainty to vote dips to 54 percent among African Americans and 39 percent among Hispanics. Those compare with 64 percent among whites, a majority of whom favor Republicans.

At the same time, white voters with college degrees, a competitive voting bloc, are 14 points more likely to say they are certain to vote than whites with some college or less, a group that has increasingly favored Republicans and voted for Trump at record levels.

Sixty-one percent of men and 56 percent of women say they are certain to vote, with 55 percent of female registered voters saying they favor a Democratic candidate and 50 percent of men backing a Republican. Democrats are counting on strong turnout among women to help their candidates in November.
The new NBC News/Wall Street Journal poll finds a near-identical drop in the Democrats position from the last time the poll was taken, but also finds that Democrats are much more enthusiastic about voting in November than Republicans:
WASHINGTON — An advantage in intensity — against President Donald Trump and for voting in November — is fueling Democrats ahead of the midterm elections that take place more than six months from now, according to a new national NBC News/Wall Street Journal poll.

But the poll doesn't show "knockout numbers" for Democrats, which gives Republicans a chance of retaining control of Congress, says Republican pollster Bill McInturff of Public Opinion Strategies, who conducted this survey with Democratic pollster Peter Hart and his team at Hart Research Associates.

"You don't see knockout numbers here in April. You see problematic numbers [for Republicans]," he said.

In the poll, Democrats enjoy a 7-point advantage in congressional preference, with 47 percent of voters wanting a Democratic-controlled Congress, and with 40 percent preferring a GOP-controlled Congress.

That's down from the Democrats' 10-point edge in March, 50 percent to 40 percent, although the change is well within the poll's margin of error.

In past wave cycles for Democrats — in 2006 and 2008 — the NBC/WSJ poll typically found Democrats with a solid double-digit lead in congressional preference.

But the current poll shows Democrats with a significant advantage in enthusiasm, with 66 percent of Democrats expressing a high level of interest (either a "9" or "10" on a 10-point scale) in November's elections, versus 49 percent for Republicans.

That's a reversal from the merged NBC/WSJ polling data in 2010 — a wave year for Republicans — when 66 percent of Republicans expressed a high level of interest, compared with 49 percent for Democrats.

And among these high-interest voters in this new poll, Democrats lead Republicans in congressional preference by 21 points, 57 percent to 36 percent.

"That enthusiasm is a very powerful signal of a Democratic edge," McInturff said, but he cautioned that high-interest voters "are a fraction of all overall voters." (Not every voter is a "9" or "10.")
Looking at the polling averages, we find the same Democratic advantage that these two polls show, but not something that can at this time be taken as dispositive of what might happen in November. RealClearPolitics, for example, shows an average of 45.5% of voters saying they would vote for a Democrat in November and 39.3% saying they'd vote for a Republican, giving Democrats a 6.2 point advantage. Democrats fare slightly better in the Pollster average, which shows an average 42.3% of voters saying they'd vote for a Democrat and 35.7% saying they'd vote for a Republican, giving Democrats a 6.6 point advantage.  The numbers are also slightly better for Democrats in the FiveThirtyEight Generic Ballot average, which shows 46.4% of voters saying they favor Democrats taking control of Congress while 39.5% say they support Republicans, giving Democrats a 6.9 point advantage. As a general rule, though, the race for control of Congress remains relatively stable, as the chart from RealClearPolitics shows: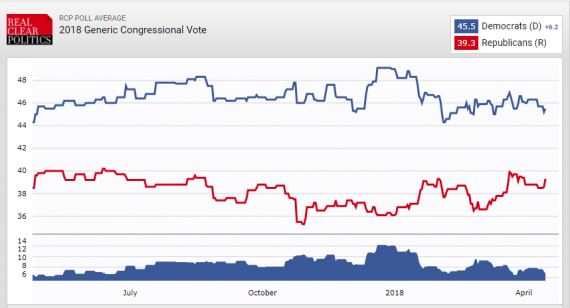 With just under seven months left until Election Day, it's still far too early to say what all of this means for November. As I've said before, if history is any guide then Democrats are likely to pick up seats in the House of Representatives in November, the question is whether it will be sufficient for them to take control is another one entirely. The fact that Democratic voters seem to be more highly motivated right now is certainly a point in their favor, as is the fact that the large number of Republican retirements this year, which could very well accelerate in the wake of Paul Ryan's announcement last week that he would not be running for re-election, also provides Democrats with an opportunity for pickups in districts that might otherwise have been much harder to win due to power of incumbency. Finally, the changes to the districting lines in Pennsylvania likely mean that Democrats will pick up as a many as 4 to 5 seats in the Keystone State alone. On the other hand, many of the aforementioned vacancies are in districts that are deeply red and likely to stay that way through November so it may be hard for Democrats to make gains in the vacant districts that they need in order to take control of Congress.
Things will start to get clearer as we get closer to November, but right now it looks like the winds are certainly blowing in the Democrats favor. The question is how strong they will be when voters actually start voting.