The Republican Advantage in the House
Any "fair" drawing of districts will yield a GOP advantage over time.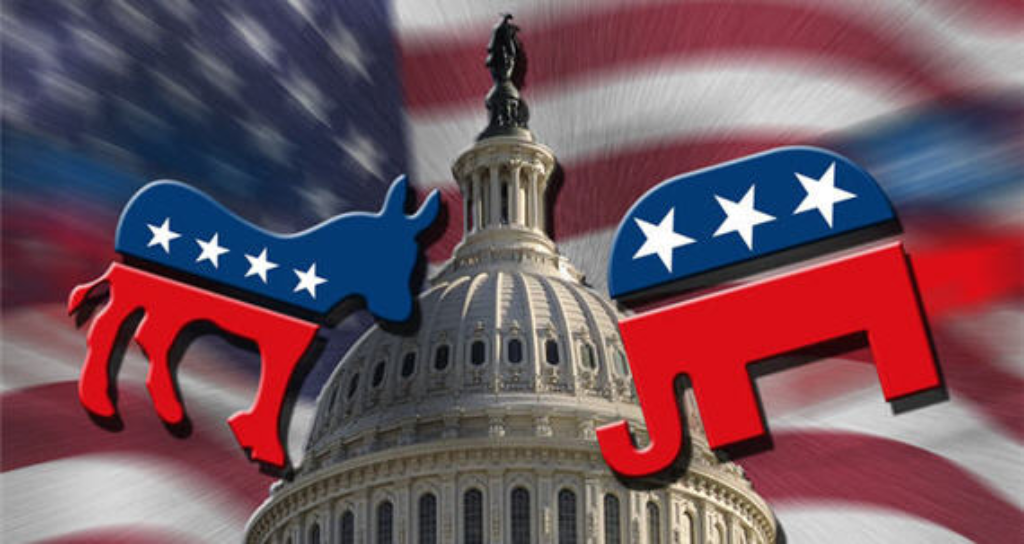 That Republicans have a natural advantage in the Senate, and therefore the Electoral College, has been the subject of many posts here and elsewhere over the years. Less remarked is the Republican advantage in the House of Representatives, which is generally presumed to be a result of gerrymandering. It turns out to be much more complicated.
The gang at FiveThirtyEight have undertaken The Gerrymandering Project since January 2018. The simple premise: we can all agree that having politicians draw Congressional districts to maximize their party's chances of winning is suboptimal but not on what precise alternative is best. So, they show us eight possible outcomes using eight prioritization models:
1. Current districts

These are the congressional districts currently in effect for the 2018 elections. The probabilities listed on this map do not reflect predictions for the 2018 election specifically, but instead are how often we'd expect each party to win the seat over the long term based on its Cook PVI across a variety of political conditions.

2. Republican gerrymander

This map seeks to maximize the number of usually Republican districts — those with a Cook PVI of R+5 or greater (which we've found corresponds to at least an 82 percent chance of a Republican victory). Where additional strongly Republican districts are not possible, this map seeks to maximize the number of competitive districts (Cook PVI between D+5 and R+5). Think of these maps as extreme Republican gerrymanders — a reference point for how far Congress could be pushed to the right.

3. Democratic gerrymander

This map seeks to maximize the number of strongly Democratic districts (Cook PVI of D+5 or greater). Where additional strongly Democratic districts are not possible, this map seeks to maximize the number of competitive districts (Cook PVI between D+5 and R+5). Think of these maps as extreme Democratic gerrymanders — a reference point for how far Congress could be pushed to the left.

4. Proportionally partisan

This map seeks to draw districts that favor each party in proportion to the overall political lean of each state. For example, if a state has 10 districts and Republicans won an average of 70 percent of its major-party votes in the last two presidential elections, we drew seven districts to favor Republicans and three to favor Democrats.

5. Highly competitive

This map seeks to maximize the number of highly competitive districts — those with a Cook PVI between D+5 and R+5. In terms of probabilities, that means both parties have at least an 18 percent chance of winning these seats.

6. Majority minority

This map seeks to maximize the number of districts where members of a single minority group make up a majority of the voting age population. Because of lower rates of citizenship among Latinos, the map strives to create 60 percent Hispanic/Latino districts where possible. Where additional majority-minority districts are not possible, the map seeks to maximize "coalition" districts where no racial group makes up a majority.

7. Compact (algorithm)

This map is based on Olson's computer algorithm, which seeks to minimize the average distance between each constituent and his or her district's geographic center. It is the only set of state maps (other than the current congressional boundaries) that we did not draw by hand. It is based on census blocks and is blind to race, party and higher-order jurisdictional boundaries like cities and counties. It makes no attempt to adhere to the Voting Rights Act.

8. Compact (borders)

This race-blind and party-blind map seeks to maximize compactness by using counties as building blocks when drawing districts. The map splits counties only as many times as necessary to create equally populous districts, and where possible, entire districts are kept whole within counties, metro areas and regions. When counties are split, the map seeks to minimize splits of county subdivisions, such as cities and townships. It makes no attempt to adhere to the Voting Rights Act.
Just reading the criteria and not knowing the results, my preferences would be Highly Competitive and Compact (borders); I can argue either way for which of those two to prefer. Given the intent of Congressional Districts is to represent communities, I probably lean slightly toward the latter but given the reality of how the modern party system operates, the former is more likely to produce good governance.
Regardless, here's how they predict average elections would go with each set of maps: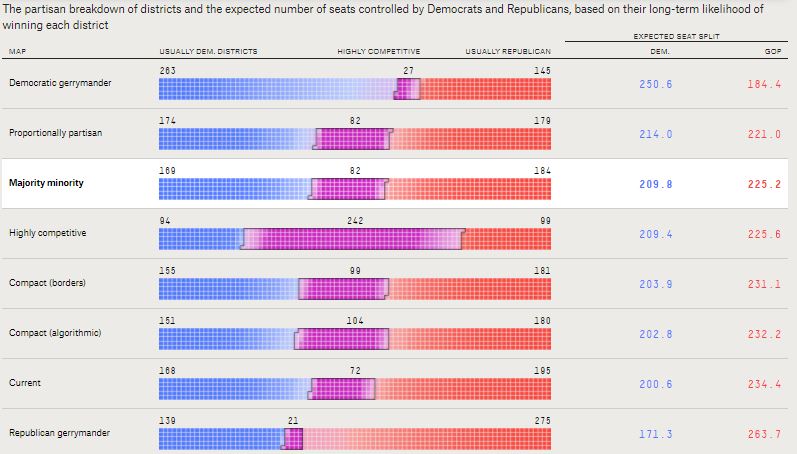 What stands out here is that, absent Democratic cheating, Republicans come out ahead. That is, as Dave Schuler pus it, "the only districting methods that ends up with a number of Democratic representatives greater than or equal to the present number are the present one and the Democratic gerrymander."
Which is odd, right? There are far more Democrats than Republicans nation-wide. But, as Dave correctly observes, "That result which may be counterintuitive to some is a consequence of something that is just as true at the state level as at the national level: we don't vote at large."
Indeed, seven states have no districts at all–just a single at large Representative.
As Harry Enten explained when the project launched, "Ending Gerrymandering Won't Fix What Ails America."
The states, counties and even neighborhoods from which districts are drawn are less competitive than they used to be because voters are sorting themselves. People are changing their political opinions to be more like their neighbors', and people are moving to regions where their political viewpoint is more common. This "self-sorting" means more and more areas come, in essence, pre-gerrymandered — dominated by partisans. That makes it more difficult to draw competitive districts without an increased effort to do so.

You can see this pretty clearly if you look at the votes cast for House candidates aggregated to the state level (obviously, states can't be gerrymandered). In 1996, the difference in the cumulative House vote for Republicans and the cumulative House vote for Democrats was 10 percentage points or less in 22 states. By 2016, there were only 16 states that close. You can see something similar if you look at how states voted in presidential elections, as well: The number of states whose vote share margin was within 10 points of the national margin dropped from 27 in 1996 to 16 in 2016.

It's even clearer that voting is more homogenous by community than it used to be when you look at counties, whose boundaries also can't be gerrymandered. If gerrymandering were the sole culprit behind the decline in competitive districts, the number of counties that are competitive in presidential elections should have barely shifted. Instead, there's been massive movement.

In 1996, there were 1,111 counties (about 35 percent of the total)5 where the margin in the presidential vote was within 10 percentage points of the nationwide margin. By 2016, that number had plummeted to just 310 (about 10 percent).
Despite the fact that Democrats won the House in 2018 and kept it in 2020, the decks are stacked against them. Yes, Republican gerrymandering contributed to that. So did Republican voter suppression tactics. But, mostly, it's a function of the system we used to select them: there are too few representatives and they're elected in single-member districts.
Steven Taylor has written a lot about the problems with our electoral system, going back at least a decade. See, for example, "There is Something Fundamentally Wrong with Congress" (December 2011), "Are we Finally Starting to Talk about Electoral Reform?" (November 2018), "Reforms: the Possible, the Improbable, and the Unpossible" (August 2020), and "Our Unrepresentative Government (Yet Again)" (February 2021). But, aside from political scientists and election wonks, it's not a subject of much debate.
Increasing the size of the House, so favored by OTB alumnus Rob Prather that he's incorporated it in his Twitter name, is the simplest and most obvious of the fixes. It has been fixed in law at 435 since 1929, when the population was a mere 121.8 million; it's 330.1 million now. But I've seen essentially no clamor for that. I fear that multi-member districts and other fixes would be seen as too exotic and "foreign" to get much of a hearing.