Justices Divided on Partisan Gerrymandering
Oral argument hints that we may have a 5-4 ruling allowing state legislatures to continue stacking the deck.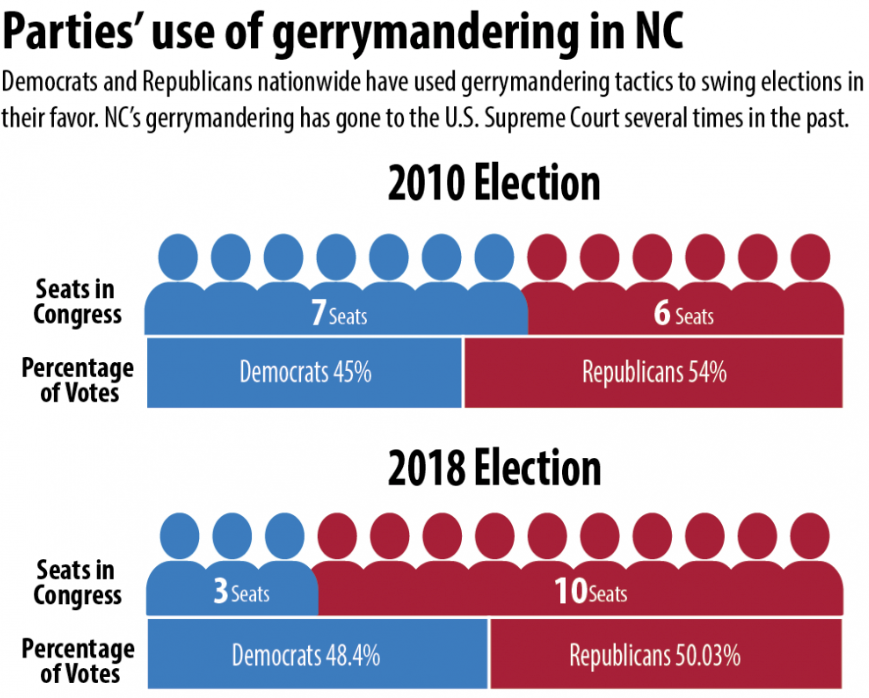 AP ("High court seems wary of involving judges in redistricting"):
The Supreme Court's conservative majority seemed wary Tuesday of getting federal judges involved in determining when electoral district maps are too partisan.

In more than two hours of arguments over Republican-drawn congressional districts in North Carolina and a single congressional district drawn to benefit Democrats in Maryland, the justices on the right side of the court asked repeatedly whether unelected judges should police the partisan actions of elected officials.

"Why should we wade into this?" Justice Neil Gorusch asked.

Gorsuch and Justice Brett Kavanaugh pointed out that voters in some states and state courts in others are imposing limits on how far politicians can go in designing districts that maximize one party's advantage. In light of activity at the state level, Kavanaugh asked if the country had reached the point where "this court and this court alone" must act.

But there was no certainty that the justices would, in the end, shut courthouse doors to claims over excessive partisan gerrymandering, as the practice of designing districts for political gain is known.

Kavanaugh, in particular, said he would not dispute the "problems of extreme partisan gerrymandering."

The cases at the high court mark the second time in consecutive terms that the justices are trying to determine if they can set limits on partisan map-making. The court also could rule that federal judges should not oversee disputes over districts designed to benefit one political party.

Democrats and Republicans eagerly await the outcome of cases from Maryland and North Carolina because a new round of redistricting will follow the 2020 census, and the decision could help shape the makeup of Congress and state legislatures over the next decade.

Last year, the court essentially punted on cases from Wisconsin and the same Maryland congressional district that was before the court Tuesday.

Partisan gerrymandering is almost as old as the United States. While the court ruled 30 years ago that courts could police overly partisan map-making, the justices have never struck down districts on the ground that they violated the rights of voters from the minority party.

Supporters of limits on partisan redistricting say that it's more urgent than ever for the court to intervene because partisan maps deepen stark political division in the United States and sophisticated computer programs allow map-makers to target voters on a house-by-house basis.

[…]

Complaints about partisan gerrymandering almost always arise when one party controls the redistricting process and has the ability to maximize the seats it holds in a state legislature or its state's congressional delegation.

That's what happened in North Carolina, where Democrats hold only three of 13 congressional districts in a state that tends to have closely decided statewide elections.

Republicans drew congressional districts that packed Democratic voters into the three districts that translated into landslide victories. Meanwhile, the map produced smaller winning margins for Republican candidates, but in more districts.

In Maryland, Democrats who controlled redistricting in 2011 wanted to increase their 6-2 edge in congressional seats. So they drew a map that would flip to Democrats a western Maryland district where a Republican incumbent served for 20 years.

Lower courts in both states struck down the districts as unconstitutionally partisan.

And the governors of both states also are urging the Supreme Court to "end gerrymandering once and for all."
AFP ("US Supreme Court divided over gerrymandering case"):
The US Supreme Court appeared sharply divided on Tuesday as it heard a politically charged case about gerrymandering, the dark art of drawing electoral maps to extract partisan advantage.

The nine justices of the nation's top court seemed split along ideological lines as they heard arguments in a case that could reshape the future of American politics.

The five conservative justices appeared inclined to let the states continue to work out solutions to the vexed question, which has sparked calls for reform from public figures including action star and erstwhile politician Arnold Schwarzenegger.

[…]

In the North Carolina case, the Republican authors of the 2016 congressional map explicitly stated their intentions.

– 'People are bragging' –

"I propose that we draw the maps to give a partisan advantage to 10 Republicans and three Democrats," said a member of the redistricting committee, "because I do not believe it's possible to draw a map with 11 Republicans and two Democrats."

The plan was successful: in the 2018 congressional vote, Democrats won a majority of votes statewide, but only three of the 13 districts.

The Maryland case hinges on one rural district which remained in the hands of the same Republican for 20 years. It underwent a redistricting exercise in 2012, which added more urban voters, and flipped to the Democrats two years later.

Elena Kagan, one of the four liberal justices, said it appeared wrong for the court to "leave all this to professional politicians" who "have an interest in districting according to their own partisan interests."

"People are bragging," Kagan said, "because they think it's perfectly legal to do so."

Another liberal justice, Stephen Breyer, said he feared the amount of gerrymandering would only get worse over time.

"Politicians consider politics, yes," Breyer said. "Our problem is 'When is it too much?'"
Amy Howe offers an excellent summary of the argument on SCOTUSBlog. Some key points not covered in the news reports:
In 2004, the Supreme Court was sharply divided in a partisan-gerrymandering challenge to Pennsylvania's redistricting plan. Citing a lack of a workable standard to determine when party politics crosses a line and plays too influential a role in redistricting, the court's four more conservative justices at the time believed that courts should never have a role in reviewing claims of partisan gerrymandering. Four of the court's more liberal justices argued that courts should police partisan-gerrymandering claims, while Justice Anthony Kennedy – who has since retired – staked out a middle ground: He argued that the Supreme Court should not review the Pennsylvania case, but he left open the possibility that courts could review partisan-gerrymandering claims in the future if a manageable standard could be established.

[…]

Arguing for the Republican legislators this morning, former U.S. solicitor general Paul Clement urged the justices to stay out of the fray. The Constitution gives responsibility for drawing congressional districts to the political branches, he emphasized: first to state legislatures, and then to Congress itself, acting as a supervisor. There is no role for the courts, particularly because plaintiffs in partisan-gerrymandering cases have repeatedly failed to identify a workable standard for courts to use in reviewing such claims.

Justice Neil Gorsuch seemed to agree that the problem of partisan gerrymandering is one that should be left for the political branches of government to deal with. He recalled that, in the court's previous partisan-gerrymandering arguments, lawyers for the challengers had argued that the courts are the only institution that can remedy partisan gerrymandering. But, he posited, states have in fact taken action to address the problem. Why should we wade into this, Gorsuch asked Emmet Bondurant, who argued on behalf of one group of challengers in the North Carolina case, when that alternative exists?

Justice Brett Kavanaugh echoed this concern. He told Allison Riggs, who argued for a second group of challengers in the North Carolina case, that he understood "some of your argument to be that extreme partisan gerrymandering is a problem for democracy." Referring to activity in the states and in Congress to combat partisan gerrymandering, Kavanaugh asked whether we have reached a moment when the other actors can do it.

Riggs responded that North Carolina, at least, is not at that moment. When Kavanaugh responded, "I'm thinking more nationally," Riggs shot back that "other options don't relieve this Court of its duty to vindicate constitutional rights."

Chief Justice John Roberts also seemed to suggest at one point that the political process could take care of partisan gerrymandering. Partisan identification, he told Bondurant, is not the only thing on which people base their votes. A vote may hinge on a specific candidate, or who is at the top of a ticket, Roberts observed. When Bondurant pushed back with references to findings by social science experts, Roberts countered that "a lot of predictions turn out to be wrong." In the 2018 election, for example, a "lot of things that were never supposed to happen, happened."

Justice Stephen Breyer searched out loud for a formula that would capture what he characterized as the "real outliers." He proposed a standard that would bar challenges to districting maps created by independent redistricting commissions, but that would deem a map an unconstitutional partisan gerrymander if a party wins a majority of the statewide vote but the other party wins more than two-thirds of the available seats.

Clement was unenthusiastic, telling Breyer that there is "so much in that that I disagree with." Citing now-retired Justice Sandra Day O'Connor, Clement referred to any problems created by partisan gerrymandering as "largely self-healing." By contrast, he warned darkly, if the Supreme Court were to rule that courts can review partisan-gerrymandering claims, partisan-gerrymandering cases will come to the Supreme Court – which will have to review them, because redistricting cases are among the narrow set of cases with an automatic right of appeal to the Supreme Court – "in large numbers." "And once you get into the political thicket," Clement continued, "you will tarnish the reputation of this Court for the other cases where it needs that reputation for independence."

Riggs offered a similar appeal, although with a very different perspective, toward the end of her argument. She stressed that, "with all due respect, Justice O'Connor was not correct. This isn't self-correcting." And although "the reputation of the Court as an independent check is an important consideration," "the reputational risk to the Court of doing something is much, much less than the reputational risk of doing nothing, which will be read as a green light for this kind of discriminatory rhetoric and manipulation in redistricting from here on out."
This is yet another case where we are hamstrung by a Constitution negotiated in 1787, when very different conditions obtained. That document makes it crystal clear that state legislatures have plenary power to allocate their House seats as they wish. And the Supreme Court has thus far weighed in only to balance that power against other explicit Constitutional protections. Most notably, they have prohibited the use of race as a criteria in making districting decisions, reasonably arguing that doing so violates the 14th Amendment. And, going back to Baker v Carr in 1962, the Court has required that districts within a state be roughly equal in population, pursuant to the Equal Protection Clause.
Until now, they have always treated purely political considerations as within the province of the legislature. That accords with the plain meaning of the Constitution. But Kagan and Breyer are right: politicians have many more tools at their disposal to effectively control the outcome of elections than they did even a generation ago. Even Kavanaugh recognizes that we've perhaps gone too far.
Roberts' line of questioning, suggesting that party affiliation isn't the only thing upon which voters base their choice, seems rather odd. While it's technically true, Bondurant is correct that it's an incredibly good predictor. And, rather clearly, legislators in North Carolina and Maryland think drawing lines using indicators of partisanship is a worthwhile endeavor.
Regardless, my instincts nonetheless reside with the conservatives here. The Constitution is on the side of the state legislatures. So long as they're not violating some other provision of the Constitution—and nobody seems to be arguing here that they are—then they have every right to game the system. That it's awful public policy to do so is not a decision within SCOTUS' purview.